There are all sorts of theories in Detroit for why the Wall Street banking giant JP Morgan Chase is spending $100m (£60m) to help fix parts of this city. It's charity; it's a secret deal with the Justice Department; it's guilt over all the Detroiters the bank foreclosed on during the crisis; it's a plot to privatise municipal infrastructure.
JP Morgan officials reject those theories. So does Aaron Seybert, who is the bank's point man for distributing half of that $100m to a pair of community lending groups that will finance rehabilitation efforts across several neighbourhoods just outside the city core. The working theory at JP Morgan, from Mr Seybert up to the executive suite, is that spending $100m on America's most famously bankrupt city is a good investment. Good for Detroit, yes, but also good for JP Morgan. Best case, good for America.
Intentions matter less here than results. The bank is joining a growing class of Detroit business leaders – most notably billionaires Dan Gilbert, who built his fortune on mortgages, and members of the Ilitch family, who built theirs on pizza – in a 21st-century experiment.
If they succeed, perhaps they'll become a new model for how private capital can help solve big problems in America – the ones Americans don't seem to trust politicians to solve any more.
"People invest in communities that are doing great," Jamie Dimon, JP Morgan's chairman and chief executive, said last year. Detroit, in the state of Michigan, clearly was not one of those. Its population was shrinking, its infrastructure has decayed. Its economic engine, the auto industry, nearly sputtered out during the great recession, only to be saved by the federal government. Thirty years of American urban renewal seemed to have passed it by.
But what if a bank – by investing in a community, by working with local business and civic leaders – could help bend its path towards greatness? "I believe that business and civic leaders, working together, can save Detroit," Mr Dimon said.
That was in December. In May, the bank pledged $25m over five years to speed the renovation of abandoned homes, $12.5m to train residents for better jobs, and $12.5m to grow small businesses and improve infrastructure. The biggest piece, $50m, would go to a pair of community lending groups to support the redevelopment of a ring of neighbourhoods teetering between knock-it-down blight and move-here-now nice.
Vast stretches of the city – ones that look in photos like they were ravaged by war or a zombie flu – won't see a dime of that redevelopment money. Detroit is sprawling and automotive, nearly 140 square miles, large enough to swallow San Francisco, Boston and Manhattan side by side. The area JP Morgan and its redevelopment partners are targeting is a sliver of the city.
After decades of decline, this is the strategy city officials have embraced for their comeback plan: renew the city from the middle out, emerging smaller and healthier than before. Much of Detroit's wealth has fled to the suburbs. Its population fell by a quarter from 2000 to 2010. There's a paradox in its housing stock: it has far too many far-flung single-family homes and not enough of the dense, walkable apartments and condos that higher-income urbanites covet.
Yet its metropolitan area remains the nation's 14th-largest economy, a bona fide major-league town, albeit one where you can buy a family-size house for $10,000 or less. The downtown is clean and vibrant and draws a young, hip crowd. You can think of Detroit as being like a besieged medieval city, where the knights have abandoned the outer walls and holed up in the central castle tower. Now they hope to win back the courtyards.
The hope is that JP Morgan, by galloping into the market with a big investment, can help attract a lot of other investment. And that the market will view the bank's spending not as charity but as a sign of confidence in the revival – a signal that, yes, these neighbourhoods are on the mend, middle-class incomes are set to move in, and there will be money to be made from all of it.
"Hopefully, it could really kickstart stuff," Mr Dimon said in an interview soon after announcing the investment. "Hopefully, it will be more than $100m. Hopefully, it will be teaching people to fish."
That's why the word of the day, when you drive through the town with Mr Seybert, is "leverage" .
Mr Seybert, 33,  grew up outside Mount Pleasant, a college town in Michigan. He earned a law degree before entering the affordable housing game. He was working for a non-profit organisation when he first really saw Detroit. It jarred him. "It was very, very different from what I grew up with, and I had a hard time putting it into context," he said. "Detroit is a place that doesn't hide its scars."
The scars grew on him. Detroiters grew on him – "there's a certain resiliency to the people who live in the city" – and the opportunities in the city gnawed at him. He went into local development financing and burrowed into the city's tight-knit community of commercial real estate dealmakers. Then he joined JP Morgan, where he's now a vice president. He works in what's called the New Markets Tax Credit game, putting together deals where the bank buys tax credits from community development groups in exchange for an equity stake in a project. He does up to $200m in deals every year around the Midwest.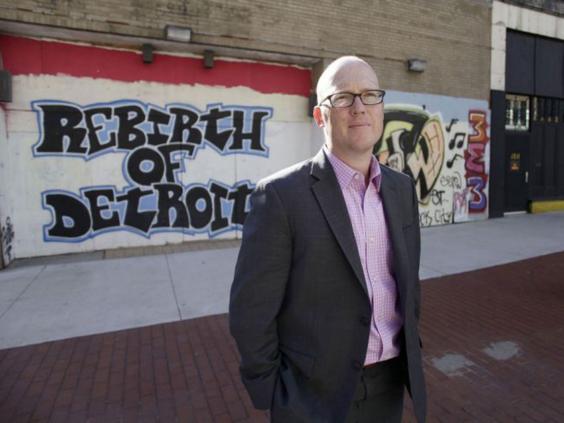 On this summer day, he pulls into a valet zone downtown. The Broderick Tower rises above him. Inside, the lobby is marbled and brassy, restored to resemble its opening day in 1927.
A young woman wanders through in a T-shirt with the logo of the alt-rock band Guster. Mr Seybert calls the elevator. It opens on the 33rd floor, in a penthouse suite where the master bedroom looks down into the outfield of the Detroit Tigers baseball stadium. The Broderick's manager tells you every apartment is filled, and there's a waiting list to get in. The website lists an available unit on the 19th floor, priced at $1,725 a month, and one on the 29th floor for $4,300.
When Mr Seybert first toured the Broderick several years ago, it was long abandoned. Electricity didn't flow past the fifth floor. Kids would sneak in at night to stage raves.
The ballpark was a draw. A developer thought the area was ripe for an upscale apartment tower. Mr Seybert had recently joined JP Morgan, and as his first deal he wanted the bank to invest in the project. Still, it took months. He would run numbers and send them up the ladder. His bosses would check them out and then ask for more numbers, again and again, until finally they were satisfied it was worth the risk. His bosses never said "no". They always said, "Prove it".
"People thought this deal was never going to get done," Mr Seybert says. "It took some convincing."
What JP Morgan and its partners are trying to do today is repeat that deal, dozens of times over, in neighbourhoods where the odds of revival are longer. One architect of the Broderick Tower deal was a community lending group called Invest Detroit. It's one of the two groups (the other is Capital Impact Partners, a national outfit) that will divide JP Morgan's $50m redevelopment pie over the next five years. In essence, the bank is giving Invest Detroit flexible long-term loans to finance real estate projects. Invest Detroit, with Mr Seybert's help, is recruiting hedge funds, banks and other sources of money to increase exponentially the amount of buying and building they can do with that money.
"You want leverage," David Blaszkiewicz, Invest Detroit's president, says – by which he means, you want your initial investment to prise a lot of other investment out of the financial community. "The whole interest is to get ourselves out of the subsidy game," Mr Blaszkiewicz says, "and let the market take over."
The way the community lenders describe it, there are two types of neighbourhood that need redevelopment in Detroit. The dominant type need major upgrades – they're where you see a lot of city demolition. The other type is on the fence – areas with some blight but more bright spots. It's those on-the-fence neighbourhoods that Invest Detroit is targeting, hoping to tip them solidly toward the middle class.
Mr Seybert drives through those areas over the course of a day. He drives north from downtown, past the campus of Wayne State University and the flagship store of the premium watchmaker Shinola. He drives south and west, toward a new medical clinic on the site of an old car lot, and then back through an area called Corktown, where the bones of the old Tigers stadium lie near a string of hot-right-now restaurants. He drives past vacant lots and tired old stores with bars on their windows. These neighbourhoods are all a mix of dead and vibrant. That's why they've been chosen.
"All the pieces are here," Mr Seybert says. "This is a neighbourhood where we can accelerate things."
The tour ends back downtown, in a quiet conference room in the bank's offices. JP Morgan is a massive financial institution – the sum of dozens of banks across the country that grew and merged over time and that, last year, pulled in $97bn in revenue and $18bn in profit. By those numbers, the $100m Detroit investment isn't much of a risk – it's a rounding error, even if every dollar goes to waste.
The bigger risk to the bank would be the total collapse of Detroit's economy: the bank, which has roots in the city going back 80 years, employs 3,600 people in Michigan across 300 branches. Last year, it was the largest consumer mortgage lender in the state.
The broader test is whether a big enough injection of private money can move markets to deliver positive change. "Bank capital is shareholder capital," Mr Seybert says. "We're not a foundation here. I feel very strongly about this. Community development needs to be sustainable, and we expect a return on our investment."
Critics suspect that hunt for profit shows a more sinister goal – to privatise public assets. The $100m includes $5.5m for a city streetcar project and other infrastructure initiatives. Writing on the news site Salon.com, David Dayen warned: "Detroit really is another piece of a very large puzzle JP Morgan Chase and other financial giants want to construct around public-private partnerships and seizing the value of assets taxpayers built.
"At face value, JP Morgan looks like a benevolent benefactor helping Detroit through its time of need," Mr Dayen added later in the piece. "But underneath the surface, they have designs on turning that generosity into profit, at the expense of the region's citizens."
As you'd expect, city leaders welcome the bank's involvement. "When JP Morgan invests $100m in your city, it attracts a lot of attention," Detroit Mayor Mike Duggan said in an interview. "People all think this is the same thing; it's time to buy low on Detroit."
© Washington Post