Financial markets have suffered their most brutal day since the global credit meltdown, as a "Black Monday" for stocks in Shanghai set off mass share sales across the world.
America's Dow Jones index plunged 1,000 points in early trade, following an 8.5 per cent slide in the price of Chinese stocks overnight. In the UK, £74bn was wiped of the value of FTSE 100 stocks in the worst day of trading for blue-chip London shares since March 2009 – meaning it has now lost 17 per cent in four months, close to the 20 per cent fall that would represent an official bear market.
After a day of wild swings, the Dow Jones index closed 588 points, or 3.58 per cent, lower last night, hitting an 18-month low. The S&P 500 shed 77.58 or 3.94 per cent.
The Chinese equity collapse was described as "Black Monday" by the official Xinhua news agency and represented the biggest one-day stock price fall seen in the country since February 2007.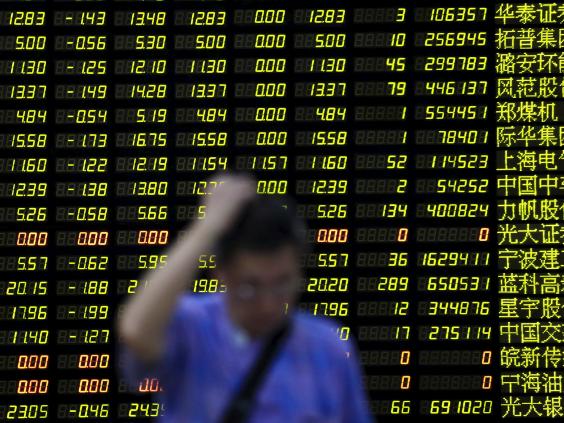 China's stock market rout, which followed a shock currency devaluation by the Beijing authorities earlier this month, helped to stoke fears that the world's second-largest economy is on course for a much feared "hard landing", which would have a severe impact on global growth.
"We are in the middle of a full-blown [China] growth scare," said analysts at the Wall Street bank JP Morgan.
David Madden, of the City of London spread-betting firm IG, said: "Dealers don't know what to do with themselves because the market moves are so enormous and erratic and their levels of fear are outweighing their greed."
China's stock market is in the grip of a bear market – meaning shares are more than a fifth below their most recent peak. American and UK stocks are also close to entering bear market territory. The FTSE100 is 17 per cent lower than it was in April  and the Dow is down almost 13 per cent.
Continental European shares also took a severe hammering. German shares shed 4.7 per cent, with the country's DAX index entering an official bear market. French shares lost 5.3 per cent, taking the CAC index down 17 per cent from its April peak. Overnight, Japanese stocks fell 4.6 per cent and Australian shares were down 4 per cent. Both countries are big exporters to China.
At the White House, spokesman Josh Earnest sought to play down the significance of the market sell-off. "I would encourage people to evaluate the on-going strength and resilience of the US economy" he said. However, many financial traders speculated that the US Federal Reserve could now delay its first interest rate hike since the financial crisis, which had been expected next month, in response to the market turmoil.
Yet the threat of an unwinding of years of stock market gains prompted political recriminations, notably from Republicans vying for the White House. "China's going bad. It's going to bring us down, too, because we're so heavily coupled with China," Donald Trump told Fox News. "You better start un-coupling from China because China's got problems."
Speaking during a visit to Helsinki, the Chancellor George Osborne said he was "concerned" about the Asian stock market rout. "Britain is a very open economy, we're probably the most open of the world's largest economies. And so we are affected by what happens; whether it's problems in the eurozone, problems in Asian financial markets" he said.
The biggest single day fall in the history of the US Dow Jones index came on 19 October 1987 (also dubbed "Black Monday") when stocks fell 22.6 per cent. FTSE100 stocks fell 10.84 per cent that day – and a further record 12.22 per cent the following Tuesday.
At one stage shares in Britain's biggest companies were trading down 6.8 per cent, putting the market on course for one of its worst days of trading in history.
In China there were reports that the country's top search engine, Baidu, was censoring local search results related to the stock market crisis.
Reuse content