Retail sales volumes fell 1.2 per cent in May, worse than the 0.8 per cent decline City economists had expected, according to the Office for National Statistics.
This followed a 2.5 per cent jump in the index in April, mainly owing to the timing of Easter and the month's unusually warm weather.
The annual rate of growth in May slipped to 0.9 per cent, the weakest since April 2013, and well below the City consensus expectation of a 1.7 per cent expansion.
Consumers have been feeling the impact of sharply higher inflation and weak wage growth, curtailing the household expenditure growth that has sustained the economy in the wake of last month's Brexit vote.
"Clearly, the impact of the fall in the pound on prices is weighing heavily on spending volumes growth. And this week's inflation and labour-market figures showed that the squeeze on real-earnings growth is intensifying," said Scott Bowman, economist at Capital Economics.
Inflation jumped to 2.9 per cent in May and average real wages fell by 0.6 per cent in the three months to April.
Declining again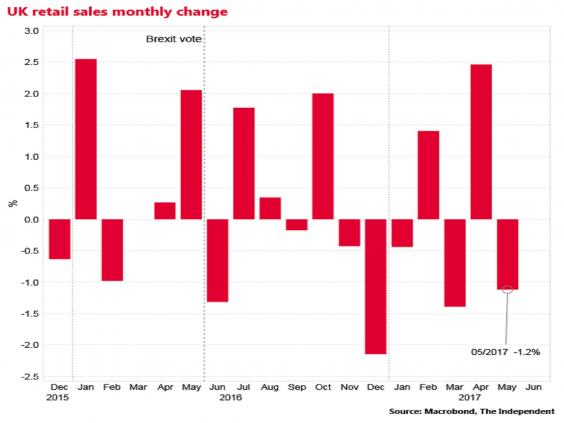 Retail sales, which make up about 20 per cent of GDP, are considered a crucial barometer for the health of the overall economy.
GDP growth slowed to 0.2 per cent in the first quarter of 2017, down from a 0.7 per cent expansion in the final quarter of 2016.
However, analysts said it was likely that given April's 2.5 per cent jump in sales – revised up from the previous 2.3 per cent estimate, it was likely that retail sales would make a positive contribution to GDP in the second quarter after dragging in Q1.
The three-month on three-month trend in volumes growth strengthened from 0.3 per cent to 0.6 per cent.
"Even if sales fell by a further 1 per cent in June, they would rise by 0.9 per cent in Q2 as a whole – compared to a 1.6 per cent fall in Q1," said Mr Bowman. 
Yet most economists said the prospects for retail sales growth beyond this quarter were bleak.
"The squeeze on household spending power because of slowing wage growth and rising prices of goods and services is clearly the main story here," said James Knightley of ING.
"So far, household spending has been supported by increases in unsecured borrowing, but this looks unsustainable and so we expect to see worse numbers for retail sales in coming months. There will be more downside risk should the labour market weaken further given the economic uncertainty caused by Brexit."
Weakest since 2013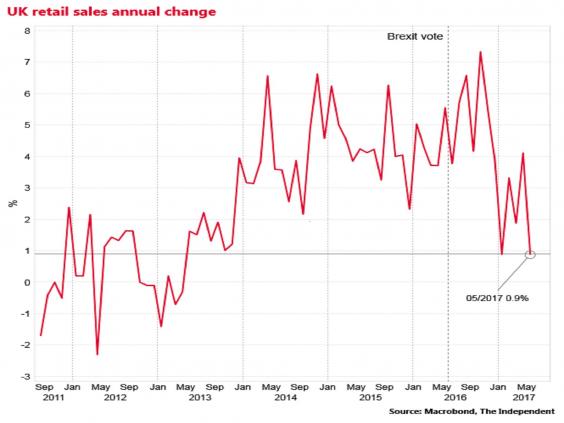 The ONS said the main contributors to the retail sales fall in May were non-food stores, where the annual volume of sales fell 1.2 per cent.
Annual volume growth in food stores was just 0.1 per cent, the weakest since July 2013.
Reuse content