Manufacturing output unexpectedly surged to a three-year high in April, according to the latest survey of the sector, suggesting exporting firms are benefiting from the collapse in the pound in the wake of the Brexit vote.
The Purchasing Managers' Index compiled by Markit/CIPS rose to 57.3 from 54.2 in the previous month, with any reading above 50 signalling growth.
City of London analysts surveyed by Reuters had predicted that the reading would drop slightly to 54.
Instead, it was the highest reading since April 2014. 
Firms reported higher orders from clients in North America, Europe, Africa and Brazil, which Markit/CIPS said reflected the weaker exchange rate and also a stronger global economy.
There was also growth recorded in output, employment and firms' stocks of purchases.
Strongest in three years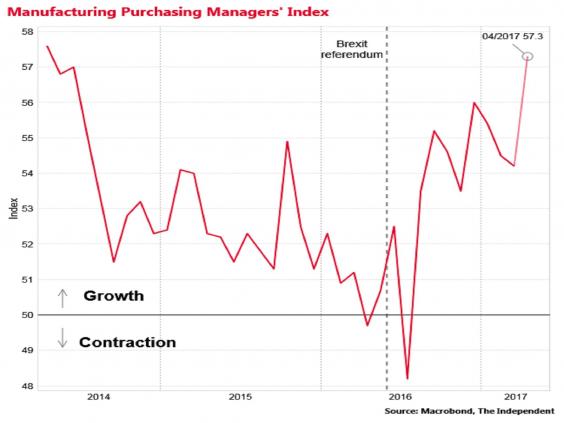 "The big question is whether this growth spurt can be maintained, especially given the backdrop of ongoing market volatility and a number of political headwinds such as elections at home and abroad," said Rob Dobson, an economist at Markit.
"Other surges seen since the middle of last year have generally proved short-lived, as weak wage growth sapped consumer spending. If this happens again it will inevitably constrain manufacturing, even as the investment and intermediate goods producing sectors continue to expand."
George Buckley of Nomura noted that largely monthly moves in the manufacturing PMI are often reversed in the following month.
But Lee Hopley of the EEF manufacturers' group was more upbeat.
"Against all expectations nine months ago, UK manufacturing appears to be in rude health, having navigated significant exchange rate swings and rising input costs, companies are capitalising on the upswing in the world economy and pressing ahead with some new investments," she said.
Manufacturing accounts for around 10 per cent of UK GDP.
The Office for National Statistics estimated last week that output grew by 0.5 per cent in the three months to March, down from a rate of 1.2 per cent in the final quarter of 2016.
Capital Economics estimated that the April PMI was consistent, on a historic basis, with quarterly manufacturing growth of 1 per cent.
Overall GDP growth is estimated to have slowed in the first quarter of 2017 from 0.7 per cent to 0.3 per cent, mainly reflecting a sharp slowdown in services output growth.
The trade-weighted value of sterling dropped as much as 16 per cent after the Brexit vote. It is currently 10 per cent lower than it was on 22 June 2016.
Reuse content