BT won a decisive victory over those calling for its wholesale Openreach business to be spun off, as the industry regulator Ofcom said the telecoms giant could keep it in return for making it more accessible to rivals.
Sky, TalkTalk, Vodafone and others had been pushing for years to persuade Ofcom to split Openreach from BT. But on Thursday, in its first big review of the sector for a decade, the regulator  said the status quo could remain with a few tweaks.
Openreach controls the cables and telegraph poles that bring broadband to homes across the country. They are leased to providers such as Sky and TalkTalk because they are owned in essence by BT, meaning that the former state owned business is responsible for their upkeep.
Rivals have also complained that this means BT customers get preferential treatment, making competition unfair, and can control the price at which they lease the lines.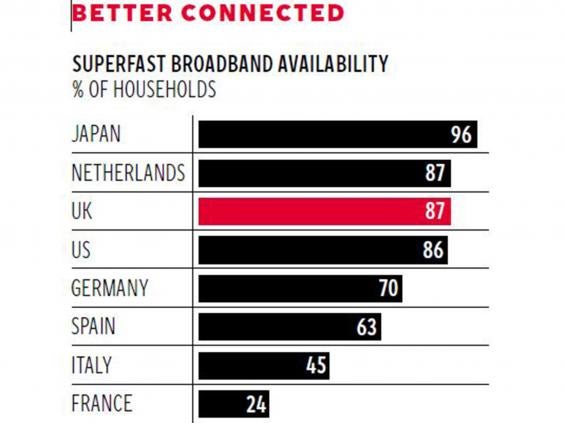 Their demands were partially met by Ofcom's new boss, Sharon White, who said they could gain access to the Openreach infrastructure to lay their own cables, if they wished. She added that there was clear evidence that Openreach "still has an incentive to make decisions in the interests of BT, rather than its competitors", and the business would be more open on how costs and assets are allocated between it and BT.
She explained: "People need affordable, reliable phone and broadband services. Coverage and quality are improving but not fast enough. So we've announced fundamental reform of the market with more competition, a new structure for Openreach, tougher performance targets and a range of measures to boost quality of service." Ms White also said she wanted to bring in automatic compensation for consumers who suffer any loss of, or reduction in, service.
She said: "We already have automatic compensation for electricity, water and gas, and consumers deserve it for telecoms. We will have new rules for quality of service in April and I want compensation to come in as soon as possible."
After the announcement, shares in BT closed up 21.4p or 4.7 per cent at 479.8p, while TalkTalk shares were down 1.1p or 0.5 per cent at 216.7p. Vodafone and Sky both rose in line with the FTSE gains.
Business picture of the day
Business picture of the day
1/30 Verizon confirms Yahoo buyout worth $4.83bn - Monday July 25

Verizon has confirmed that it will buyout Yahoo for $4.83 billion in cash, marking the end of the six-month sale process and the end of an era for a company that once defined the internet. Marissa Mayer, Yahoo CEO, described the deal as "an important step in unlocking shareholder value for Yahoo". The deal marks the end of the six-month sale process and the end of an era for a company that once defined the internet

Getty Images

2/30 Brexit shock pushes UK services and manufacturing into contraction says new survey - Friday July 22

The Brexit shock has given the economy "a good kicking" according to a special set of surveys of businesses taken in the wake of the European Union referendum vote, which suggest the UK economy is now contracting at its steepest pace since the last recession in early 2009. The "dramatic deterioration" will significantly increase the odds of a major monetary stimulus from the Bank of England next month to support the economy.

Rex Features

3/30 Euro rises after Mario Draghi relaxed statement on Brexit impact - Thursday July 21

The president of the European Central Bank Mario Draghi struck a sanguine tone on the aftermath of the UK's Brexit vote, but moved equity markets by urging a "public backstop" for the eurozone's struggling lenders. The ECB kept its main interest rates on hold and in his press conference Mr Draghi stressed markets had responded in an orderly fashion to the UK's shock plebiscite result on 23 June.

Getty

4/30 Italy eyes private deal to bail out bank - Wednesday July 20

Italy is eyeing a "private sector" solution to rescue Monte dei Paschi di Siena, the world's oldest bank, in an attempt to sidestep tough EU rules on bailouts, the Financial Times reports. However, Rome's main options to prop up the heavily indebted bank involve using funds from a state-backed Italian bank. That raises the risk of running foul of EU curbs on state bailouts. On Tuesday the European Court of Justice backed EU guidelines designed to prevent taxpayers from footing the bill for bailing out stricken lenders.

Reuters

5/30 IMF slashes UK growth outlook in wake of Brexit vote - Tuesday July 19

The International Monetary Fund has slashed its forecasts for UK growth, becoming the first official economics body to revise its growth estimates heavily downward in the wake of the shock Brexit vote last month. The IMF now says it expects the UK GDP to grow by 1.7 per cent this year, down from the 1.9 per cent it forecast in April, and the forecast for 2017 is just 1.3 per cent, down from 2.2 per cent previously.

Getty

6/30 ARM Holdings chipmaker to be bought by Japan's Softbank for £24bn - Monday July 18

British Finance Minister Philip Hammond (L) greets Masayoshi Son, CEO of Japanese mobile giant SoftBank, outside 11 Downing street in central London on July 18, 2016. Japanese mobile giant SoftBank has agreed a cash takeover of iPhone chip designer ARM Holdings for around £24.3 billion, the pair said Monday, in a major investment boost for post-Brexit Britain.

Getty Images / AFP / NIKLAS HALLE'N

7/30 Pokemon Go craze sees Nintendo share price increase 86% in a week adding £15bn to company value - Friday July 15

nvestors are still catching some of the global success of Pokémon Go global success, which has Nintendo shares hit a six-year high. The Japanese game company's shares have climbed 86 per cent since last Thursday on the back of Pokémon Go's popularity. That's almost $15 billion (£11.1 billion) added to the company market value in a week.

Getty Images

8/30 Bank of England holds interest rates at 0.5% - Thursday July14

The Bank of England's Monetary Policy Committee has decided to keep interest rates on hold, despite heightened market expectations that it would cut the cost of borrowing to a new historic low of 0.25 per cent to cushion the economy in the wake of the shock Brexit referendum result. But the Bank has also heavily hinted that a rate cut will come in August to support a weakening economy.

Getty Images

9/30 Brexit will plunge the UK into a recession in the next year, BlackRock says - Wednesday July 13

Britain will be plunged into a recession this year and be plagued with lower economic growth for another five because of the shock decision for the UK to leave the EU, BlackRock analysts have said. BlackRock is the largest asset manager in the world with $4.6 trillion under management as of 2015. Richard Turnill, chief investment strategist, has said that firm's "base case" is recession, meaning at a minimum, it expects the UK GDP to fall for two successive quarters in a row.

Getty Images

10/30 Nintendo shares soar on Pokemon Go success - Monday July 11

Shares in Japan's Nintendo = soared again on Monday, bringing market-value gains to $7.5 billion (£5.78 billion) in just two days as investors cheered the runaway success of Pokemon GO - its first long-awaited venture in mobile. The game, which marries a classic 20-year old franchise with augmented reality, allows players to walk around real-life neighborhoods while seeking virtual Pokemon game characters on their smartphone screens - a scavenger hunt that has earned enthusiastic early reviews.

Getty Images

11/30 John Lewis warns over sterling slump - Friday July 8

The boss of John Lewis has warned that the fall in the value of the pound could become a "big issue". Managing director Andy Street said the weak pound could start driving costs higher next year. He also said it was too early to say if the UK's vote to leave the European Union had affected consumer spending.

Getty Images

12/30 IMF chief Christine Lagarde urges quick Brexit to reduce economic uncertainty - Friday July 7

Christine Lagarde, the head of the International Monetary Fund, has urged the UK government to make a quick withdrawal from the European Union in order to reduce economic uncertainty. The growth of the British economy will be heavily dependent on the new trade agreements the UK negotiates with the EU, Ms Lagarde said. In an interview with the Financial Times, Ms Lagarde said: "We want to see clarity sooner rather than later because we think that a lack of clarity feeds uncertainty, which itself undermines investment appetites and decision making."

Getty Images

13/30 KPMG appoint new 'head of Brexit' - Wednesday July 6

Brexit has seen a boom in demand for legal and financial services as UK businesses race to make sense of the situation ahead of the UK leaving the EU. KPMG, one of the fourth largest accountancy firms in the world, has created a head of Brexit position to manage client advice as the UK leaves the EU.

KPMG

14/30 Pound sterling falls below $1.31 hitting new 31-year low

The pound fall below $1.31 for the first time in 31 years amid growing concerns about the financial stability of the UK after the decision to leave the EU. The last time the pound was worth less than $1.31 was in September 1985.

15/30 Three former Barclays traders found guilty in benchmark rate rigging trial - Monday July 4

Three former Barclays traders have been found guilty of conspiring to fraudulently manipulate global benchmark interest rates at a trial in London. Jay Merchant, 45 and born in Calcutta, was convicted unanimously. Jonathan Mathew, 35, a Libor submitter, and Alex Pabon (picture), 38, were found guilty by a majority verdict after the 10-week trial at Southwark Crown Court.

16/30 Bank of England to cut interest rates says Mark Carney - Thursday June 30

The Bank of England is likely to cut interest rates over the summer to combat a post-Brexit vote slowdown, the Bank's Governor, Mark Carney said today. The Governor's words, in a speech at the Bank's Threadneedle Street headquarters, sent the pound instantly and sharply down against the dollar as financial market traders responded to the news of the stimulus. READ MORE Brexit: 5 charts that show the vulnerability of the UK economy Ten year government bond yields also plummeted.

Getty

17/30 Toyota recalls more than 3.37 million cars - Wednesday June 29

Toyota, the Japanese car maker, said it was recalling millions of car worldwide and thousands in the UK over defective airbag concerns and fuel emissions control units.

Reuters

18/30 First upside down house in Kuala Lumpur - Tuesday June 28

A two-storey house is the latest attraction for tourists in the Malaysian capital city. Kuala Lumpur Upside Down House is a two-storey house and is the latest attraction for tourists arriving to the Malaysian capital where everything inside such as the furniture are placed in an upside down position.

Getty Images

19/30 George Osborne says he'll delay 'punishment budget' as pound slumps to new 31-year low - Monday June 27

George Osborne has sought to calm volatile financial markets in the wake of the Brexit vote in the referendum, but has left his own future as Chancellor in doubt. "Britain is ready to confront what the future holds for us from a position of strength" he said in a statement at 7.15am at the Treasury. "Growth has been robust and employment is at a record high. Our economy is now about as strong as it could be to confront the challenge the country now faces."

AFP/Getty Images

20/30 Markets react to Reacts to EU referendum vote result - Friday June 24

nalyst Robert Halver reacts at the Frankfurt Stock exchange the day after a majority of the British public voted for leaving the European Union on June 24, 2016 in Frankfurt am Main, Germany. The FTSE 100 plunged more than 8 per cent in its biggest opening slump since the financial crisis, wiping £120 billion off the value of the 100 biggest UK companies, after the UK voted to leave the EU.

Getty Images

21/30 Lock of David Bowie's hair to be auctioned - Thursday June 22

A clipping of David Bowie's blonde coiffure could fetch thousands this week at auction. The current bid is for $2,000 on Heritage Auctions, but The Associated Press is reporting that the Beverly Hills–based auction house is expecting to get more than $4,000 for the lock on Saturday.

Getty Images

22/30 The Palace of Culture and Science in Polant lit up with Remain messages as Britain prepares to go to vote - Wednesday June 22

The Palace of Culture and Science Warsaw's Palace of Culture and Science was illuminated in the colors of the Union Jack and accompanied by the hashtag, "Vote Remain." Wednesday marked the last day of polling before Britain goes to vote

Reuters

23/30 Glass Skyslide added to California's tallest skyscraper - Tuesday June

Sandra Brown, 40, rides the Skyslide on the 69th and 70th floors of the US Bank Tower which is attached to the OUE Skyspace LA observation deck in downtown Los Angeles, California, US June 20, 2016. Visitors will glide through the 45ft-long glass tube to enjoy a bird's-eye view of Los Angeles before landing on a more traditional viewing platform on the 69th floor.

Reuters

24/30 TalkTalk CEO Dido Harding sees pay almost triple despite cyber attack - Monday June 20

TalkTalk chief executive Dido Harding has seen her 2015 pay almost triple to £2.8 million, despite presiding over the firm in the year it was hit with a cyber attack that caused profits to halve. In October, TalkTalk suffered from a cyber-attack which cost the firm as much as £80 million and the loss of 101,000 subscribers.Her salary increased from £538,000 to £550,000, thanks to the company's £1.9 million long term incentive plan, which was awarded at the end of the previous year. Harding has pledged to donate a further £220,000 annual bonus to the Ambitous About Autism charity.

Rex

25/30 Revlon to buy Elizabeth Arden in $870m deal - Friday June 17

Revlon will acquire Elizabeth Arden for about $419 million,a wager that uniting two aging cosmetics giants can reinvigorate both companies' brands. The $14-a-share deal values Elizabeth Arden at about $870 million when debt is included, New York-based Revlon said on Thursday. The cash transaction represents a 50 per cent premium over Elizabeth Arden's closing price of $9.31

26/30 Disneyland Shanghai worth $5.5bn opens with support from Xi Jinping and Obama - Thursday June 16

Ten of thousands of people are expected to visit the Disneyland resort in Shanghai on Thursday as the $5.5 billion park opens its doors after five years of construction. The park, which is the largest investment from Disney overseas, opened its doors with fireworks, dancing Disney characters and support from two of the most powerful leaders of the world, US President Barack Obama and China's President Xi Jinping.

Rex Features

27/30 Sir Philip Green apologises to BHS staff for retailers' collapse in front of MPs - Wednesday June 15

Sir Philip has been called to answer questions by the Business, Innovation and Skills Committee over the collapse of BHS, leaving 11,000 jobs at risk. He has apologised to BHS staff for his handling of the demise of the company, which went into administration on April 15. In opening remarks to a committee of MPs, Sir Philip said that his "emotional tie" to BHS meant that he hung on to the chain too long, leading to "trouble". "Nothing is more sad than how this has ended," he said.

Rex Features

28/30 London house prices up 14% in a year - Tuesday June 14

House prices across the UK continued to grow in April, with London prices leaping by more than 14 per cent over the last year, according to official figures published on Tuesday. The average house price in the UK increased 8.2 per cent year on year to £209,054 in April, up 16,000 from the same time in 2015.In London, which continued to be far more expensive than anywhere else in the country, the average house price is now more than £470,000, up by nearly £60,000 on April last year.

Getty Images

29/30 Microsoft to buy LinkedIn for $26.2bn

Microsoft has said it is buying LinkedIn for $26.2 billion in cash in its biggest-ever acquisition. In a post on the Microsoft website, Microsoft said that that the deal values LinkedIn at $196 per share.Jeff Weiner will remain CEO of LinkedIn, reporting to Satya Nadella, CEO of Microsoft. Nadella said that as a user of LinkedIn and a publisher on LinkedIn, he was excited to work with the site because of the way it empowers people to take the next step in their careers.

Reuters

30/30 Solar just made more power than coal in the UK for the first month ever - Friday Jue 10

Solar generated more electricity than coal in the UK for the first month on record in May. Solar generated around 1,336 gigawatt hours (GWh) of electricy in May, 50 per cent more than the 893GWh generated by coal, according to analysis by Carbon Brief. ADVERTISING inRead invented by Teads Carbon brief had previously said that solar power beat two "largely symbolic" milestones in May when it beat coal for the first full day on April 9 and for the first week on May 3.

Getty
BT claimed a cautious victory, seemingly recognising that Openreach could slip from its grasp if the new rules are not adhered to.
Chief executive Gavin Patterson said: "I would call it a step on the road to clarity… But there is still an awful lot to be sorted out. 
"There is an awful lot we can do without adding huge cost, which a full spin-off would have meant. The fact is that ultimately the wholesale cost of ultrafast broadband in the UK is very competitive."
BT has claimed Openreach would cost too much to split and lead to broadband becoming prohibitively expensive, while slowing down the rollout of faster speeds across the country. But commentators have pointed out that similar systems work in other countries and other sectors. For example, National Grid controls the power lines across the UK and various electric companies lease them before providing services to households.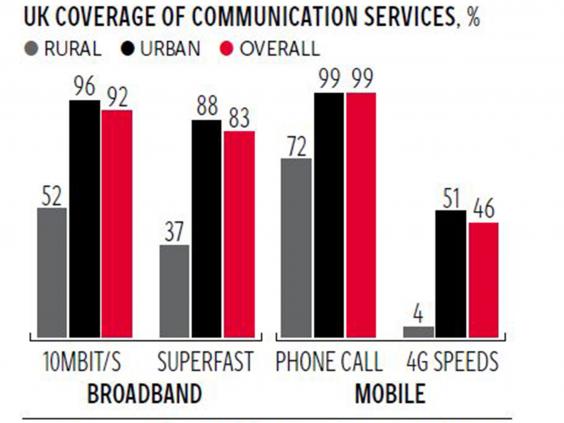 A Sky spokesman said: "We welcome Ofcom's recognition that the... Openreach model is not working and fundamental change is required. BT must now be held to account for improving service and enabling delivery of fibre to Britain's homes and businesses."   TalkTalk boss Dido Harding said: "Ofcom has done well in identifying many of the worst problems, including recognising, finally, that BT's control of Openreach creates a fundamental conflict of interest which hurts customers. 
"But having accepted all this, Ofcom has produced 100 pages of consultation with little concrete action. The risk is that we end up with 10 more years of debate and delays."
Conversely, rival broadband provider Virgin Media, which has its own separate cable network supplying around 16 million homes, said it was right that Openreach remain part of BT. Virgin Media chief executive Tom Mockridge said: "The best way to provide competition against BT and its inherited advantages is to support infrastructure investors like Virgin Media."
Reuse content