BT is expected to land a much-criticised Ministry of Justice semi-privatisation deal that would see the telephony giant turn bailiff.
Chris Grayling, the Justice Secretary, believes that big business would be more effective than the courts at reducing the level of outstanding fines, which was around £2bn when the competition to find a private-sector provider was launched two years ago.
At a time when the Coalition has been trying to balance the UK's books, ministers have also ended up writing off hundreds of millions of pounds in fines in recent years.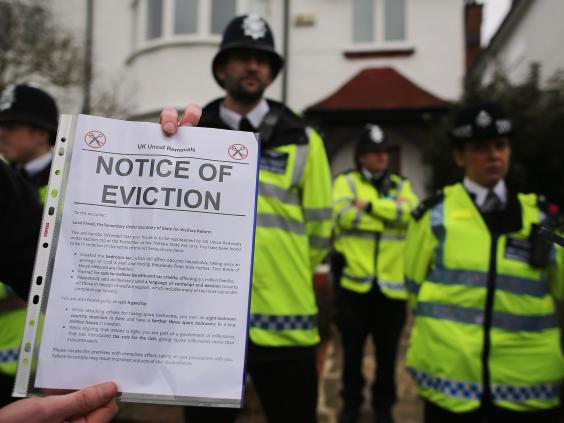 The process of selecting a winner has been heavily delayed and might not be completed before the general election, but it is thought that BT is close to being confirmed as the preferred bidder. Initially valued at around £675m, the deal was lucrative enough to attract a host of big names: the FTSE-100 outsourcing empire Capita, the computing giant IBM and the French IT group Atos are thought to have been in the running at various points.
Critics fear that sensitive information held by the courts, such as addresses, will have to be passed to the private sector in order for their bailiffs to do their jobs properly. Victims of crime who are owed compensation could also see their personal information passed to debt collectors.
There are also concerns that the industry is too lightly regulated; in 2013, the Citizens Advice Bureaux reported that it had received 25,000 complaints about bailiffs' behaviour. However, the Government did introduce some tough rules last year, such as stopping bailiffs from entering homes when only children are present.
Mark Serwotka, general secretary of the Public and Commercial Services union, told The Independent: "We do not believe private bailiffs will have the best interests of victims at heart when they're chasing payments. History shows that trying to bolt the profit motive on to very sensitive areas of the public sector, like the justice system with electronic tagging, is a recipe for disaster."
An industry source suggested that the contract award might have been delayed as this might be seen as "one privatisation too far" ahead of what is shaping up to be a tight general election. The MoJ recently handed control of about 70 per cent of the probation service to the private sector, which has angered campaigners who believe justice should not be "for sale".
A spokesman for HM Courts & Tribunals Service said: "The commercial process to seek an external provider for compliance and enforcement services formally commenced in July 2013. The final bids were submitted in January 2015. It is anticipated that the contract will be awarded later in the year."
BT declined to comment.
Reuse content