Business will not be voting Labour. That's the impression left by an open letter to The Daily Telegraph signed by 103 business leaders. The signatories said a "change in course" from the economic path laid out by "this Conservative-led Government" would "threaten jobs and deter investment".
But we should be wary of assuming the views of the 103 signatories are representative of the views of the entire business community in the UK. There are around five million private sector businesses according to the latest estimates.
It is true that big businesses is rather well represented among the Telegraph signatories, with nine bosses of FTSE100 companies adding their names. Yet that still means 91 of Britain's largest publicly quoted firms did not sign up. The newspaper trumpeted the fact the signatories are bosses of firms that collectively employ more than 500,000 people in Britain. But, again, this needs to be put in some context: there are around 31 million employees in the country.
So is the business community really petrified by the economic consequences of a Labour government? Most bosses don't want to get directly involved in commenting on party policies, not least because they may have to deal with whichever party (or combination of parties) prevails at the election. Taking sides could be bad for business. Shareholders could punish the overtly partisan.
It was notable that earlier this week, when Labour produced an election advert containing historic comments from business leaders warning about the dangers of a referendum on Britain's Europe Union membership (Conservative policy) several of those bosses quoted objected to being drawn into the political debate (even though they did not resile from their reported comments).
Businesses generally prefer to let lobbying organisations lead the line. The CBI, one of the biggest lobbying groups, has certainly been very critical of Labour's economic policies including the planned energy price freeze, the cap on firms making profit from the NHS and the latest ban on zero hours contracts. "Businesses will be looking for the next Government to create a positive, pro-enterprise environment, and will be concerned about any proposals for direct market interventions which have the potential to undermine investor confidence" said the CBI's boss John Cridland this week. Simon Walker the head of the Institute of Directors is scathing about Labour's flagship energy policy. "It's so risible a concept – the idea that energy prices can go down but not up – this is just not the real world" he says.
However, Mr Walker's main concerns relate mainly to Ed Miliband. He has complimentary things to say about other members of Labour's economic team. "I think Ed Balls understands how markets work and he was a very good City minister. And I think [shadow business secretary] Chuka Umunna gets that too".
John Mills, the Labour donor who runs a consumer goods export business, thinks the attacks on Labour for being "anti-business" are over-egged. He points to some of Labour's other policies such as more funding for apprenticeships and establishing a British Investment Bank. "More apprentices, more lending to firms – these are pretty business friendly policies really" he said.
The situation over Europe is also more nuanced. Labour regards its pledge not to hold an EU referendum, which could hit investment, as its key business friendly policy. But some suggest that Labour's message is not necessarily what all firms want to hear. "A very large proportion of British businesses don't benefit at all from the single market" notes Mr Mills. "Our members are not against a referendum" says Mr Walker from the IoD. "They want to stay in a reformed Europe. And I don't think it would remove uncertainty to supress a referendum is because you might well have a Conservative opposition that committed itself to EU withdrawal and it is quite possible that party would be elected in 2020. That possibility means you wouldn't be removing uncertainty at all – you'd actually be prolonging it. To me having the referendum and winning the damn thing is the way to resolve it".
What about finance? The widespread perception is that Labour is reviled in the City of London, not least for its plans to restore to the top rate of tax to 50p and to impose a levy on £2m mansions. Both policies would inevitably hit many highly-paid financial sector employees. Yet none of these redistributive policies stopped Andrew Taylor the boss of the Nevsky Capital hedge fund donating £600,000 to Labour. "I believe very strongly that everyone should contribute to society and that those who are lucky enough to earn a lot should contribute more than others" he wrote last month. Gina Miller, a co-founder of the fund manager SCM Direct and one of the people quoted on Labour's EU advert, is also happy to be associated with Labour's tax policies: "Successful people and business should be giving back to the society that afforded them their success. I don't agree with the idea that we need to have an ever widening gap between the rich and poor" she said.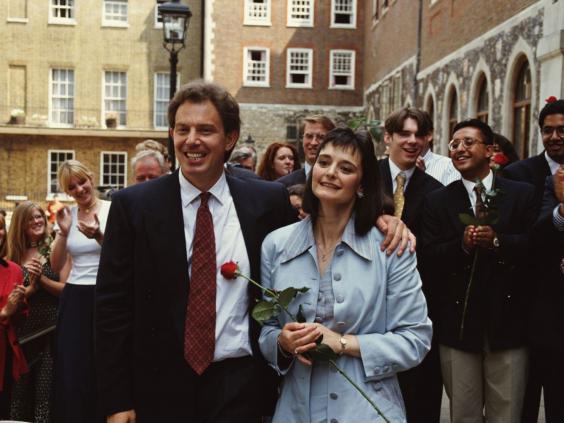 Even some Conservative hedge fund donors are relaxed about the prospect of a Labour government. "I'm sure Labour are not going to try and push companies like ours out of the country" said David Harding of Winton Capital Management, who has given £594,000 to the Tories, recently. Mr Harding added that as long as there was a "reasonable level of taxation" in Britain he would continue to base his business here.
It is certainly true that Ed Miliband's Labour has put less effort into courting the business vote than New Labour under Tony Blair did in the run up to the 1997 election. The excruciating moment on Newsnight in February when Ed Balls could not recall the surname of Bill Thomas, the EDS boss and the chair of Labour's small business taskforce, did symbolise that shift. And it is probably fair to say that most bosses lean towards the Conservatives - not least because that is where their personal financial interest lies. But the attitude of business towards Labour and this election is rather more complex and nuanced than the black and white headlines suggest.
Reuse content