When Camden Market first opened in 1973, it was based in a bomb-damaged packing warehouse and was only expected to last a summer. Forty years later, it's grown from counter-culture ghetto to capitalist mecca, with young tourists flocking to buy everything from Doc Martins and designer furniture to vinyl records and bongs.
Now though, stall holders say they are in a "state of fear" over plans to list the market on the stock exchange and plough the proceeds into developing 170 new flats, a potential boutique hotel, cinema and designer stores. Market veterans warn the plans risk sucking the "charm and creativity" out of an area whose edgy, bohemian vibe inspired the likes of The Clash, Amy Winehouse and Pete Doherty.
Market Tech, which owns the 11-acre site, will float it on London's Alternative Investment Market on Monday, in a move that is expected to raise £100m, and give the company a valuation of £750m.
"In the 40-year history of the market there have always been fierce battles between creativity and pressure for new development, and this is the latest chapter in that battle," said Caitlin Davies, the author of Camden Lock and the Market. "The 1980s saw it go into decline before the indie music scene in the 1990s saw a revival and lots of renovation work. The last few years have seen small traders asking how they are going to fit in now the big corporate mob has moved in."
The man behind the floatation and development plans is Market Tech owner Teddy Sagi, an Israeli tech entrepreneur and billionaire. In October he completed a £500m series of deals to purchase Camden Lock market, bringing the seven markets in Camden under single ownership for the first time.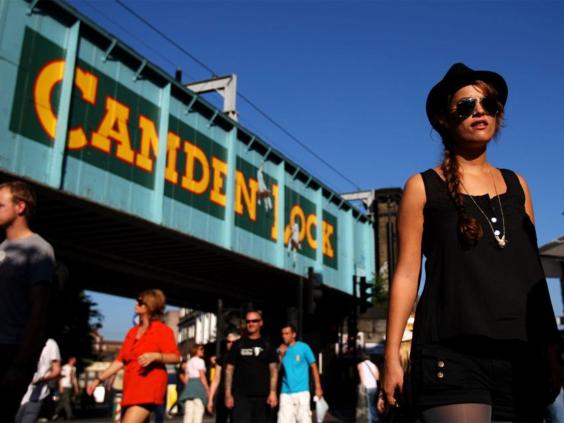 Traders complain that his firm immediately jacked up rents by as much as 20 per cent on some pitches and point to his colourful past; in 1994 he was jailed for nine months in Israel after pleaded guilty on charges of grave deceit, bribery and insider trading. He went on to make part of his fortune from controversial a fixed-odds betting terminal firm, and has invested in companies building pornography websites.
Market Tech admits some rents have gone up, but says others had been reduced. Few stall holders at the market, which attracts 28m visitors a year, would speak openly about the coming change, but there is obvious nervousness about the proposals, which describe the market as an "attractive opportunity for a major redevelopment" and detail how the "flexible natures of the stalls" allows for a "revamp" of the site.
Arguably, the market, which is increasingly dominated by cheap imported goods, including tacky I Love London T-shirts and flimsy plastic Union Jack smartphone covers, is in need of some renovation.
But at the Lock market, where craft-based traders sell higher-end handmade gifts and clothing, there is visible anger among the traders. One bespoke clothing stall holder, who did not want to be named, said: "We are incredibly suspicious of the plans as our rents have already gone up under this new owner. We are now paying £10,000 a year for a pitch and are in a state of fear over what might happen to us next; the obvious risk is that they just cover the place in expensive flats just like the rest of north London. As it is the trading conditions are terrible and most of the market has been practically taken over by shit merchandise."
The market has faced big challenges in the past, including larges fires in 2008 and again in May this year, when 600 shoppers had to be evacuated after a major blaze at the Stables Market. But it's the twin threat posed by lower-quality stalls and the development plans that is really concerning local business owners.
Serge Mateke, a Frenchman who has run a creperie food truck for more than 10 years on nearby Inverness Street, a council-run location that started out as a fruit market more than 100 years ago, said: "The problem is that the creativity and magic that makes Camden so famous around the world is fading.
"The management breaks my heart as the area is losing its soul. Inverness Street used to be full of fruit and vegetable stores and craft, but now it's just cheap clothes and phone covers. Tourists from around the world come here because of its vibrant reputation but they tell me that it doesn't live up to expectations. It doesn't feel like the funky, creative Camden they've read about in the guide books."
Responding to the complaints, Market Tech Holding said it was funding a new £6.4m primary school and 14 affordable homes in the Camden Lock Village development. It added that it intended to bring "more unique creativity" to the marketing and works hard to "safeguard the quality of merchandise sold".
Local campaigner Ian Shacklock, chairman of Friends of Regent's Canal, is still worried: "These sorts of developments just take, take, take and offer only shrink-wrapped predictability in return. The market is already losing its character and now it seems that corporate globalisation and development is set to make that worse."
Reuse content