After causing a stir with a jaw-dropping business card to end all business cards, Chinese billionaire Chen Guangbiao is back at it.
The tycoon- known for his well-publicised stunts and eccentric style- has invited 1,000 poor Americans to a charity lunch in New York's Central Park next week in an effort to show the world China's super rich can be nice.
"I want to spread the message in the US that there are good philanthropists in China and not all are crazy spenders on luxury goods," he told the South China Morning Post.
Taking a full-page bilingual ad in the New York Times, featuring a black and white photograph of a Chinese soldier from the Mao era, Chen said he will hand out $300 in cash to each attendee and perform We Are the World- the charity single penned by Michael Jackson and Lionel Richie for USA for Africa.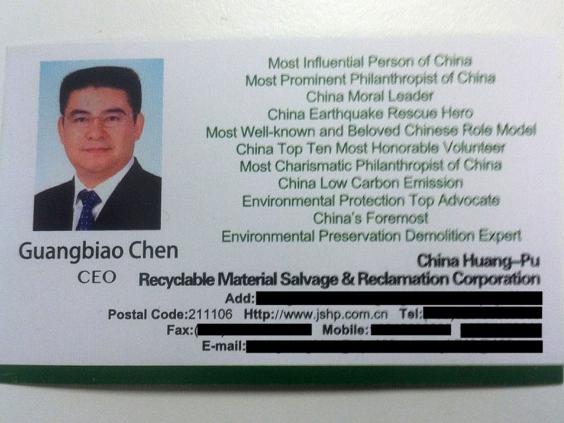 Chen, listed as one of China's 400 richest people, made headlines earlier this year thanks to a cheeky business card where he described himself as the "Most Influential Person Of China", moral leader and beloved role model.
He later claimed he was good "at working with Jews" and expressed his desire to make a £1bn (£608m) investment in The New York Times to restore its reputation. The American journalistic institution rejected his offer and declined a meeting.
Some of his other over-the-top publicity stunts include selling canned fresh air to residents of smog-ridden Beijing and handing out 100 yuan (£10) notes to the victims of the 2008 Sichuan earthquake.
Those wishing to attend the event at Central Park's Boathouse restaurant, which he claims will cost him close to one million dollars, must RSVP to a Hotmail e-mail address or miss the opportunity of a lifetime.
After all, who wouldn't want to party with a man who throws money at the sky and likes to wear green suits for fun?
Reuse content