Output by Britain's builders unexpectedly slumped in August according to the Office for National Statistics and City analysts predict that the sector has returned to recession.
Construction output fell 1.5 per cent in the month, following growth of 0.5 per cent in July.
City of London analysts had pencilled in a 0.2 per cent increase.
Fall in August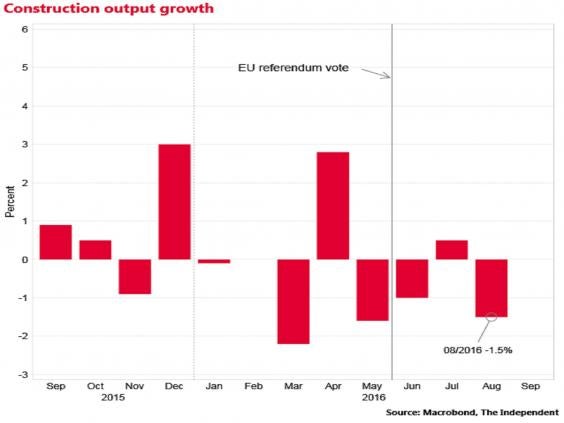 The construction index is notoriously volatile and lacks full national statistics status.
And the ONS said that it was "unlikely" to be a Brexit vote effect because the biggest contributor to the fall in the month was a slump in infrastructure spending rather than private investment.
The latest Markit/CIPs Purchasing Managers survey snapshot of construction for September indicates a return to growth.
Nevertheless, in the three months to August, compared with the previous three-month period, output was down 1.3 per cent under the ONS figures, signalling a clear slowdown.
Samuel Tombs of Pantheon said builders were "reeling from the Brexit vote" and that it looks likely the sector has relapsed into recession in the third quarter of the year, having contracted by 0.1 per cent in the second quarter.
"Barring revisions to the back data, construction output needed to have jumped 5.1 per cent on-month in September just to have been flat quarter-on-quarter in the third quarter," said Howard Archer of IHS Global Insight.
The reading also confirms the impression that the run of much better than expected data on the economy in the wake of the Brexit vote is coming to an end.
Construction accounts for about 6 per cent of GDP and the sector now seems unlikely to make any contribution to growth in the third quarter of the year – and might even be a drag.
What experts have said about Brexit
What experts have said about Brexit
1/11 Chancellor of the Exchequer Philip Hammond

The Chancellor claims London can still be a world financial hub despite Brexit "One of Britain's great strengths is the ability to offer and aggregate all of the services the global financial services industry needs" "This has not changed as a result of the EU referendum and I will do everything I can to ensure the City of London retains its position as the world's leading international financial centre."

Reuters

2/11 Yanis Varoufakis

Greece's former finance minister compared the UK relations with the EU bloc with a well-known song by the Eagles: "You can check out any time you like, as the Hotel California song says, but you can't really leave. The proof is Theresa May has not even dared to trigger Article 50. It's like Harrison Ford going into Indiana Jones' castle and the path behind him fragmenting. You can get in, but getting out is not at all clear"

Getty Images

3/11 Michael O'Leary

Ryanair boss says UK will be 'screwed' by EU in Brexit trade deals: "I have no faith in the politicians in London going on about how 'the world will want to trade with us'. The world will want to screw you – that's what happens in trade talks," he said. "They have no interest in giving the UK a deal on trade"

Getty

4/11 Tim Martin

JD Wetherspoon's chairman has said claims that the UK would see serious economic consequences from a Brexit vote were "lurid" and wrong: "We were told it would be Armageddon from the OECD, from the IMF, David Cameron, the chancellor and President Obama who were predicting locusts in the fields and tidal waves in the North Sea"

PA

5/11 Mark Carney

Governor of Bank of England is 'serene' about Bank of England's Brexit stance: "I am absolutely serene about the … judgments made both by the MPC and the FPC"

Reuters

6/11 Christine Lagarde

IMF chief urges quick Brexit to reduce economic uncertainty: "We want to see clarity sooner rather than later because we think that a lack of clarity feeds uncertainty, which itself undermines investment appetites and decision making"

Getty Images

7/11 Inga Beale

Lloyd's chief executive says Brexit is a major issue: "Clearly the UK's referendum on its EU membership is a major issue for us to deal with and we are now focusing our attention on having in place the plans that will ensure Lloyd's continues trading across Europe"

EPA

8/11 Colm Kelleher

President of US bank Morgan Stanley says City of London 'will suffer' as result of the EU referendum: "I do believe, and I said prior to the referendum, that the City of London will suffer as result of Brexit. The issue is how much"

9/11 Richard Branson

Virgin founder believes we've lost a THIRD of our value because of Brexit and cancelled a deal worth 3,000 jobs: We're not any worse than anybody else, but I suspect we've lost a third of our value which is dreadful for people in the workplace.' He continued: "We were about to do a very big deal, we cancelled that deal, that would have involved 3,000 jobs, and that's happening all over the country"

Getty Images

10/11 Barack Obama

US President believes Britain was wrong to vote to leave the EU: "It is absolutely true that I believed pre-Brexit vote and continue to believe post-Brexit vote that the world benefited enormously from the United Kingdom's participation in the EU. We are fully supportive of a process that is as little disruptive as possible so that people around the world can continue to benefit from economic growth"

Getty Images

11/11 Kristin Forbes

American economist and an external member of the Monetary Policy Committee of the Bank of England argues that the economy had been "less stormy than many expected" following the shock referendum result: "For now…the economy is experiencing some chop, but no tsunami. The adverse winds could quickly pick up – and merit a stronger policy response. But recently they have shifted to a more favourable direction"

Getty
Most economists now expect the economy to have grown overall in the third quarter of the year, thanks to resilient services output and robust consumer spending, although there are still concerns about a drying up of business investment due to uncertainty created by the referendum result.
The ONS said that in August new construction work fell by 1.4 per cent and maintenance was down 1.5 per cent.
Within the new work category, infrastructure fell 5.1 per cent on July – and was down 9.3 per cent on the same month a year earlier.
The Chancellor Philip Hammond has signalled that he will announce a boost to infrastructure spending in the 23 November Autumn Statement to help the economy weather the impact of the Brexit vote.
Reuse content