Shoppers have been given an early Christmas present after it was announced that falling oil prices and supermarket price wars have combined to push inflation to its lowest rate since September 2002.
The Consumer Price Index measure of inflation dropped more steeply than expected in November to reach a 12-year low of one per cent – sparking hopes that consumers would finally enjoy a rise in their real-terms wages, which  have lagged behind the increasing cost of living for six years.
The figures, released by the Office for National Statistics yesterday, also showed food prices had fallen by 1.7 per cent year on year, adding to optimism that families would enjoy a cheaper Christmas dinner and increased spending power when it came to buying gifts.
Analysts suggested that there was unlikely to be any Christmas truce in the supermarket price wars sparked by the big four chains – Tesco, Sainsbury's, Morrisons and Asda – trying to fight off competition from cheaper rivals such as Lidl and Aldi.
James Brown of consulting firm Simon-Kucher & Partners confirmed: "We expect price competition to be particularly prevalent over the festive period, as supermarkets battle to win the key Christmas shopping baskets."
With oil prices hitting a five-year low, there was also good news for drivers. Motor fuel fell by 5.9 per cent as average petrol prices dropped by 3p per litre over the month and diesel fell 2.9p.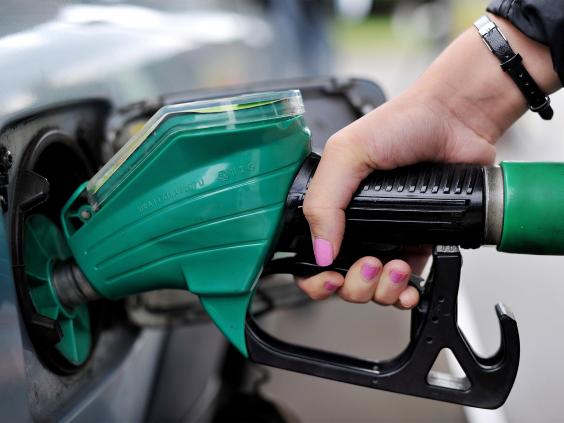 And the RAC suggested that drivers might soon be enjoying petrol prices of under £1 per litre – a pump price last seen in late May 2009.
RAC spokesman Simon Williams said: "The cost of visiting family and friends this Christmas will be the cheapest it's been for nearly five years, but the prospect of petrol going below £1 a litre in the new year is incredible, particularly when prices at the beginning of 2014 seemed to be heading ever upwards."
With many analysts saying inflation would fall still further, Michael Saunders of Citi predicted falling oil prices would push inflation as low as 0.3 per cent early next year.
He said: "Unless oil prices surge, the key point is that inflation in 2015 is likely to be very low and, in turn, this is likely to produce rapid growth in household real incomes and consumer spending."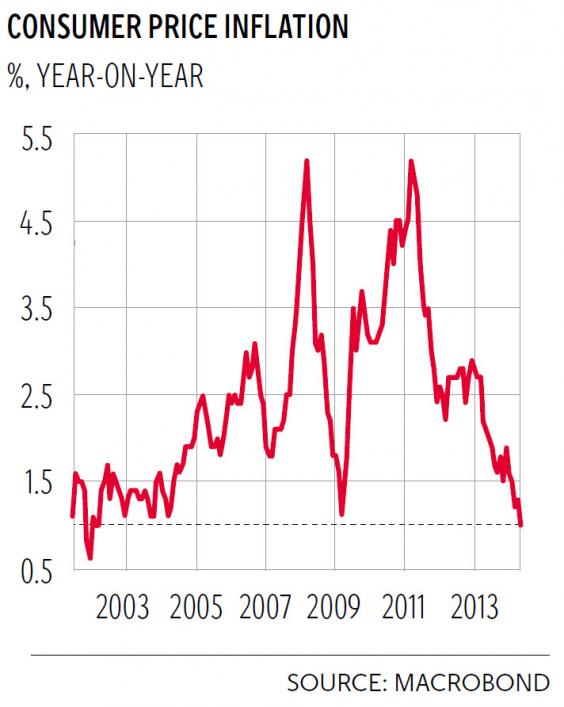 Both Chancellor George Osborne and the Prime Minister hailed the low inflation rate as proof that their policies were working, with David Cameron tweeting: "Inflation has fallen to its lowest level in 12 years – more proof our long-term economic plan is working for people."
Danny Alexander, Liberal Democrat Chief Secretary to the Treasury, claimed: "This is a welcome early Christmas present to millions of families across the country."
But the one per cent rate meant Mark Carney, governor of the Bank of England, only just avoided having to write the bank's first-ever letter to the Chancellor to explain why inflation is so low.
If inflation drops any further, the governor will have to write to Mr Osborne to explain why inflation is more than one percentage point below the bank's official two per cent target.  Mr Carney warned last month that it was "more likely than not" he would have to write the letter over the coming six months.
Although he insisted that the fall in oil price was a "net positive development" for the UK, some observers suggested that the low inflation rate might threaten to bring the UK closer to the situation in the eurozone where there are fears of a damaging deflationary spiral.
TUC general secretary Frances O'Grady said: "Seven years of falling real wages have damaged our economy and left the recovery looking increasingly fragile. Concerns about deflation are not going away."
Shadow Treasury minister Cathy Jamieson also urged caution: "Wages continue to be sluggish, barely keeping up with rising prices."
Reuse content