Facebook founder Mark Zuckerberg and his wife, Priscilla Chan, have pledged to cure all diseases by the end of the century and spend $3 billion (£2.3bn) towards this goal.
If the idea that a $3 billion investment will create a world free of diseases sounds like the kind of statements that would normally make scientists cringe, it is actually not as crazy as you might think.
Breakthroughs in technology have allowed for the progress of medical science at an increasingly rapid rate. 
"Naysayers will be quick to criticise "philanthropicapitalism" but Gates, Wellcome and other funding agencies have made a tremendous contribution to medical science, particularly in neglected tropical diseases and malaria," Prof Paul Reiter, recently retired Professor of medical entomology at the Pasteur Institute, said.
He added that many important organisation are impoverished by the lack of funding citing the World Health Organisation as an example.
"The World Health Organisation gets constant criticism—much of it justified— yet few realise the contribution they make in orchestrating research despite having to scrabble for every penny."
Since we are talking money, the $3 billion involved here is not a large budget compared to the National Institutes of Health's $31 billion budget or the UK's Wellcome Trust which aims to spend £5 billion over the next 5 years.  
The Medical Research Institute, the non-departmental public body funded through the government's science and research budget, gives about £845 million into medical research while UK charities raises around £1.3 billion between them, according to 2013 to 2014 figures.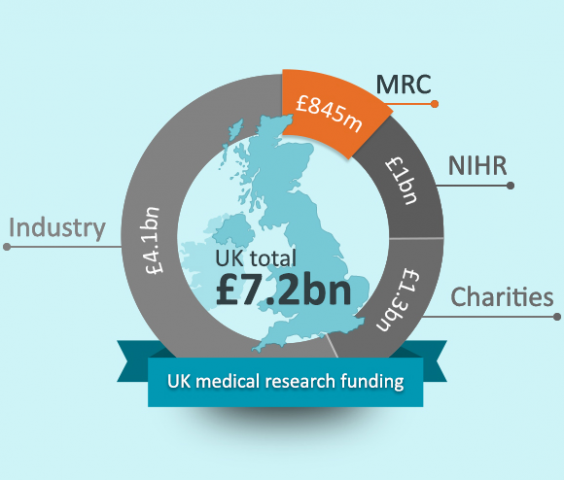 However, the idea here is not to compete to those efforts but rather add to it. The efforts towards tackling disease will focus on three major things: bringing scientists and engineers together, developing new technological tolls and inspiring more funding of science.
John Hardy, professor of Neuroscience at UCL, went as far as saying that UK could learn from the initiative.
"It is worth noting that, dollar for dollar, UK medical research is second to none.  I hope we can convince them that this makes UK science a good investment," he said.
New approaches are also required. Chan and Zuckerberg will donate $600 million over the next decade to the Biohub in San Francisco, bringing together Bay-area researchers and scientists from the University of California at San Francisco, the University of California at Berkeley and Stanford University.
Dr Jim Smith, deputy chief executive and chief of strategy at the Medical Research Council, said he "applauds new tools and technologies to fight disease, and the multidisciplinary approach where medical researchers, engineers, chemists and other scientists work together to solve problems – something we are doing more and more of in the UK,". 
It is worth noting that Zuckerberg is not the only philanthropist to engage with the scientific community for advice. 
This year has already seen billions of philanthropic dollars go to science, including from the likes of other tech billionaires such Napster co-founder Sean Parker to advance cancer immunotherapy research and philanthropists Sandy and Joan Weil for brain research.
A selection of the most powerful millennials in the world
Meanwhile, the Bill & Melinda Gates foundation, created by Microsoft co-founder Bill Gates and his wife  gave $10.2 billion through 2014 to global health initiatives like fighting AIDS, tuberculosis and malaria.
"Mark Zuckerberg's claim that all disease will be cured or even managed by 2100 is a big ask. However, if you would have me asked me in 1916 how much progress we would have made in a 100 years I would not have never have imagined it,"  Dr. Smith told The Independent.
Alexander Flemming discovered penicillin, the first true antibiotic in 1928, a little less than a century ago.