1.    The Office for Budget Responsibility has become MUCH more gloomy about the UK's economic outlook…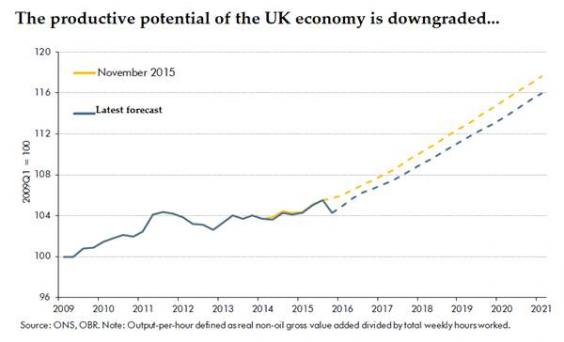 The independent fiscal forecaster thinks the growth potential of the UK economy is considerably worse than it did last November. This means slower GDP growth over the five year forecast horizon, which means lower tax revenues, which means worse public finances. This is especially bad news for George Osborne because in previous years, when near-term growth has been downgraded by the OBR it has correspondingly upgraded growth forecasts for later years in the forecast. Not this time…
2.    He will miss his debt to GDP target…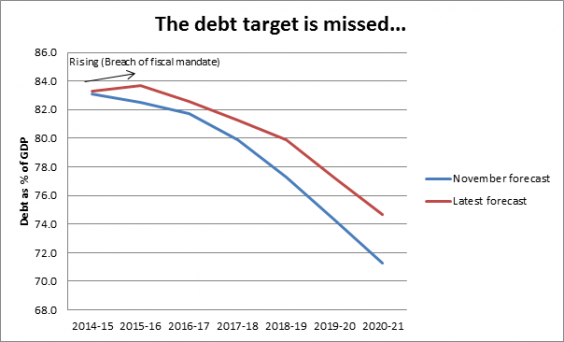 Part of the Chancellor's self-imposed "Charter for Budget Responsibility" requires him to have the national debt as a share GDP falling between 2014-15 and 2015-16 and every year after. But the OBR today said that as nominal GDP in 2015 was around £18bn smaller than previously forecast the debt ratio will rise slightly in 2015-16, meaning Mr Osborne will breach his own rule.
3.  He will also miss his welfare cap target…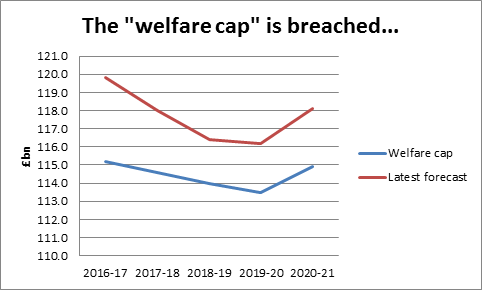 Another part of the Charter for Budget Responsibility requires the Chancellor to ensure a portion of welfare spending is not above an arbitrary  "cap" of around £115bn that he had previously specified. But he was already on course to miss this target in last November's Autumn Statement. And today the OBR confirmed it will be missed by an even bigger margin.
4.  The 2019-20 surplus is only achieved with some accounting fiddling and sketchy assumptions…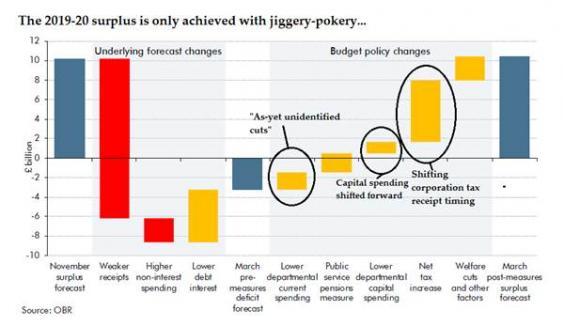 The OBR says the drastic deterioration in the public finances would have left the Chancellor on course to miss the final (and most important) part of his own fiscal mandate, namely running a budget surplus in 2019-20. He would have run a £3.5bn deficit in that year, rather than a £10bn surplus as projected in November.
But corrective fiscal action Mr Osborne has taken ensures this £10bn surplus is preserved in that year. However, what is that fiscal action? The OBR small print reveals that half of the damage is repaired by shifting the timing of corporation tax receipts to HMRC.
Another chunk is repaired by changing the timing of state capital spending. Finally, a fair amount of work is done by new departmental spending cuts. But as the OBR stresses these are "as-yet unidentified", which means that the Chancellor has merely pencilled them in, rather than taken any firm policy decisions which means that they will be delivered. His 2019-20 surplus thus begins to look like something of an accounting trick. And without this trick he would have missed ALL THREE of his fiscal targets.