The FTSE 100, an index of UK stocks with the highest market capitalisation, hit its highest ever level today, nudging above the 7000 mark. The new record comes a month after the FTSE 100 set a new record of 6997.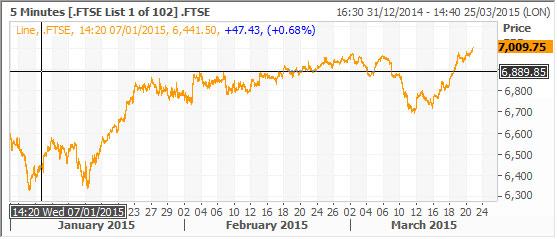 The 7000 mark is significant because the FTSE 100 has delivered little since the turn of the century and looked to many like it was stuck beneath 7000.
It took the FTSE just 7 months to break through 5k & get to 6k. It's taken 204 months from there to 7k. #uselessfact #FTSE

— Tony Cross (@MonkComms) March 20, 2015
Market commentators took to Twitter to share the news, which may signal the start of a more prosperous period for UK stocks.
Maybe the FTSE really can hit 10,000 by 2022 at the pace it's going now! http://t.co/TL26EPsJWF

— Anna Fedorova (@FedorovaIW) March 20, 2015
FTSE 100 hits 7000 pts! Momentous day!

— Alex Beirne (@ABeirne11) March 20, 2015
An eclipse and the FTSE breaching 7,000 on the same day! I feel a bit light headed.

— Adam Carolan (@Adam_Xentum) March 20, 2015
European stocks pushed higher after negotiations in Greece took on a positive tone at a meeting of eurozone government heads yesterday. The Greeks still have to meet a new target for their primary budget surplus of one to 1.5 per cent. But the tone from Germany has softened, with Angela Merkel saying she would forget the mistakes of the last Greek government.
Meanwhile Tullow Oil stocks jumped 5.8 per cent after it announced it had secured new funding.
Some said optimism following the UK Budget announcement on Wednesday had also helped buoy the index.
Across the Atlantic the NASDAQ is also testing new highs.
FTSE 100 above 7000 for the first time ever. More important to be a lucky chancellor than a good chancellor #Osborne

— Louis (@Louis_Purchase) March 20, 2015
Reuse content