Russian energy giant Gazprom has cut off gas supplies to Ukraine after the two countries failed to reach an agreement on the price, setting the stage for a new diplomatic stand-off.
State-controlled Gazprom said Ukraine will have to pay in advance for gas from now on after it missed a deadline to settle its energy debt. Gazprom claims Ukraine owes a total of $4.45 billion (£2.62 million), consisting of $1.45 billion for gas deliveries in November-December last year and $3 billion for April-May.
"From today, the Ukrainian company will receive Russian natural gas only in the amounts it has paid for," Gazprom said in a statement on Monday morning.
Gazprom and Ukraine's state-owned Naftogaz later announced they would sue each other in the Stockholm arbitration institute over the ongoing energy row. Ukraine's Naftogaz aims to win back $6 billion (£3.5 million) in what it described as "overpayments" to Russia.
Gazprom chief executive Alexei Miller said the energy giant had tolerated Ukraine's late payments until now but would not accept a lower price and went on to accuse Kiev of "blackmail". Russia wanted a payment of $1.95 billion for past-due bills by 10 am Moscow time.
The pipeline to Ukraine also carries gas for Europe and, while the decision is not expected to affect the gas flow, it could disrupt the long-term energy supply to the region, which is heavily dependant on Russian gas.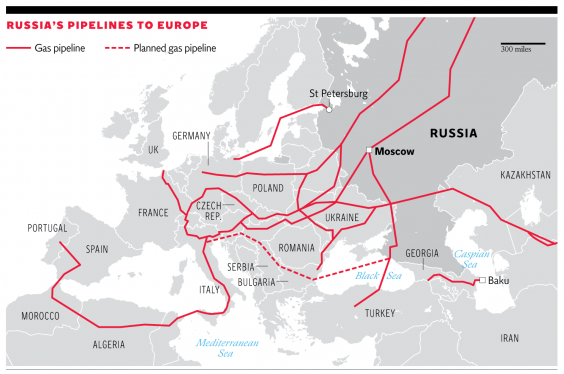 "Everyone is a loser in this stalemate," said Michael Bradshaw, professor of global energy at Warwick Business School. "It is doing Russia reputational damage and the EU is stiffening its resolve to reduce its reliance on Russian gas, but many European companies have contracts into the 2020s with Gazprom."
Meanwhile, Gazprom insisted the supply to Europe will continue as planned and warned that Ukraine, which supplies 15 per cent of Europe's natural gas, has an obligation to make sure the gas reaches its destination.
"The gas for European consumers is being delivered at full volume and Naftogaz Ukraine is required to transit it," spokesman Sergei Kupriyanov added.
Gazprom had traditionally offered Ukraine huge discounts on gas prices, but the deal was overturned in April following the ousting of president Viktor Yanukovych. It also increased the price of gas to $485 (£285) per 1,000 cubic metres, almost doubling its fees in three days, from $268 (£157) per 1,000 cubic metres.
Ukraine acting prime minister Arseny Yatseniuk accused Russia of blocking the deal for political reasons, adding: "it is not about gas, it is a general Russian plan to destroy Ukraine".
Reuse content