London will become a city of renters by 2025, when only 40 per cent of Londoners will own a home, new research claims.
Only 26 per cent of "generation rent", classified as young people from the age of 20 to 39, will own their house by 2025, according to the research by PricewaterhouseCoopers (PWC).
It shows that the situation has flipped since 2000, when 60 per cent of London's population owned a house.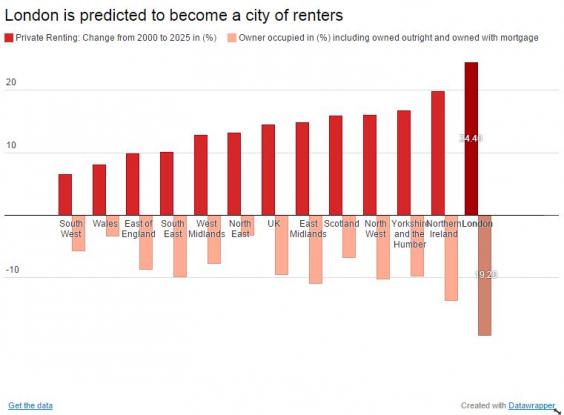 Richard Snook, senior economist at PwC, said people are increasingly being locked out of owning a home in London as demonstrated by a sharp rise in private rental and a drop in home ownership.
"High prices are making homes in the capital unaffordable to most and could undo a century long trend towards rising home ownership rates - in just 25 years the city has been transformed to one where rental is becoming the norm – especially for younger people," he said.
London will be the worst affected, with a predicted rise of 24.4 per cent from 2000 to 2025 but renting will increase across the UK over the next ten years.
Scotland and the Northern regions of England are expected to see faster growth in private rentals than the South, excluding London.
The number of renters in the UK as a whole will increase by 14.5 per cent, according to the research.
Further research from the Association of Residential Lettings Agents found that first-time buyers who buy a house this year will have spent an average of £52,900 on rent.
Outrageous property deals in pictures
Outrageous property deals in pictures
1/12 First London luxury flats to contain their own private art gallery with prices going from £3.8m up to £7.7m

The first private luxury apartment building in London with its own private art gallery has been unveiled in March. The Chilterns at 24 Paddington Street contains 44 luxury residences, the majority of which were sold in 2013. It contains a signature restaurant, a 24 hour-hotel style concierge service, a gymnasium and sauna and a private cinema. The new art gallery, with original pictures of the area by David Bailey, is part of the lobby of the building and is "one of the most exciting and unique features of the Chilterns", according to Stephen Conway, CEO of Galliard Homes. With prices going from £3.8 million up to £7.7 million for a three bedroom flat, the residence is located between the local shops of Marylebone High Street and Baker Street.

2/12 Margaret Thatcher's Belgravia home is up for sale for £30m

Margaret Thatcher's six-floor townhouse in Belgravia is on the market for a cool £30 million. The Grade II listed building on No. 73 Chester Square, one of London's most prestigious addresses, now boasts a lift, a newly constructed mews house with a roof terrace and a private garage after a three-year refurbishment by Leconfield, a development and construction company. Some features from Thatcher's time at the property remain. The layout and design of the formal dining room and interlinking study on the ground floor has been reinstated exactly as the Iron Lady had it during her 22 years at the property, from 1991 until her death in 2013.

3/12 Tiny London house that is just 10ft wide goes on market for £800,000

A tiny terraced house that measures no more than 10ft wide has gone on the market in south London for a staggering £800,000. The house, generally labelled "unique" by estate agent Foxtons, looks all the more unusual because it is sandwiched between two regular-sized homes. It doesn't even have a proper back door - images of the interior suggested renovators had sought to maximise the property's space by including a folding aperture to the similarly narrow back garden.

4/12 The Mayfair penthouse that sold for £30 million

A Mayfair penthouse on Albemarle Street, one of Mayfair's oldest roads, sold to a mystery buyer for £30 million in December. The 5,845 sq ft, three-bedroom family home is thought to be one of the most expensive properties sold in the capital this year, and comes with an annual service charge of £61,000.

supplied by Estate agent Peter Wetherell

5/12 The dilapidated pre-fab 'shed' sold for nearly £1 million

A pre-fabricated bungalow in south-east London has sold at auction for just under £1 million. The 1950s property in Peckham comes with 0.6 acres of land, is in need of renovation and has no fitted bathroom, but still sold for £950,000. A guide price of £590,000 was initially set, but increased rapidly during the bidding.

Google Maps

6/12 The starter home flats that went for a combined £60 million

Some 215 "affordable" starter homes, specifically designed for first time buyers, sold out in just three hours in November, after dozens of aspiring homeowners camped overnight and queued in bad weather to get their hands on the flats. The starter home flats at Trinity Square by Galliard Homes went for a combined £60 million, or an average of £700 per sq ft. Londoners looking for affordable housing did not hesitate to camp out for up to two days to snag a flat, despite the fact that the project will not be complete for another two years.

Galliard

7/12 The longest lateral flat where H.G wells hosted a book club: yours for £3.65m

The 2,200 square foot apartment in Chiltern Court in Marylebone was also home to author Arnold Bennett and political cartoonist David Low. Now on the market for £3.65 million through Rokstone agency, the four-bedroom flat has been refurbished into a luxury apartment, providing an exceptional 40 meter window frontage and depth. It claims to be the longest and most outstanding lateral flat - ones that stretch the full width of a building, or sometimes across two buildings - currently for sale in London's West End.

Rokstone

8/12 Gatti House: the flats with celebrity links and private "pizza" lift that sold for a collective £16.5 million

Celebrity links, a famous history and a private "pizza lift" has helped set a new record for price per square foot for a block of flats in central London. The four flats have sold for a collective £16.5 million at Gatti House on London's Strand. Gatti House, a magnificent grade II building built in 1867, was sold as four separate apartments priced from £2.95 million to £5.95 million by CBRE Residential and Beauchamp, which has completed the last remaining sale.

CBRE Residential and Beauchamp

9/12 London's most expensive office

A newly refurbished office in the heart of Mayfair measuring 6,000 sq ft was unveiled by Enstar Capital in October. At £500 per sq ft, it is set to be the most expensive commercial fit out ever undertaken in the West End, according to the developer. The workspace on 54 Brooks Mews features gold-plated executive washrooms inspired by Armani-hotel in Italy, timber flooring imported from a 16th century monastery in Tuscany and an Art Deco entrance restored with a new "54" entrance logo replicating Steve Rubell's famous "studio 54" nightclub logo from the seventies. While the director's floor include a rooftop terrace dressed with loungers and an outside meeting and dining table

Enstar Capital

10/12 Former garage in Mayfair become world's most expensive mews house at £24m in Mayfair

In September, the world's most expensive mews house, in Reevews Mews, sold to a Qatari buyer for an eye-watering £24 million.

11/12 A penthouse where you canoe from your front door, yours for £16.95 million

London luxury dockside complex located on Chelsea creek is due for completion by the end of 2016. But its luxury flats are already on sale including this penthouse yours for £16.95 million. It's future residents will be able to slip down the river for a work out on the water at anytime of the day.

12/12 The only property in London too expensive for the city's super-rich property buyers

A 45 bed-room mansion near Hyde Park, previously owned by a Saudi Prince, received a private bid for £280 million. If accepted this would have made the property he most expensive single home ever to be sold in Britain. It was originally listed with an asking price of £300 million –more than double the price of the UK's second most expensive home
"Demand for housing in the UK has outstripped supply for more than two decades. Changing the outlook for generation rent will require us to build more houses than needed just to match population growth in order to make up the past shortfall between housing supply and growth in demand," said David Snell, partner, PwC.
The findings fly in the face of the Government's Help to Buy Scheme, which intended to increase the numbers of homeowners in the UK.