The links between Pfizer and the Government has come under the spotlight as it emerged that the US drugs giant's public relations and lobbying campaign for its takeover bid for AstraZeneca was being led by a company chaired by a close friend of the Prime Minister.
Furthermore, the City bank advising it has paid for luxury hotel stays for the science minister David Willetts and his wife at a pensions conference it organised in relation to Mr Willetts's work on pensions policy.
When the takeover bid was announced, the Government took a relaxed view, and ministers applauded the Pfizer chief executive's letter last week promising to support British science. That early welcome, particularly from Mr Willetts, quickly led to accusations that the Government was "cheerleading" for a company known for cutting jobs after big takeovers.
Sir Alan Parker's PR and political lobbying firm Brunswick, which is advising Pfizer on its bid, is one of the most powerful in the City.
Knighted in the New Year Honours in January, Sir Alan had David Cameron as guest of honour at his 50th birthday party, and has holidayed with him. He accompanied the Prime Minister on a trade mission to China in December.
Meanwhile, Mr Willetts's register of members' interests shows that he, and sometimes his wife, the artist Sarah Butterfield, were put up by the investment bank JPMorgan at the Gleneagles Hotel in 2011, 2012 and 2013 at a total cost of £5,400, including transport, while Mr Willetts attended pensions conferences there. In 2006, he received hospitality of "up to £5,000" in a similar fashion for the conference by the bank.
JPMorgan's London team has been retained to give Pfizer financial advice on the deal.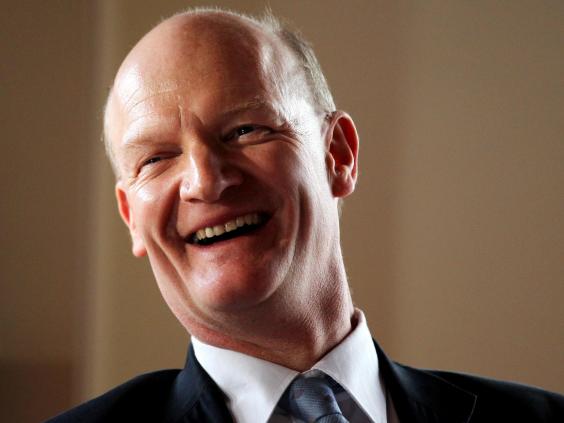 Brunswick and JPMorgan are two of the most established interfaces between the City and Westminster on both sides of the political divide. JPMorgan pays the former Prime Minister Tony Blair an estimated £2m a year to work as an adviser, while Sir Alan is also friends with Gordon Brown – the former Labour premier is godfather to the spin-doctor's son.
A spokesperson for Mr Willetts said: "The JPMorgan conference focuses exclusively on pensions and Mr Willetts attends because of his long-standing involvement in pensions policy. This is recorded in the register of members' interests and has no connection to JPMorgan's current role advising Pfizer."
A Downing Street spokesman said: "The PM is fighting for British jobs and British science. It is total nonsense to suggest the fact he knows Alan Parker is anything to do with the current Pfizer bid." Tory sources also pointed out that AstraZeneca was being advised by the PR firm run by Roland Rudd, who is seen as being close to the Labour Party, which has called for a national-interest test on the deal.
This week, it emerged that Mark Textor, a strategist who has worked for the Tories, has also advised Pfizer. Mr Textor's business partner is Lynton Crosby, Mr Cameron's election campaigns director. Tory sources have also pointed out that a Labour donor, Baroness Vadera, sits on AstraZeneca's board of directors.
More high-profile scientists went public with their opposition to a Pfizer takeover. Professor Michael Arthur, president of University College London, told The Independent: "My biggest fear is that Pfizer makes all these promises about keeping the science going in this country, succeeds in taking over AstraZeneca, then closes down its UK research facilities, lays off British scientists and sees one of the jewels in the crown of industry in this country nullified."
Professor David Nutt, the former government drugs adviser who now runs the neuropsychopharmacology unit at Imperial College, said Pfizer's attempted takeover would be "disastrous". He added: "AstraZeneca is a massive player in the London-Oxford-Cambridge golden triangle of research. Pfizer's track record is buy and destroy."
The US firm has pledged to employ at least 20 per cent of its research staff in the UK and to press ahead with AstraZeneca's plans to build a £300m science base in Cambridge. But Professor Arthur warned: "Pfizer has two elements in its history that are worrying to British science. Firstly, in each of its other corporate takeovers, it has taken over companies and closed down their research facilities and laid off scientists and hi-tech staff. Each case has involved over 10,000 job losses – that would devastate British science."
Tonight, Britain's biggest research foundation, the Wellcome Trust, became the most powerful scientific group to come out in opposition to the bid when a letter its chairman and director wrote to George Osborne was leaked.
Sir William Castell and Jeremy Farrar told the Chancellor they had "major concerns". "We are acutely aware of the critical role which AstraZeneca plays in the UK's life-sciences ecosystem… Pfizer's past acquisitions of major pharmaceuticals companies have led to a substantial reduction in [research and development] activity, which we are concerned could be replicated in this instance."
While they welcomed Pfizer's early assurance on UK research jobs, they said it was "critical" that the Government made the US company stick to it.
Reuse content