What is the Greek referendum?
Alexis Tsipras, the Greek Prime Minister, has said that the Greek people will get a chance to vote on whether their government should accept a programme of budget cuts and reforms proposed by its European lenders in exchange for emergency aid.
The referendum will take place on July 5. It is the first referendum that Greece has held since 1974.
Tsipras was elected for his anti-austerity view – he stands against cuts. This is his big test of the Greek people to see if they still stand with him against the European Commission, the European Central Bank and the International Monetary Fund.
How do Greeks vote?
A website has already been set up for Greeks to vote, including a countdown to Sunday.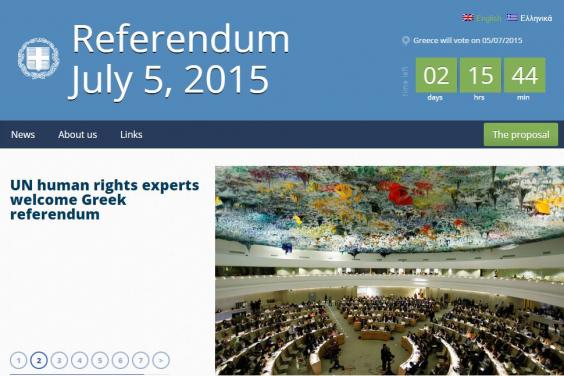 The website has information about the vote, but Greeks cannot vote online.
They must vote at one of 19,000 polling stations. Usually Greeks vote at the polling station in the town where they were born.
On the day, polling booths open at 5am and the first results are expected around 5pm.
Useful timetable for Sunday's #Greferendum via @RANsquawk pic.twitter.com/zs3tVj2Dhb

— Raoul Ruparel (@RaoulRuparel) July 3, 2015
What are they voting on?
The vote is on whether the Greek people want to accept the budget cuts set out by the three lending bodies set out on June 25 in return for aid.
Greece's 68-word referendum question pic.twitter.com/WZmweX67EI

— Muktar (@JanguzaArewa) June 28, 2015
Unofficially, it has become about whether Greece still wants to be part of the Eurozone.

I thought Greece had run out of money – how can it afford a referendum?
It can't really. The Greek government said the referendum will cost €20m, but the real cost is likely to be more like €120m in distributing ballot papers and paying election monitors.
Meanwhile Greeks may struggle to afford to travel to the region in which they were born to vote, just five months after they last voted. This is at a time when the transport sector is struggling because people have limited access to cash.
What will be the outcome?
The only certain outcome is that negotiations with the lenders will resume. Even if Greece votes yes to accept the proposals, there will still be lots of negotiating to arrange a deal. If they vote no, Tsipras has said he will go back to negotiations on Monday, but from a stronger position.
Reuse content