Holidaymakers in Greece are already being warned about VAT rises.
A letter has surfaced on Twitter informing guests at the Athens Ledra Hotel that VAT on food and drink has increased 10 per cent.
"Dear Guest,
We would like to inform you that as of 16 July 2015, the Government have announced that a VAT increase will apply on all food and beverage consumption.
The current tax rate is 13% and will now increase to 23%.
In case your room rate or package includes breakfast, we are obligated to apply an increase on your current room rate, which is deemed necessary in order to maintain the high level of our services.
Thank you for your understanding."
The letter was issued following a directive from the Greek government Thursday, informing hotels and restaurants that they must immediately implement VAT rises promised by the Greek government in parliament on Wednesday.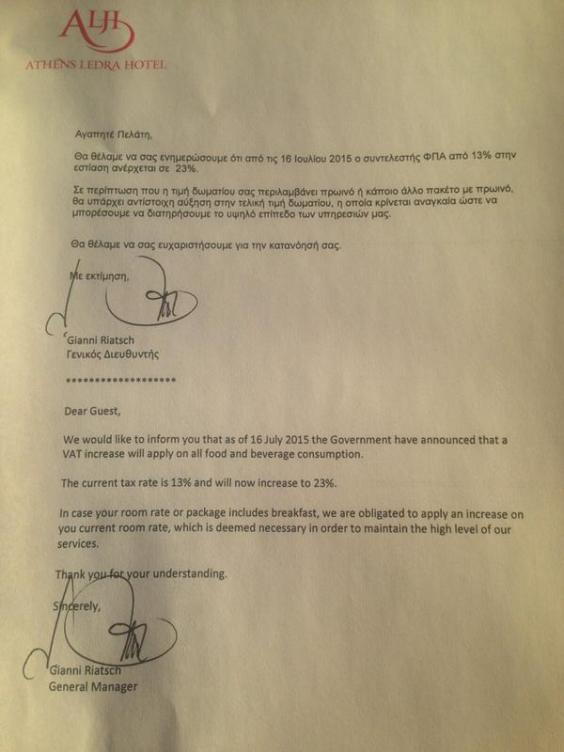 That directive was later withdrawn the tourist industry protested that it didn't have enough time to implement the changes, according to Angelo Sotiropoulos, director of sales and marketing at the Athens Ledra Hotel.
Sotiropoulos said that rather than reissuing the letter, the hotel is informing guests of the VAT change upon check in.
"People who book room only are not affected, but people who book a package with room and breakfast are affected slightly," Sotiropoulos  told The Independent. "Guests have reacted fine so far, but the reaction is from intermediary companies, booking packages. We're in direct contact with them to try and avoid customer discomfort."
"So far the staff are ok, they are all a part of Greek society and everyone is affected," he added.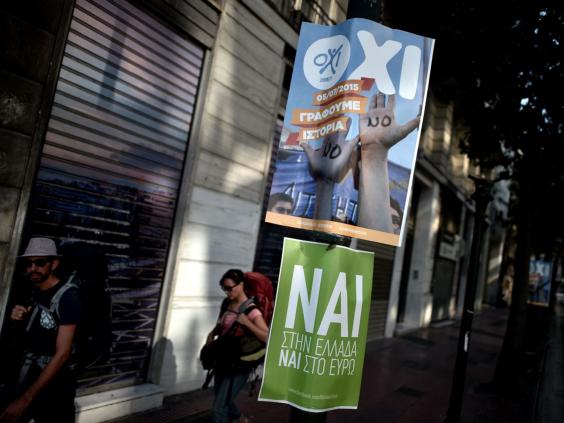 The Greek parliament voted in four reforms on Wednesday in order to kickstart a third bailout package worth up to €86 billion.
The finance ministry has said it will implement the VAT reform from Monday, which includes hikes on tax for food and drink in restaurants.
Many businesses are already worried that the VAT increases will drive away visitors. Last-minute bookings to Greece have fallen sharply since the debt crisis intensified. The Greek Tourism Confederation said it had seen a 30 per cent drop in last minute bookings, which typically account for one-fifth of bookings to the country, according to Reuters.
Holidaymakers with advance bookings will lose their deposit unless the Foreign Office Advises against travelling to Greece.
Travellers are advised to take enough cash to cover the cost of their stay. The banks are shut – but there are reports that cash can still be withdrawn from ATMs up to the limits of €60 per day. That might come in handy when the VAT rises start to hit.