Scenario 1: Greeks capitulate
Despite Sunday's resounding No vote to the creditors' demands, it is possible that Alexis Tsipras is secretly looking to do a quick deal that resolves the crisis, so he does not become the Prime Minister to lead his country into the economic agony of a Grexit.
His very late offer to creditors last Tuesday, just hours before the IMF default, to accept the bulk of the creditors' austerity demands actually left the two sides tantalisingly close. The creditors could offer the Greeks some token face-saving concessions to enable Mr Tsipras to sell the agreement at home while he (essentially) agreed to implement their plan. Yesterday's resignation of the rebarbative Greek Finance Minister, Yanis Varoufakis, may make the creditors more inclined to play along.
That would mean Athens agreeing to impose more austerity in return for the cash it needs to keep paying public sector workers and to avoid a default on bonds owed by the European Central bank on  20 July.
In pictures: Greek referendum
In pictures: Greek referendum
1/28 Greece EU Referendum

People celebrate in Athens after the first exit-polls of the Greek referendum

Getty Images

2/28 Greece EU Referendum

A "No" supporter flashes a victory sign before a Greek flag atop the parliament in Athens, Greece July 5, 2015.Greeks voted overwhelmingly "No" on Sunday in a historic bailout referendum, partial results showed, defying warnings from across Europe that rejecting new austerity terms for fresh financial aid would set their country on a path out of the euro.

REUTERS/Yannis Behrakis

3/28 Greece EU Referendum

Supporters of the No vote react after the first results of the referendum at Syntagma square in Athens

AP

4/28 Greece EU Referendum

Supporters of the No vote wave Greek flags after the referendum's exit polls at Syntagma square in Athens

AP

5/28 Greece EU Referendum

Greece's finance minister Yanis Varoufakis casts his vote in the country's referendum

EPA

6/28 Greece EU Referendum

A ballot box is emptied by a voting official at the closing of polling stations in Athens, Greece July 5, 2015. Greece voted on Sunday on whether to accept more austerity in exchange for international aid, in a high-stakes referendum likely to determine whether it leaves the euro-currency area after seven years of economic pain.

REUTERS/Marko Djurica

7/28 Greece EU Referendum

A photographer photographs a man waiting to vote in the referendum at a school in the suburbs of Athens

Getty

8/28 Greece EU Referendum

Greek voters are being asked to choose between backing their creditor's austerity measures or rejecting them

Getty

9/28 Greece EU Referendum

Tourists walk past posters with slogans that read "OXI" (NO) and "NAI" (YES) ahead of the referendum in Athens

AFP

10/28 Greece EU Referendum

Opposition parties to Syriza, including the centre-right New Democracy, are campaigning for a 'Yes' vote in the referendum

Reuters

11/28 Greece EU Referendum

Protesters on both sides of the argument ('No' pictured here) have rallied in Athens

AP

12/28 Greece EU Referendum

Greek Prime Minister Alexis Tsipras has been branded reckless and a feckless liar by EU leaders

Reuters

13/28 Greece EU Referendum

According to polls which surveyed some 1000 people across the country, 41.5 percent of Greeks would support the new bailout measures to avoid an exit from the Eurozone

AP

14/28 Greece EU Referendum

Despite Tsipras's assurances, many Greek people are not certain whether Sunday's referendum is a vote on whether Greece will remain in the euro or not

Reuters

15/28 Greece EU Referendum

The Greek and EU flags flutter in front of the ancient Acropolis hill in Athens. The Greek people have been called upon to show "calm and national unity"

Getty

16/28 Greece EU Referendum

Greek Prime Minister Alexis Tsipras addresses a crowd of 25,000 'No' supporters in Athens' Syntagma Square

YANNIS BEHRAKIS/Reuters

17/28 Greece EU Referendum

Greece's Prime Minister Alexis Tsipras gave a televised address to the nation ahead of the vote. He has called on voters to reject creditors' proposals for more austerity in return for rescue loans

AP

18/28 Greece EU Referendum

Protesters march holding a torn European Union flag during a demonstration for the 'NO' campaign in Thessaloniki

Getty Images

19/28 Greece EU Referendum

Greek Finance minister Yanis Varoufakis has pledged to resign if his country votes "yes" to the bailout plan

Reuters

20/28 Greece EU Referendum

Pensioner wait to get their pensions outside a National Bank of Greece branch in central Athens. Banks only opened for pensioners to allow them to get their pensions, with a limit of 120 euros.

AFP/Getty Images

21/28 Greece EU Referendum

Protesters attend an anti-austerity pro-government rally in front of the parliament building

Getty

22/28 Greece EU Referendum

The possibility of Greece leaving the Eurozone is increasing by the day. Merchandise already exists to accompany the event

EPA

23/28 Greece EU Referendum

An elderly man waits to receive his pension outside the closed National Bank of Greece headquarters in Athens

AP

24/28 Greece EU Referendum

People stand in a queue to use an ATM outside a closed bank in Athens

AP

25/28 Greece EU Referendum

A banner supporting the NO vote in the upcoming referendum hangs from the offices of the Greek Finance Ministry

Getty Images

26/28 Greece EU Referendum

Greeks will be asked whether they accept the austerity terms demanded by the country's creditors

Getty

27/28 Greece EU Referendum

Eurozone finance ministers expressed disappointment at the Greek decision to hold a referendum on the bailout terms

Getty

28/28 Greece EU Referendum

Alexis Tsipras, the Greek Prime Minister, said bailout conditions had 'asphyxiated' his country

EPA
Such a deal could mean the re-opening of the banks to desperate savers by the end of the month. The problem is that the new austerity is likely to make Greece's recession worse over the next few years – something that could cause a split in Syriza and prompt the fall of the government.
Scenario 2:  Creditors capitulate
Greece crashing out of the single currency would represent a shattering blow to the reputation of this generation of European leaders. They are also starting to realise that if Greece does exit the euro they will be faced with a much bigger default bill than the price of paying for Athens to remain part of the club. It will be hard work justifying that loss to their own taxpayers.
Plus, creditors would need to send large quantities of financial and other forms of aid to Greece in any case if Grexit occurred (the alternative is a failed state on their doorstep). So the creditors, despite their hard-line rhetoric in advance of Sunday's plebiscite, could decide that compromise is the wisest option after all. They could agree to ease the requirement on Greece to run large budget surpluses for the foreseeable future and wipe out the nominal value of the country's debt.
Athens would crow at this victory and the credibility and pride of the creditor politicians would take a knock. But it would be blessed by the International Monetary Fund, which has been pushing for a debt write-down for years. It would also enable Europe's leaders to focus on something other than the minutiae of the Greek public finances and labour market. The major risk of capitulation from the creditors' perspective would be that other insurgent populist parties in Europe – Spain's Podemos, Italy's Five Star movement, France's National Front – could get a big lift from Syriza's victory, creating political upheaval across the continent.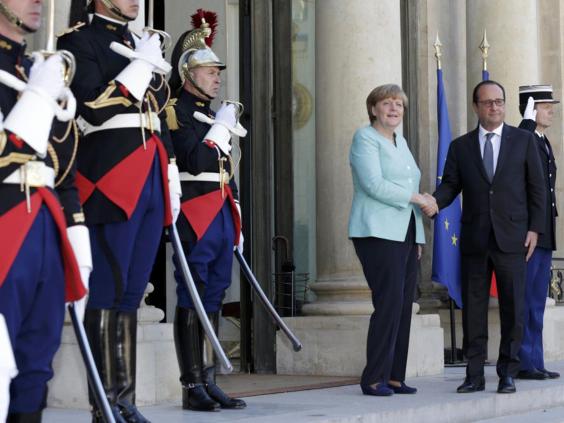 Scenario 3:  No one capitulates
The creditors could feel they simply have too much to lose by granting Greece any concessions in the wake of the vote. And the Greeks might decide they have a mandate to hold fast until they get everything they want. The result could be deadlock. The Greek banking system would run out of cash in a matter of weeks if not days, and on 20 July Athens would default on a €3.5bn bond repayment to the European Central Bank.
The ECB, after being given a tacit nod from Angela Merkel and the other eurozone government heads, could cut the emergency funding from the Greek banking system entirely, saying that it cannot lend to an insolvent state without breaking its own constitutional rules. To prevent the four big Greek banks going instantly bust and wiping out the savings of the population, the Athens government would have to nationalise them. It would then probably announce that they are re-capitalised with a giant IOU from the Greek state.
As financial panic takes hold, the bust government in Athens also starts issuing IOU notes (instead of euros) to pay public sector workers. These IOUs would say they have a value of one euro each. But they would be exchanged on the black market at perhaps half the value of a euro, signalling a massive devaluation.
Eventually, after a period of social unrest, the Greek government manages to print a large batch of drachma notes, which become the new currency. That would mean Greece effectively leaves the euro. As the social and economic crisis deepens in the transition, Greece could take a shipment of oil from Vladimir Putin's Russia. And, in return, Athens might veto further European Union sanctions against Russia over its aggression in Ukraine, splitting the bloc on the world stage.