Sainsbury's has made an audacious takeover approach for the company behind Argos and Homebase, it has emerged, proposing a deal that would make the supermarket one of the biggest retailers on the high street.
But the offer – described by analysts as "desperate" and "baffling" – was rejected in November, with Home Retail Group saying that it undervalued the business and "its long-term prospects".
The news sent shares in Home Retail up 41 per cent, or 40.6p, to 139.3p but Sainsbury's investors were unimpressed, with its shares falling  5 per cent, or 13.2p, to 242.1p.
The approach initially came just weeks after Home Retail issued a shock profit warning, calling Black Friday too unpredictable to provide accurate guidance to investors. The company is due to update the stock market next week on its Christmas trading.
The news also follows months of speculation that private equity groups had been quietly looking into a potential takeover of either Homebase or Argos, as shares in the group have been at three-year lows.
The failed bid came to light after two months as shares in the takeover target started soaring on Tuesday morning – a matter that is likely to be investigated by the Financial Conduct Authority to ensure there was no insider dealing.
It is understood that the Takeover Panel approached Home Retail following the share price rise to remind the company of its obligation to inform the stock market of any price-sensitive information.
Sainsbury's did not rule out another bid for Home Retail and now has until  2 February, under Takeover Panel rules, either to make a firm offer or walk away.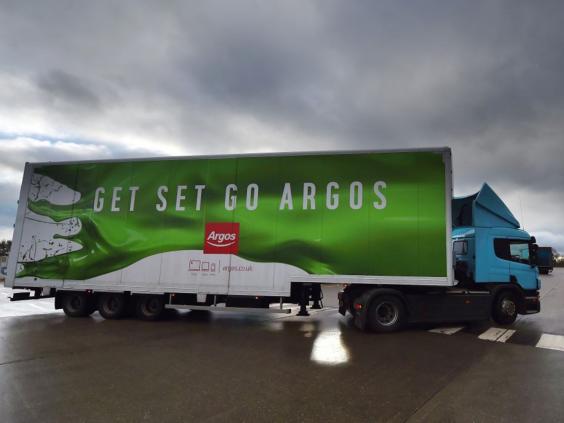 A source close to Sainsbury's  said that its chief executive Mike Coupe had been eyeing up Home Retail Group for "a Retail Group for a number of years".
Its bosses had made a plea to Home Retail that a takeover would be in everyone's best interests and "create a food and non-food retailer of choice for customers, building on the strong heritages of both businesses, whose brands are renowned for trust, quality, value and customer service".
The cash-and-shares deal would also have brought Homebase back to Sainsbury's; it sold the DIY chain 15 years ago.
Sainsbury's had said too that a 10 store trial, in which Argos filled up empty space in some of the supermarket's largest stores, had been successful and would benefit further from a takeover.
However, analysts were sceptical and warned that Sainsbury's would struggle with a non-food retailer faced by the might of Amazon.
Tony Shiret, a retail analyst at Haitong Securities, was particularly scathing. He said the move "comes both as a shock and a reminder of the weakness of UK food retailers and the desperation embedded in their strategic thinking. Why else would anyone countenance adding Amazon to their list of major competitors and take on 850 low-margin Argos retail outlets, and 250 or so Homebase units that they thought would be a good idea to get rid of in 2000?"
Michael Stewart at Panmure Gordon also questioned the bid and suggested Sainsbury's would struggle to persuade Argos customers to buy their groceries from the group.
He said: "Would the typical Argos consumer purchase their groceries from Sainsbury's? Probably not...  This feels like a desperate attempt on Sainsbury's behalf to grow its existing customer base and improve sale densities."
Clive Black, a retail analyst at Shore Capital, added: "Congratulations to Sainsbury's for providing us with the surprise of the year to date."
And Bruno Monteyne, retail analyst at Bernstein, said: "The rationale baffles us."
One big loser was the hedge fund veteran Crispin Odey, who had a 2.18 per cent short position in Home Retail.He had bet that Argos would have a bad Christmas, but as shares soared, he was nursing a £7m paper loss.
As much as 8.5 per cent of its shares are being borrowed by short-sellers betting on their decline, making it one of the most shorted companies. 
Other investors with short positions in Home Retail include Immersion Capital, which has borrowed 1.48 per cent of the stock.
Sainsbury's would also have been expected to have sought approval from its largest shareholder – the Qatari investment fund – before making any approach to Home Retail, which is now worth almost £1.2bn.
Bankers at UBS and Morgan Stanley are advising Sainsbury's while Merrill Lynch is advising Home Retail.
Alistair Davies, a retail analyst at Investec, said the company has a potential value of around £1.45bn, suggesting that Sainsbury's bid would need to be much higher.
Reuse content