House prices continued to weaken in May, according to the latest data from Halifax.
Prices rose at an annual rate of 3.3 per cent in the month, the weakest expansion seen since May 2013.
The annual growth rate was around 9 per cent at the time of last year's Brexit referendum and has been trending down ever since.
The Nationwide building society reported last week that its own index showed a 0.2 per cent month-on-month fall in house prices in May, showing the weakest period for the market since the 2009 financial crisis.
According to the Halifax data, prices in May rose 0.4 per cent, although on a quarter-on-quarter basis they were 0.2 per cent lower.
"The fundamentals for house buyers are likely to deteriorate further over the coming months with consumers' purchasing power squeezed further by a combination of higher inflation and muted earnings growth. It is also possible that the labour market could increasingly falter despite its current resilience," said Howard Archer, an economist at the EY Item Club.
Slowing down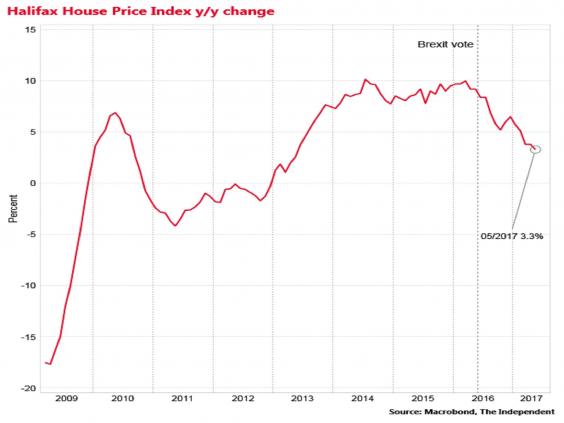 However, Martin Ellis of Halifax suggested that there would likely be near-term support for the market.
"The fact that the supply of new homes and existing properties available for sale remains low, combined with historically low mortgage rates and a high employment rate, is likely to support house price levels over the coming months," he said. 
The most recent data from the Office for National Statistics, which comes with a lag relative to the Halifax and Nationwide results, showed annual growth in house prices of 4.1 per cent in March, down from 5.6 per cent in February.
That is already undershooting the Office for Budget Responsibility's forecasts at the time of the March Budget, which projected house price growth of 6.9 per cent in the first quarter of 2017, slowing to only 5.8 per cent by the end of the year.
The OBR projected a nadir for UK house price growth of 3.7 per cent in the second quarter of 2018, before a stabilisation thereafter at around 4.5 per cent until 2022.
Before last June's Brexit referendum, the Treasury projected that house prices could be up to 10 to 18 per cent lower than otherwise by 2018 if the UK voted to leave the EU, based on the assumption of a post-vote spike in lending costs for households.
Reuse content