Inflation slumped again to 0 per cent in June with the falling price of food and clothing making ordinary families feel richer.
Inflation had edged back into positive territory in May after turning negative for the first time since 1960 in April due to the oil price slump.
It is expected to remain around zero for the next few months, before rising again later this year as oil prices recover.
Bank of England Governor Mark Carney has predicted that inflation will hit the central bank's 2% target in 2017.
Inflation is lower in the UK now than it has been at any time in the last ten years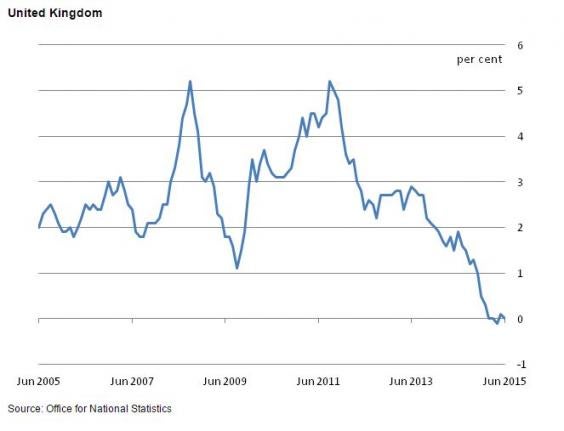 Ian Stewart, chief economist at Deloitte, said: "With inflation close to its lowest ever levels and earnings rising at the fastest rate in seven years, the scene is set for an acceleration in UK consumer spending.
"Low inflation, cheap money and a strong jobs market suggest that the UK should continue to post decent growth, despite Grexit risks," he added, referring to the ongoing crisis in Greece.
The Office of National Statistics said the downward effect from clothing on inflation was particularly marked last month because June 2014 saw unseasonable rises in prices, whereas this year saw the start of the usual seasonal sales.
Food and Transport are significantly cheaper than they were a year ago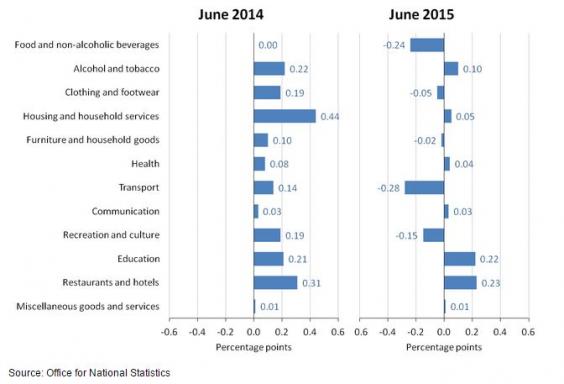 Falls in food prices were led by goods such as pizzas, which are commonly used to lead supermarket discounts, capping a year of declining prices - the longest unbroken run since 2000.
Air fares also rose less than last year, particularly for European destinations.
Data due out later should show a strong rise in wages. Earnings excluding bonuses are likely to record their biggest rise since early 2009.
Additional reporting by Reuters