The UK lags far behind the best countries in the world when it comes to promoting women to senior jobs, according to research.
Grant Thornton, the US-based audit and tax firm, has ranked countries by the proportion of senior roles that belong to women,
It found that the UK is below the global average and far behind the most equal countries in the world, which include Russia and Poland.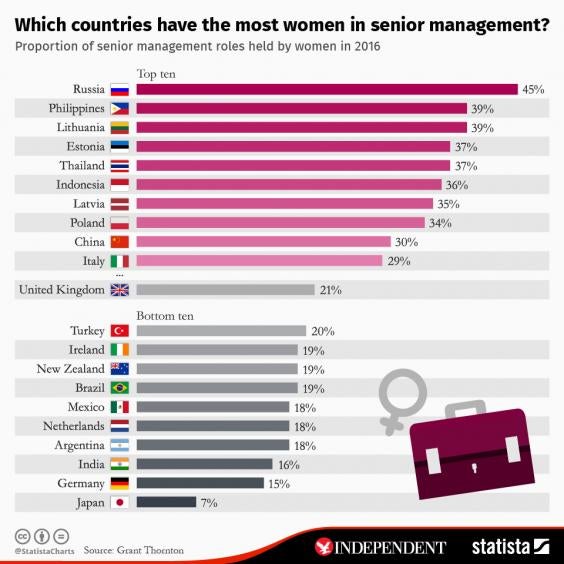 While 25 per cent of senior business roles are held by women globally, only 21 per cent of leaders in the UK are female. There are only six female CEOs in the FTSE 100 index of the 100 biggest companies in the UK.
The number of women in leadership roles in the UK has marginally declined in the last year, down from 22 per cent in 2015 and its highest recorded proportion of businesses with no women in senior management at 36 per cent. 
Russia, which tops the ranking, is closest to an equal split, with 45 per cent of senior positions held by women.
Japan is at the bottom of the list with only 7 per cent of top jobs going to women.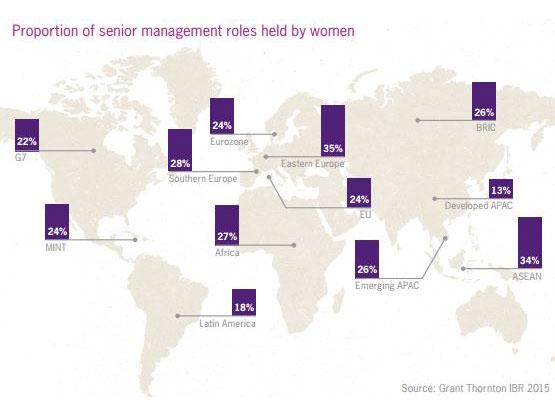 Women in Eastern European nations fared better. Estonia, Latvia and Poland topped the diversity rankings with more than a third of senior roles in the region held by women. Researchers said this may be partly due to the legacy of communism, which expounded the virtues of equality.
Meanwhile, four in 10, or 39 percent of businesses in G7 countries such as Canada, Germany, Italy, France, Japan, UK and the US had no women in senior management positions.
The world's 15 most powerful women in 2015
The world's 15 most powerful women in 2015
1/15 Angela Merkel - German Chancellor

German Chancellor Angela Merkel has retained her number one ranking for topping this year's Forbes list for the fifth consecutive year and ten times in total.

2/15 Hillary Clinton - Presidential candidate, United States

Clinton, who could become the world's most powerful leader in 2016, has been featured on the list every year since it launched in 2014.

3/15 Melinda Gates - Cochair, Bill & Melinda Gates Foundation

Melinda Gates has cemented her dominance in philanthropy and global development to the tune of $3.9 billion in giving in 2014 and more than $33 billion in grant payments since she founded the Bill & Melinda Gates Foundation with her husband in 2000.

4/15 Janet Yellen - Chair, Federal Reserve, Washington, United States

Janet Yellen made history in 2014 when she became the first female head of the Federal Reserve.

5/15 Marry Barra - CEO of General Motors

Mary Barra made history by becoming the first female CEO of General Motors.

6/15 Christina Lagarde - Managing director, International Monetary Fund

Christine Lagarde is entering the last year of her first term heading the International Monetary Fund (IMF), the organisation which serves as economic advisor and backstop for 188 countries. Under Lagarde the IMF has supported efforts to increase female labor force participation as way to reduce poverty and inequality. The UK, Germany, China, France and Korea have endorsed Christine Lagarde for another term as the head of the IMF.

7/15 Dilma Rousseff - President, Brazil

Dilma Rousseff, who has been elected in 2010, is Brazil's first female president.

8/15 Sheryl Sandberg - COO of Facebook

Sheryl Sandberg, Facebook COO and author of bestseller "Lean In," joined the company in 2008 and became the first woman on its board four years later. Sandberg helped the social network go public and expand digital revenue.

9/15 Susan Wojcicki - CEO of Youtube

Susan Wojcicki is CEO of YouTube, the world's most popular digital video platform used by over a billion people across the globe. She oversees YouTube's content and business operations, engineering, and product development.

10/15 Michelle Obama - First lady, United States

Michelle Obama, the 44th first lady of the United States has focused her attention on issues such as the support of military families, helping working women balance career and family and encouraging national service.

11/15 Park Geun-hye - President, South Korea

Park Geun-hye is the first female leader of a country that has the highest level of gender inequality in the developed world. In her inauguration speech, she promised to prioritise both national security and economic revitalisation.

12/15 Oprah Winfrey - Actress, Director/Producer, Entrepreneur, Personality, Philanthropist

Oprah Winfrey, a former queen of daytime TV has proven she can thrive without a talkshow. Her 'The Life You Want' tour sold out stadiums from Newark to Seattle in 2014.

13/15 Ginni Rometty - CEO of IBM

Ginni Rometty joined IBM in 1981 and later became the first woman to lead the company.

14/15 Meg Whitman - CEO of Hewlett-Packard

Meg Whitman is the only woman to have headed two large U.S. public companies: eBay and Hewlett-Packard.Until Marissa Mayer's arrival at Yahoo, she was the only female head of a leading Internet-based company.

15/15 Indra Nooyi - CEO of PepsiCo

Indra Nooyi is Chairman and Chief Executive Officer of PepsiCo. Mrs. Nooyi leads one of the world's largest convenient food and beverage companies, with 2008 annual revenues of more than $43 billion.
"Despite considerable efforts by governments and campaigners across the world's best-developed economies to ensure best practice they continue to lag behind emerging markets in (the diversity) area," Francesca Lagerberg, global leader for tax services at Grant Thornton International, said in a statement.
The International Monetary Fund has looked at 2 million firms in 34 countries in Europe and found that the more women in senior managerial positions and in corporate boards, the more profitable the firm.
"More women in the labour force, and in more senior positions is good news for women, for their companies, and for their countries' economies," said Christine Lagarde, managing director of the IMF.
Reuse content