Concerns over the outcome of Italy's constitutional referendum and a presidential election in Austria dragged European stocks towards their biggest drop in a month on Friday.
Italians will vote on reforming the country's constitution on Sunday, and centre-left prime minister Matteo Renzi has vowed to step down if the proposal is rejected – a result suggested by current polls.
Meanwhile, the Austrian presidential election rerun, also on Sunday, could see the nation elect the EU's first far-right leader.
Adding to political uncertainty in Europe, French President Francois Hollande announced on Thursday he will not be seeking a second term in the country's upcoming presidential election.
During European morning trade, the pan-European Stoxx 600 index was down 1.2 per cent, the lowest in more than three weeks.
Elsewhere, France's CAC 40 declined 1.3 per cent, while Germany's DAX 30 was down 1.2 per cent.
European bourses managed to trim their slightly losses by closing time but trader remained cautious with most major indices ending both the day and the week lower.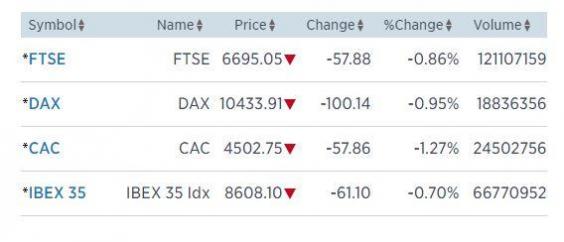 Simon Smith, chief economist at FX Pro, said: "We have the Italian constitutional referendum over the weekend. This has the potential to induce some volatility in the early part of next week. There are still a lot of undecided voters, so although the no side is ahead, the result is not a given. And even if this does come to fruition, a rejection of the reforms would lead to political instability in Italy and quite possibly to early elections."
Ipek Ozkardeskaya, of London Capital, said there have been many speculations about Mr Renzi's political future post the referendum.
"On the back of the latest news, Prime Minister Renzi would resign if he fails to gather citizens' support via Sunday's referendum. Hence, a 'no' vote could importantly squeeze Italian politics, as citizen's veto to the constitutional change would lead the country to an early election, which could be as soon as in the first quarter of 2017, and favour the rise of the Five Star Movement, which has promised a referendum on Italy's membership in the euro area."
Ms Ozkardeskaya said investors should stay away from the euro ahead of the Italian referendum.
"The outcome of the referendum could have a significant impact on short-term euro volatility," she added.
Reuse content