One is a retail giant and staple of children's wardrobes across the UK; the other, a fledgling kids' clothing designer fighting to break into one of the most competitive areas of the high street. But that hasn't stopped Marks & Spencer from being dragged into a copycat design row over one of Tootsa MacGinty's most popular items of clothing.
Several shoppers contacted Kate Pietrasik, who set up Tootsa MacGinty three years ago, after spotting a familiar bear face on M&S boys' pyjamas on sale in stores in Newcastle and Brighton.
Like the Tootsa MacGinty design, the M&S bear's muzzle opens up to reveal some sharp teeth. Both wide-eyed images are on a red background.
Ms Pietrasik is seeking legal advice about her rights but would like M&S to stop selling the product, which she described as a "blatant copy". She added: "M&S is supposed to be this proud British high street store that we all love and support. They've even launched a Best of British range. But they have no qualms about ripping off a little, independent British designer. I'm gutted," she told The IoS. "If only they'd approached me to do a collection for them."
The copycat design was seen in one of M&S's Newcastle stores on Tuesday. M&S, which controls 6.4 per cent of the UK's estimated £1.5bn childrenswear market, has been struggling to turn around its clothing sales. A spokesman said: "We take claims of this nature seriously and are looking into it. We have asked Kate Pietrasik to make contact with us." He added that the design was a limited run on sale in a handful of stores and not online.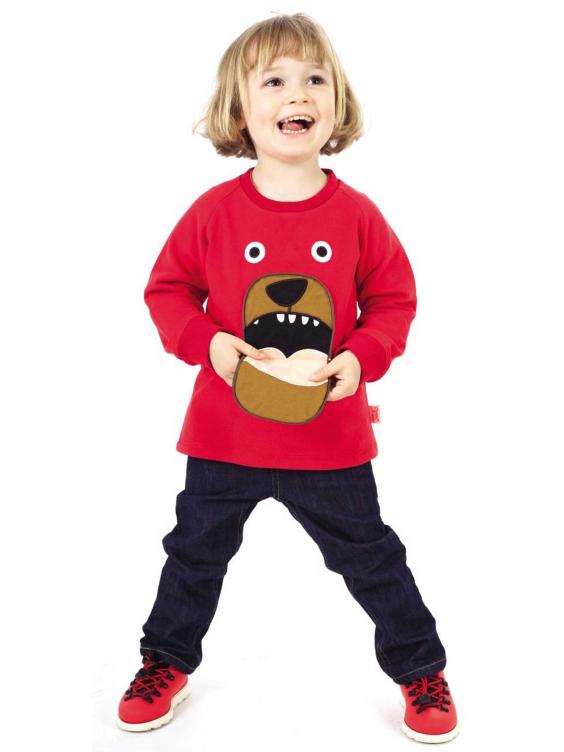 It is not the first time M&S has been embroiled in such a controversy. In 2006, the company removed a handbag from its shelves after a legal challenge by designer label Jimmy Choo. And, in 2012, it stopped selling a range of flower-print clothes after a young designer spotted designs that were "strikingly similar" to her own on M&S shelves.
Ms Pietrasik, a single mother, started her label because she was depressed by the high street's gendered approach to children's clothing. "I didn't want pink and sparkles for Ruby [her daughter]. And camouflage, monsters, trucks and T-shirts saying 'I'm naughty' limit what a boy can be." Dresses apart, her designs are unisex.
"I'd love to think I'm influencing people," she said. "But it's different when it's a blatant copy."
This is the second time her bear's face has been used by another retailer. A shopper contacted her last year from Australia after seeing the same bear face on sale at the department store group Myer.
"It was another cheap and nasty copy. They do such a bad job!" After she got a lawyer involved, Myer agreed to discontinue the line.
Reuse content