The UK's dominant services sector weakened in May according to the latest survey snapshot from Markit/CIPS.
The Purchasing Managers' Index came in at 53.8, down from 55.8 in April and lower than the 55 City of London economists had anticipated.
There were better PMI readings from the construction and manufacturing sectors for May last week but services accounts for 80 per cent of the economy, meaning that the composite PMI indicator declined to 54.4 in May, down from 56.2 in April.
Any reading above 50 signals growth.
According to the Office for National Statistics, UK GDP growth slowed sharply to 0.2 per cent in the first quarter of 2017, down from 0.7 per cent in the final quarter of 2016, amid mulitiplying signs that a spike in inflation, since the slump in the pound in the wake of last June's Brexit vote, is crimping household spending.
This was the joint slowest rate of GDP growth in the G7.
Weakening services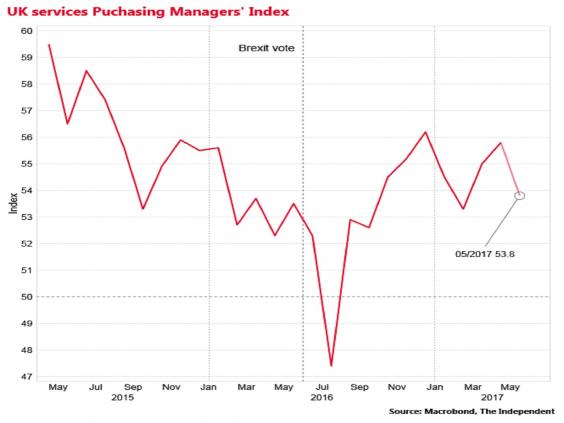 Chris Williamson, economist at Markit, said that the PMI indicators were signalling growth of 0.5 per cent in the second quarter of 2017, but with downside risks.
"Optimism about the year ahead is running below the long-run average, weighed down principally by concerns over Brexit, political uncertainty and weaker spending by households," he said.
Overall growth signal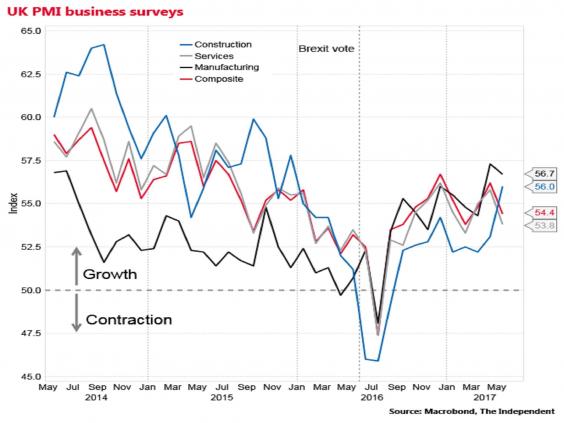 Duncan Brock of CIPS highlighted weakness in new business and investment in the services sector in May.
"It was clear that slower new business growth let the side down, impacted by caution around the general election, and a tightening of purse strings," he said.
"Not even stiff competition between businesses absorbing higher prices for food and the effects of the National Living Wage, could tempt consumers to spend. Disappointingly, businesses also delayed crucial buying decisions on the back of lingering doubts around the strength of the economy which in turn affected job creation." 
Reuse content