More than a quarter of young Brits still live with their parents as the economic downturn and rising house prices prevent them from moving out.
New research by the Office for Office for National Statistics (ONS) shows that there are more than 3.3 million young adults aged 20 to 34 living with their parents - or 26 per cent of the age group.
This represents a 669,000 jump since 1996, the first year for which comparable statistics are available, when 2.7 million (21 per cent) young adults lived with their parents, despite the population being broadly the same.
The sharpest increase coincides with the start of the economic downturn and the rise in house prices, which is preventing first-time buyers from entering the property market.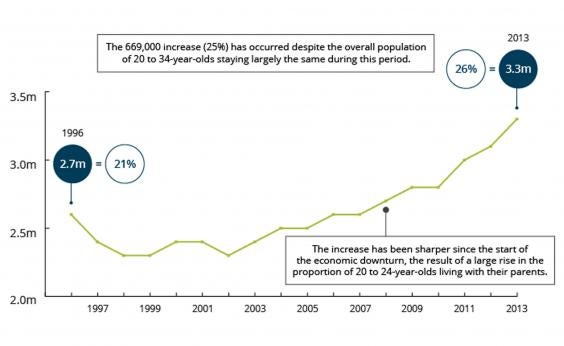 The ONS said: "The increase in the number of young adults living with parents coincides with an increase in the ratio of house prices paid by first-time buyers to their incomes, which has risen from 2.7 to 4.4 over the same period."
The study revealed that men are nearly twice as likely as women to stay at home with one in three males aged 20 to 34 living with their parents as opposed to one in five women.
Across the UK, London has the lowest proportion of young adults living with their parents (22 per cent) while Northern Ireland has the highest (36 per cent) closely followed by the West Midlands (29 per cent).
Of the 28 countries in the European Union, only six countries had a lower percentage of 25 to 34-year-olds living with their parents than the UK.
Reuse content