Morrisons is to cut prices on more than 1,000 products in an bid to attract customers in the heated supermarket price war.
The Bradford-based supermarket will cut prices on products including fresh food, with products such as fruit and vegetables reduced by an average of 19 per cent. 
The reduction will apply to 1,072 items in total, including shampoo and toilet paper, the supermarket said on Monday.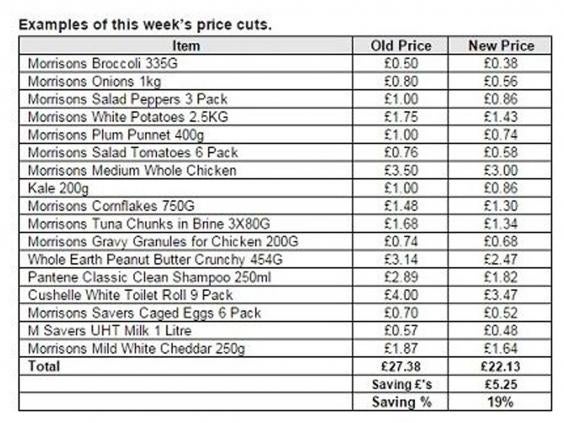 Morrisons, the UK's fourth biggest supermarket chain, is also launching Price Crunch, a rolling programme of price cuts expected to last for at least three months on top of earlier reductions.
Customers are expected to save more than £5 on a basket filled with everyday essentials such as potatoes, eggs, toilet paper and milk.
We've crunched prices across the site & store & it's not just veg going down #PriceCrunch https://t.co/sy3TbhvBfX pic.twitter.com/7uFl3fb1x1

— Morrisons (@Morrisons) February 1, 2016
David Potts, chief executive, said Morrisons wants to become more competitive.
"We are cutting the prices of products that customers will welcome being cheaper at Morrisons and we are cutting every penny we can," Potts said.
"We continue to listen carefully to customers and they have told us they want lower prices, particularly on fresh food and everyday essentials," he added.
Tesco, Sainbury's, Asda and Morrisons have struggled to compete with German discount supermarkets Aldi and Lidl.
The ongoing price war has seen supermarket prices fall for more than the last year.
Shares in Morrisons, which have had their high street futures questioned in recent years, soared as higher sales defied fears that rivals would push them closer to the brink.
Business picture of the day
Business picture of the day
1/31 Fiat loses $2.3bn in stock value plunge after diesel emissions accusation - Thursday January 12

Shares in Fiat Chrysler plunged on Thursday after US authorities said that the carmaker had violated the Clean Air Act by allowing excess diesel emissions in some vehicles. The US Environmental Protection Agency (EPA) accused the company of using software that allowed excess diesel emissions in just over 100,000 US trucks and SUVs sold since 2014. READ MORE Six senior Volkswagen employees charged over emissions scandal Shares listed in Europe were recently trading around 18 per cent lower on the day. Shares in the US fell 16 per cent before being halted from trading, wiping $2.3bn (£1.88bn) off the company's market value.

2/31 Rising inequality behind Brexit and Trump victory is top global threat for the next decade, says WEF - Wednesday January 11

A rise in global income inequality, that already helped spur the Brexit vote and Donald Trump's election victory, are expected to shape world developments over the next decade, according to the World Economic Forum. For a report published ahead of its annual summit in Davos next week, the WEF surveyed 750 risk experts and found that rising income and wealth disparity were cited as the most important trends in determining global developments over the next 10 years.

Getty

3/31 Mayor Sadiq Khan axes new Routemaster bus from the streets of London - Friday January 6

London Mayor Sadiq Khan has ended any hopes to purchase new Routemasters bus for the capital's streets as he tries to balance the books on London's transport budget. Once called 'Boris buses' named after his the previous mayor, every bus would cost around £350,000 each, or around £50,000 more than an ordinary bus. But the new mayor has promised to freeze purchases of the vehicles, which were criticised for being expensive and sauna-like conditions.

Getty Images

4/31 FTSE closes 2015 at record high - Friday December 31

Britain's blue chip FTSE 100 set a new record on the last day of trading of 2016 after climbing to record closing highs for two consecutive days. The blue-chip index gained 22 points or 0.3 per cent, to finish at 7142 points on Friday, its third closing high in as many days and a new intraday high.

AP

5/31 Hatton Garden: London's famous diamond quarter under threat from Brexit and rent hikes - Thursday December 29

London's world famous jewellery quarter could face extinction due to soaring business rates, rent rises and the aftermath of Brexit. Hatton Garden was the centre of the world's diamond market, but traders are fighting to bring back the glory days, as they are squeezed by rising rents and the uncertainty created by the UK vote to leave the EU.

Reuters

6/31 World's oldest bank Monte dei Paschi di Siena on brink of £17bn Italian state bailout - Thursday December 22

The world's oldest bank, Monte dei Paschi di Siena, is poised for a multi-billion state bailout after it admitted on Wednesday that a private rescue plan was unlikely to succeed. The Italian parliament looks set to step in to save Monte dei Paschi di Siena, recently judged the weakest of the European Union's major banks, over the next few days using a new €20bn (£17bn) rescue fund designed to prop up Italy's struggling lenders.

Getty Images

7/31 NHS overcharged by 12,000% for hydrocortisone tablets by drug company Actavis, CMA claims - Friday December 16

Pharmaceutical company Actavis has been accused of overcharging the NHS by raising the price of hydrocortisone tablets by more than 12,000 per cent over the course of eight years. Hydrocortisone tablets are used by people with adrenal insufficiency, a life-threatening condition where their adrenal glands do not produce enough natural steroid hormones.

AFP/Getty

8/31 Solar power becoming world's cheapest form of electricity production - Thursday December 15

Solar power is becoming the cheapest way to generate electricity, according to leading analysts. Data produced by Bloomberg New Energy Finance (BNEF) showed the cost of solar in 58 lower-income countries – including China, Brazil and India – had fallen to about a third of levels in 2010 and was now slightly cheaper than wind energy.

Jungle Herbs & Spices/Facebook

9/31 Italy's largest bank Unicredit plans to slash 14,000 jobs over next two years - Tuesday December 13

Getty

10/31 Donald Trump knocks $3.5bn off Lockheed Martin market value with one tweet - Monday December 12

Barely a week after taking shots at Boeing, Donald Trump took aim at Lockheed Martin's F-35 fighter jet programme, saying the cost was "out of control".Following the tweet on Monday morning, shares of the aerospace company plunged by more than 4 per cent in early trade. Based on the number of shares outstanding, the tweet has shaved just over $3.5bn from Lockheed's market value.

Getty

11/31 Brexit: Banks in 'advanced talks' over mass move to Paris, says French regulator - Thursday December 8

Leading international UK-based banks are in advanced stages of planning to shift operations to Paris as London braces for the impact of Brexit, France's chief financial regulator has said. Paris is among a number of European cities seeking to woo firms considering a move away from London to maintain their access to EU markets, and faces competition from Dublin, Frankfurt and Luxembourg, among others.

Reuters

12/31 Pfizer fined record £84.2m for overcharging NHS 2600% -Wednesday December 7

Drug firms Pfizer and Flynn Pharma have been fined nearly £90m by the UK's competition watchdog for "unfair" pricing to the NHS after hiking up the cost of an anti-epilepsy drug by up to 2,600 per cent. The Competition and Markets Authority (CMA) said these "extraordinary price rises" have costs taxpayers "tens of millions of pounds".

Getty

13/31 Prime Minister Theresa May visits constituency ahead of Small Business Saturday - Friday December2

The prime minister, Theresa May, visits butcher J&S Rook in her constituency of Maidenhead, ahead of Small Business Saturday

Stefan Wermuth PA Wire/PA Images

14/31 Oil prices soar as Opec countries agree first oil output cut in eight years - Wednesday November 30

Opec countries have agreed their first supply cut in eight years, sending the price of crude surging more than 8%.

15/31 Stores far from overwhelmed as Black Friday sales begins - November 25

People stream into the Apple store on 5th Avenue on Black Friday in New York . Crowds were thin at U.S. malls and stores on Black Friday morning, formerly the traditional start of the holiday shopping season, with stores opening earlier and online sales expected to take the biggest share of gains in retail sales over last year. In the New York and Chicago areas, shoppers said stores were less busy than previous years on the day after the Thanksgiving holiday. The pictures similar in the UK the action has shifted from high street stores to become a predominantly online event

Reuters

16/31 Nintendo shares jump after it announces the launch date for Super Mario Run - Wednesday 16 November

The hugely anticipated game is an attempt to capitalise on the smartphone gaming market after the phenomenal success of Pokemon Go.

Getty

17/31 Pound rises as High Court rules against Theresa May triggering Article 50 without Parliament - Thursday November 3

The pound has risen against all of its major peers on Thursday after the Government announced it cannot trigger Article 50 without parliament approval and the Bank of England said it is no longer expecting to cut interest rates this year.

18/31 Heathrow third runway poses 'serious obstacle' to fight against climate change - Tuesday October 25

Environmental groups expressed dismay at the Government's decision to give a third runway at the airport the go-ahead – and Greenpeace vowed to challenge it in the courts. Allowing Heathrow to expand will create "a serious obstacle" to meeting the UK's commitments on climate change and reducing air pollution, a leading scientist has warned.

Reclaim the Power

19/31 Nearly 10,000 people in China apply for one job - Monday October 24

Nearly ten thousands Chinese jobseekers are competing for one position: an officer worker at a political organisation.China's annual civil service recruitment drive began on October 15, with more than 27,000 vacancies on offer in over 120 central departments - drawing about 1.4 million applicants this year. Job seekers registering for the civil exams are required to pick the positions they are most interested in when they sign up for the test but one job was more popular than others. China's annual civil service recruitment drive began on October 15, with more than 27,000 vacancies on offer in over 120 central departments - drawing about 1.4 million applicants this year.

Reuters

20/31 Price of wine set to soar as production nears 20-year low - Friday 21 October

Vineyard manager Antonio Navarro looks at grapes ready to be harvested at the Casa Bianchi vineyard in San Rafael

Reuters

21/31 Banks consider 'moving London staff to Luxembourg to get access to EU' - Wednesday 19 October

The head of financial development for Luxembourg said a string of overseas banks and fund managers had explored moving London staff to the tiny country since the Brexit vote. Nicolas Mackel said there had been "strong interest" from US and other non-EU firms assessing their options since June's referendum.

Rex

22/31 The pound falls below €1.10 for the first time since March 2010 - Monday October 17

The pound has fallen below €1.10 for the first time in six and a half years, since March 2010. Sterling has been under pressure since Britain voted to leave the European Union. The pound has fallen by almost 20% against the against the dollar since the Brexit vote, trading below $1.22 and €1.10 on Monday.

23/31 Brexit: US banks are planning exodus from the UK, French minister says - Friday October 14

French finance Minister Michel Sapin said that US banks had confirmed to him they would move some activities out of Britain to other European countries as the UK prepares to leave the EU. Sapin revealed that the executives of major US banks have told him they were working on contingency plans, after their meeting last week in Washington.

24/31 Tesco running out of products like Marmite and PG Tips amid Brexit price row with Unilever - Thursday October 13

Tesco has removed a number of popular products such as Marmite, Bovril and PG Tips from its online store following a price row with supplier Unilever over the plunging pound. Multinational household goods giant Unilever has reportedly demanded a 10 per cent price rise in its products, including those made in the UK, to offset the higher cost of imported goods.

Reuters

25/31 FTSE falls after record mid-session high - Wednesday October 12

Britain's index of leading shares slipped on Wednesday from record highs reached in the previous session, partly reflecting currency moves which weighed on some of its global companies The blue-chip FTSE 100 equity index, which hit a record high of 7,129.83 points on Tuesday, fell 0.5 percent to 7,038.22 points. The FTSE 250 mid-cap index fell 0.4 percent but also remained near record highs reached this month. The dollar dipped while sterling rebounded a touch from a brutal sell-off this month, as British Prime Minister Theresa May's offer to give lawmakers some scrutiny of the process behind Britain's plans to leave the European Union calmed market fears of a "hard Brexit".

Getty Images

26/31 Samsung Galaxy Note 7 permanently discontinued - Tuesday October 11

Samsung finally bowed to pressure, permanently ceasing production of its fire-prone Galaxy Note 7. The move came after replacement versions of its flagship phone phone - which Samsung claimed were safe - also burst into flames. October 12 2016.

Reuters

27/31 Oliver Hart and Bengt Holmström awarded Nobel prize for economics - Monday October 10

Two academics recognised for their work on contract theory, which can be applied to everything from CEO pay to privatisations.

Getty Images

28/31 Pound value plunges 6% in 2 minutes in mysterious flash crash - Friday October 7

The British pound has suffered a sudden collapse hitting a new 31-year low against the US dollar in mysterious circumstances, sparking market chaos in "insane" early trading. The drop was sterling's biggest since Britain voted to leave the EU in June. Sterling plunged more than 6 per cent to $1.1841 in two minutes, prompting traders to speculate about a possible trigger.

29/31 Pound sterling value hits another new 31-year low against the dollar amid hard Brexit fears - Wednesday October 5

Sterling has continued its "slippery decline" as ongoing fears over the consequences of "hard Brexit" haunt investor attraction towards the currency. The currency has fallen below the "psychologically important" $1.27 level, down 0.3 per cent to $1.2695 in early trading on Wednesday, extending Tuesday's selloff.

AFP/Getty

30/31 Pound drops to 31-year low Against dollar on brexit concerns - Tuesday October 4

Sterling's broke through its post-referendum low to reach levels not seen in over 30 years. sterling hit an intraday low of $1.2736 on Tuesday morning. That surpasses the post-referendum low of $1.2798 reached on the day after the vote, which was the lowest level seen since the mid-1980s.

Getty

31/31 Philip Hammond ditches George Osborne's 15% corporation tax cut target - Monday October 3

Chancellor Philip Hammond has apparently rejected the plan of his predecessor George Osborne to slash corporation tax to just 15 per cent in the wake of the UK's Brexit vote. In early July Mr Osborne said he wanted to push the levy on company profits to 15 per cent as a bold signal to global companies that the UK is still "open for business" despite the vote to leave the EU. In his speech to the Conservative Party conference in Birmingham today, Mr Hammond made no reference to that 15 per cent goal, merely referencing the existing policy for the levy to decline to 17 per cent.

AFP/Getty
The supermarket boosted its performance for the first time in four years. Potts put improved results down to store promotions, fewer multi-buy deals and improved pricing. 
Like-for-like sales were up 0.2 per cent in the nine weeks to 3 January – although 0.9 per cent of the rise came from Morrisons' online operation.
Reuse content