There is unlikely to be any significant production of shale gas or oil in the UK and Europe for at least 20 years, according to BP's starkest forecast yet of the fracking industry's potential outside the US.
The poor prospects for developing a global shale – or "tight oil" – industry also  mean the current low price of oil is unlikely to last for more than a few years, BP added.
This is because the dramatic growth of US shale oil production – which has pushed the supply up and the price down – will run out of steam and is unlikely to be replaced by new tight oil reserves outside the US. Meanwhile, the growing global economy will ensure that demand continues  to increase.
"We don't see any shale production of any great significance in Europe and the UK by 2035," said BP's chief economist, Spencer Dale, referring to the group's latest Energy Outlook booklet, covering the period until 2035.
Biggest oil producers (IEA figures)
Biggest oil producers (IEA figures)
1/10 1. USA (12.35 million barrels per day)

Getty

2/10 2. Russia (10.95 million barrels per day)

Getty

3/10 3. Saudi Arabia (9.51 million barrels per day)

Getty

4/10 4. (4.21 million barrels per day)

Rex

5/10 5. China (4.13 million barrels per day)

Getty

6/10 6. Iraq (3.38 million barrels per day)

Getty

7/10 7. Iran (2.76 million barrels per day)

Getty

8/10 8. UAE (2.71 million barrels per day)

Getty

9/10 9. Kuwait (2.66 million barrels per day)

Getty

10/10 10. Mexico (2.64 million barrels per day)

Getty
He said the shale revolution in the US was unlikely to be replicated elsewhere because the country's suitability for the industry is unique.
The US has easy access to water, which is essential for fracking – a process which releases oil or gas from shale by blasting a mixture of water, chemicals and sand into the rock. The country also has vast reserves of commercially extractable hydrocarbons and a sparse population with a culture of onshore extraction after decades of land-based production.
This has fostered a regulatory and political environment that – unlike much of Europe – is friendly towards fracking; it has also encouraged a highly competitive industry involving numerous producers and service providers, as well as good infrastructure.
Most of these "below-the-ground" factors do not apply in the UK and Europe, while "above-the-ground" forces such as political will and regulations can take a long time to evolve, Mr Dale said.
"Our view is that the oil market will grow out of its current weakness. It may well take several years, but our view is that as the strong growth in tight oil flattens out and the global economy continues to grow, the oil market will rebalance," he said.
Although the rapid growth of the US shale oil industry will eventually flatten, there are no signs of that happening over the next two decades, Mr Dale said.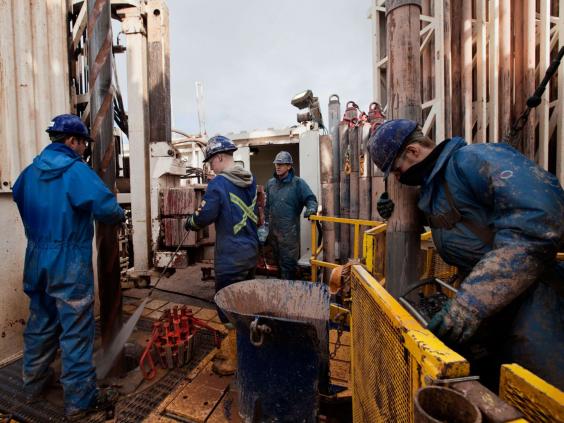 However, combined with the improving efficiency of vehicle energy, the remaining growth left in the US shale oil industry should be enough to ensure that the country is self-sufficient in oil by the 2030s, BP said. As recently as 2005, the US was meeting 60 per cent of its oil demand through imports, the group notes.
Mr Dale said the recent drop in oil prices – from $115 a barrel in June, to $60.50 in December and less than $50 last month – was a stark reminder of how volatile the industry can be in the short term, even if the underlying trends may be unaffected.
"After three years of high and deceptively steady oil prices, the fall of recent months is a stark reminder that the norm in energy markets is one of continuous change," said Mr Dale.
"It is important that we look through short-term volatility to identify those longer-term trends in supply and demand that are likely to shape the energy sector over the next 20 years and so help inform the strategic choices facing the industry and policy makers alike," he added.
BP's Energy Outlook yesterday also predicted that the world economy would double in the next two decades, resulting in demand for energy rising by nearly 40 per cent.
Two-thirds of this demand would be met from fossil fuels, leading to a 25 per cent increase in carbon emissions, the group said.
Reuse content