High demand is today continuing to cause problems on the National Savings and Investments (NS&I) website, as over-65s rush to buy the Government's new market-leading pensioner bonds.
The bonds proved "extremely popular" after first going on sale yesterday, with 26,000 sold, - but many people complained that  the website was down, while phone lines were continuously engaged.
This morning the following message appeared on the website: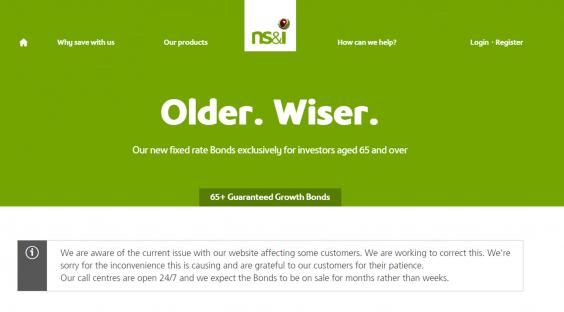 NS&I has sought to reassure customers that the 65-plus bonds will be available throughout the coming months and "there's no need to rush".
A spokesperosn said last night: "This has been an extremely popular launch... So far, £270 million has been invested in 26,000 sales.
"This is out of a total pot of £10 billion, the largest UK retail bond ever, so there's plenty more available. There are a lot of these popular bonds being sold today.
"But even they are only a small proportion of the overall pot available. So we'd remind customers there's no need to rush: take your time and decide what's best for you."
However, experts have warned that the bonds could sell out in a matter of weeks. The Government has set a £10bn limit on the bonds, meaning that individuals could miss out if the issue is oversubscribed.
NS&I said that £270 million-worth of the deals had been sold by 3.30pm yesterday.
The deals, which have been released at a time when savers continue to be hammered by low interest rates, enable people aged over 65 years old to save up to £10,000 each in a one-year bond paying annual interest of 2.8 per cent and a three-year bond paying a yearly rate of 4 per cent.
Couples can jointly hold £40,000, assuming that each partner holds £10,000 in a one-year bond and £10,000 in a three-year bond.
The spokeswoman continued: "We continue to take many thousands of sales each hour online and by phone. The majority of sales are coming through our website.
"Because of the unprecedented demand for these bonds, there have been some issues with our website affecting some customers accessing it but we are working hard to correct this. Our call centres are open 24/7 and the team are working hard to help customers."
Martin Lewis, founder and editor of MoneySavingExpert.com, pointed out that as few as half a million over-65s will be able to get their hands on the bonds if everyone uses their maximum allowance.
He said: "My guess is this won't be open for more than six to eight weeks, so go quick if you want it."
The bonds are available online, over the phone and by post, but NS&I has encouraged people to apply online as the "quickest and easiest" way to invest.
Some people vented their frustration at their struggle to get through to NS&I on the MoneySavingExpert website's forum.
One user said: "I just had the email from NS&I and the page link to apply is unavailable and the phone is continually busy."
Another added: "This is a joke, have been trying both phone line and website since they were announced. Getting nowhere."
The new bonds pay almost double the interest rates that can be found on bonds across the market generally, according to figures from website Moneyfacts.
The average one-year fixed bond on the market today pays just 1.43 per cent, while the typical three-year bond pays 2.03 per cent.
NS&I, which has more than 25 million customers, offers a range of cash savings and investment products, including premium bonds. It is backed by the Treasury, meaning any money invested in it has 100 per cent security.
Additional reporting by Press Association
Reuse content