Oil prices climbed to their highest level since August supported by the global market renewed optimism that Opec's production deal reached last week would bring an end to sub-$50 a barrel oil.
The December contract for global benchmark Brent was up 0.96 per cent at $50.66 a barrel on Monday, its highest level since 19 August when it touched  $51.22, while November deliveries of West Texas Intermediate gained 0.95 per cent at $48.70.
The steadying of Brent is supported by the Organisation of the Petroleum Exporting Countries (Opec) announcement last week that it would cut production for the first time in eight years.
In a decision led by a rapprochement between Saudi Arabia and Iran, who had repeatedly clashed during previous meetings, Opec ministers decided to cut production by 750,000 barrels a day, down to 32.5 million barrels.
However, their deal was met with scepticism by some analysts wondering whether Opec will actually take action and implement the output curb at its November meeting.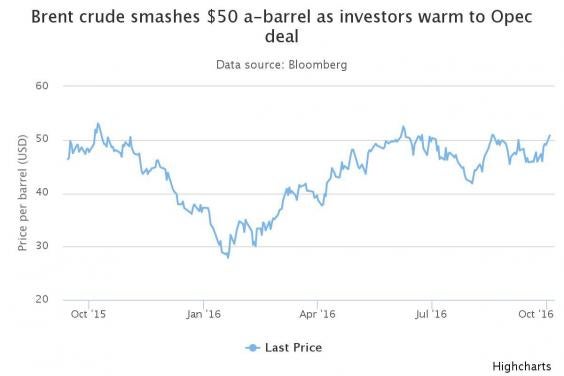 "The real significance of last week's framework Opec production agreement is not the size of the implied or actual output cut, but the fact that Saudi Arabia and Opec have returned to active market management," said Mike Wittner, head of oil market research at Societe Generale. "It is difficult to overstate the importance of this change."
Jeff Quigley, director of energy markets at Houston-based Stratas Advisors, said the market had yet to discover who would produce what: "I want to hear from the mouth of the Iranian oil minister that he's not going to go back to pre-sanction levels. For the Saudis, it just goes against the conventional wisdom of what they've been saying."
Opec ministers will meet again on 30 November to agree on production levels for each member country.
The fall in oil prices in the last 18 months has been spectacular, diving from $115 (£80) a barrel in the summer of 2014 to around $28 in January.
The extraordinary decline has come about because of rising supply and falling demand, as the revolution in US fracking massively increases global production just as the juggernaut economies of China and Brazil run out of steam.
Additional reporting by Reuters
Reuse content