Women are set on a path to earn less than men before they have even left university by the subjects they choose to study, new research has claimed.
While the gender pay gap is often presumed to open up later on in people's careers, economists at jobs website Glassdoor found that in the US men earned median base pay of $56,957 (£44,409) compared to $50,426 for women in the five years after they graduated - a gap of 11.5 per cent.
The study concluded that more than half of the gap is due to "occupational sorting", meaning men cluster into degree subjects that result in higher-paying careers than their female counterparts.
The research did not assess whether the paths that men tend to choose are more highly paid because they are more economically valuable or simply because men tend to choose them.
The study, which compared 47,000 CVs with self-reported salary data found men outnumber women in almost every science and engineering field at university, with particularly dramatic differences in areas such as physics and computer science. 
Under-representation of women on these courses fuels pay imbalances because the skills they teach tend to be highly rewarded, Glassdoor's economists said.
Nine of the ten highest-paying university subjects are male-dominated, while six out of ten of the lowest paying are majority female, according to the study, which looked at salary data in the five years after graduation.
There are also large gender discrepancies within certain fields, with the worst examples being in healthcare administration where women earn 22 per cent les than men, mathematics (18 per cent) and biology (13 per cent).
According to the data, women enjoy higher pay in some fields such as architecture (14 per cent more), social work and advertising. Exact gaps may be smaller or larger than this as the sample size for some subjects was relatively small.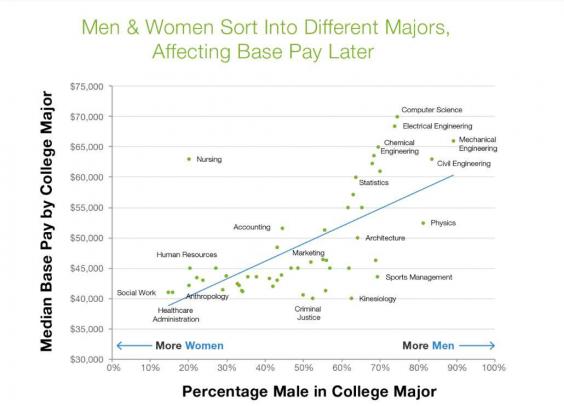 While the research demonstrates that the pay gap opens up in the years immediately following graduation and establishes a correlation between course taken at university and salary achieved, the researchers admit proving that the course chosen causes the pay disparity is fraught with difficulty.
"Many factors other than college major affect career paths and pay, they are beyond the scope of this study," the report stated.
Dr. Andrew Chamberlain, Glassdoor chief economist said "You would expect new grads to find a level playing field when it comes to pay, but they generally don't. Glassdoor's analysis shows an 11.5 per cent average pay gap among new grads in the early years of their careers."
"When we isolate by major, pay gaps remain because men and women are sorting into different jobs after graduating - a clear sign of societal pressures and gender norms at play in the career paths of young workers."
Business picture of the day
Business picture of the day
1/29 Marks and Spencer reports slump in profit hurt by clothing sales and cost of new food stores - Wednesday 24 May

High street stalwart Marks and Spencer has reported a more than 60 per cent fall in pre-tax profit in the year to the end of March, hurt by a decline in clothing sales and higher costs from opening new food stores. Pre-tax profit came in at £176.4m for the year, while sales were broadly steady at £10.6bn. Food revenue was up 4.2 per cent.

Reuters

2/29 Apple named world's most value company in tech-dominated Forbes ranking - Tuesday 23 May

Tech behemoth Apple has been named the most valuable brand in the world for a seventh consecutive year. The highly-regarded ranking, compiled by Forbes magazine, puts the iPhone makers' brand value at $170bn, a 10 per cent increase on figure for 2016 and well ahead of second-placed Google, whose brand value has risen $19.3bn from last year to just under $102bn, according to Forbes. Tech peer Microsoft nabbed third spot, with a value of $87bn, followed by Facebook at $73.5bn. Consumer goods giant Coca-Cola rounds out the top five with a value of $56.4bn.

Reuters

3/29 Diamond ring bought for £10 at car boot sale expected to fetch £350,000 at auction - Monday 22 May

A large, diamond ring is expected to fetch £350,000 at auction 30 years after its owner paid £10 for it at a car boot sale, thinking it was a costume jewel. The "exceptionally-sized" stone was presumed not to be real because 19th Century diamonds were not cut to show off their brilliance like today's gems. And so the owner, unaware of its value, wore it for decades, while doing everything from the shopping to the chores.

PA

4/29 $110 Basquiat sold by Family who bought it for $19,000 - Friday 19 May

Jean-Michel Basquiat's painting of a skull sold for $110.5 million at Sotheby's in New York, setting an auction record for American artists and providing a windfall for the daughter of two collectors who purchased it for $19,000 in 1984.

Getty Images

5/29 Peppa Pig owner Entertainment One announces 117 new episodes - Friday 19 May

The company that owns the Peppa Pig brand has announced that it is producing 117 new episodes for the popular children's cartoon. The new series will air from spring 2019 and take the total number of Peppa Pig episodes to 381.

Getty

6/29 Property tycoon who banned 'coloured people because of curry smells' faces legal action - Thursday 18 May

A buy-to-let tycoon who banned "coloured people" from his properties "because of curry smells" is facing legal action brought by the equality watchdog. Millionaire Fergus Wilson, who reportedly owns close to 1,000 properties in Kent, sent an email to a local letting agency informing them of the ban. Commission chief executive, Rebecca Hilsenrath, said: "We have asked the court if it agrees with us that Mr Wilson's lettings policy contains unlawful criteria and, if so, to issue an injunction. "As this is now formal legal action we will release further information at a later date."

Gareth Fuller/PA

7/29 Nestlé foiled by Cadbury as it loses bid to trademark KitKat bar - Wednesday 17 May

KitKat-maker Nestlé has been foiled again, after a UK Court of Appeal ruled that the consumer goods giant cannot trademark the shape of its popular four-fingered chocolate bar. The ruling is the latest in a long running legal battle between the Swiss-based company and its rival Cadbury. Nestlé argues that the KitKat's shape is "iconic" and should be protected by law but Cadbury objects. On Wednesday, the Court of Appeal ruled in favour of Cadbury, dismissing the claim.

iStock

8/29 Yorkshire is the best region in the UK for workplace happiness - Tuesday 16 May

The best region in Britain for workplace happiness and satisfaction is Yorkshire and the Humber, according to new research. London only managed to make it to number five for happiness and came bottom for work satisfaction, according to research commissioned by recruitment agency Robert Half. The findings may give pause for thought to many workers in the capital putting up with sky-high property prices in the hope of landing their dream job.

9/29 Andy Murray funds company behind world's first foldable bike helmet - Monday May 15

He may be almost unbeatable on the tennis court, but how will Andy Murray fare in the world of investing? On Monday, a company that claims to make the world's first folding bike helmet announced that the tennis pro was one of more than 400 individuals who had helped it raise nearly £700,000 on crowdfunding platform Seedrs. Morpher's bike helmets fold and unfold, meaning that they can easily be slipped into a bag when not in use, catering to cyclists who find normal helmets cumbersome to carry around.

Morpher

10/29 Morrisons will sell 'wonky avocados' for just 39p from Monday as demand hit record levels - Friday May 12

Morrisons will start selling deformed avocados at a third of the average cost of normally-shaped ones as growing demand and reduced harvests from major producers has pushed up prices in recent weeks. The supermarket said on Friday that it would start selling the misshapen and superficially blemished fruits for 39p each or £2.40 a kilogramme in the majority of its stores across the UK starting from 15 May until the end of the summer. Morrisons claims that its offer is the cheapest on the UK market and compares to an average retail price of £1.05 apiece, which is up from 98p last year.

Morrisons

11/29 Unilever develops technology to prevent billions of plastic sachets from entering into oceans - Thuesday 11 May

Unilever, the consumer goods giant behind brands such as Dove, Ben & Jerry's and Marmite, is making a big push toward more sustainable packaging. The company sells billions of products in single-use sachets each year, including cosmetics and food products, particularly in developing and emerging markets. It says that it has now developed new technology to recycle them, which will prevent packaging from ending up in our oceans or in landfill. Through a system called CreaSolv Process, the plastic from the sachets will be recovered and then used to create new ones for Unilever products – creating a full circular economy approach.

Unilever

12/29 Euro hits a six-month high after Emmanuel Macron's French presidential victory - Monday 8 May

The euro hit a six-month high against the dollar on Monday and US stock futures briefly touched a record high after Emmanuel Macron won the French presidential election, easily beating anti-EU rival Marine le Pen.

Reuters

13/29 Princess Charlotte's John Lewis cardigan from birthday photo sells out - Tuesday 2 May

A knitted yellow John Lewis cardigan adorned with pictures of sheep has sold out after Princess Charlotte was photographed wearing the item, prompting a surge in demand from British parents wanting to dress their offspring like the young royal. John Lewis confirmed that the clothing item sold out online shortly after the photograph was published, although a coordinating prink dress, selling for £10 on the John Lewis' website, was still available on Tuesday morning.

HRH The Duchess of Cambridge via Getty Images

14/29 Dubai becomes first city in world with own Microsoft font - Monday 1 May

Dubai has become the first city in the world to get its own front, the government announced on Sunday. The type face, simply called "Dubai Font", comes in both Arabic and Latin script and will be available in 23 languages. It was created in partnership with Microsoft and is now available to Microsoft Office 365 users around the world.

Getty

15/29 Donald Trump administration loses trade battle over tuna as WTO lets Mexico hit US with sanctions - Wednesday April 26

The US has just lost a major trade battle with Mexico and it revolved around tuna. On Tuesday, the World Trade Organisation ruled that Mexico is allowed to impose $163m (£127m) a year in sanctions against the US on trade in tuna, ending a years-long dispute. The clash, which dates back to 2008, centred on the US insisting that any Mexican tuna sold in the US must have a 'dolphin safe' guarantee, meaning that no dolphins were killed by fishermen catching the tuna.

Reuters

16/29 Luxury brand LVMH to snap up Christian Dior for £10bn - Tuesday 25 April

French billionaire Bernard Arnault moved to consolidate control over Christian Dior for about €12.1bn (£10.3bn), folding the fashion house's operations into the LVMH luxury empire in one of his biggest transactions.

Rex

17/29 Euro and shares rally after Emmanuel Macron wins first voting round of French election - Monday 24 April

The euro briefly surged to a five-month high against a basket of currencies late Sunday after centrist candidate Emmanuel Macron won the first round of a hotly contested French election vote, an outcome broadly considered the most market-friendly. Immediately after the vote, the euro surged to $1.0940, its highest level against the dollar since November last year, before retreating to around $1.0869.

Reuters

18/29 Barbie out of fashion as Mattel slumps - Friday 21 April

Mattel shares took a hit after the world's largest toy company reported a much worse than expected sales slump dragged down by poor demand for key brands such as Barbie and Fisher-Price. Shares in the company dropped 6 per cent to $23.70 (£18.50) in after-hours trading in New York on Thursday after the toymaker reported a loss of $133.2m or 33 cents per share for the three months to 31 March. Barbie sales, which begun to recover last year after the toymaker introduced new dolls with different body types and skin colours, slipped again with gross sales down 13 per cent compared to a year ago - their second consecutive quarter of decline.

AFP/Getty

19/29 Government to sell Green Investment Bank to Macquarie in £2.3bn deal - Thursday 20 April

The British Government said on Thursday it would sell Green Investment Bank to a consortium led by Macquarie Bank in a deal worth £2.3bn. The British Government set up GIB, which backs green projects with public funds, in 2012 as a commercial venture to spur private investment in green projects. It has invested more than £2bn in projects such as offshore wind farms and waste management. The Government decided to sell a majority stake in 2015, saying it would give the bank more freedom to borrow, remove state aid restrictions and allow it to attract more capital.

AFP/ Getty Images

20/29 Snap election threatens Government plan to finally lower energy bills - Wednesday 19 April

Energy customers face further delays from government in dealing with with soaring bills, MPs heard on Wednesday. Business secretary Greg Clark accused companies of "flagrant mistreatment" and "milking" their customers in a "broken" market, but insisted the snap general election announced by Theresa May on Tuesday meant he would "have to reflect on the timing" to lay out his long-awaited plans for a crackdown.

Getty/iStockphoto

21/29 Pound sterling surges as Theresa May calls for 8 June general election - Tuesday 18 April

The pound surged against the dollar on Tuesday to its highest level since last December after Prime Minister Theresa May said she wanted a general election on 8 June. When Ms May announced she wanted a new national poll, at around 11.05am, the pound instantly jumped, climbing to $1.2765 by the end of trading, up 1.62 per cent on the day and the highest since 13 December. It was also sterling's biggest one day jump since March 2016.

22/29 China's first quarter growth beats expectations - Monday 17 April

This aerial photo taken on April 12, 2017 shows farmers working in the fields in Yangzhou, in eastern China's Jiangsu province. ina's growth stabilised in the first quarter thanks to rising investments and a recovery in exports. cording to an AFP survey of 16 economic analysts, the gross domestic product expanded 6.8 percent in the first three months of this year

Getty Images

23/29 Rome's Trevi Fountain generates €1.4m for city's charities in 2016 - Thursday April 13

Rome's Trevi Fountain was a veritable cash cow for the Eternal city's charities in 2016, according to new data. The charity Caritas said this week that tourists tossed €1.4m (£1.2m) into the baroque fountain last year, helping to subsidise a supermarket for Rome's needy

Andreas Solaro/AFP/Getty Images

24/29 Pret and Paul offer discount to customers who bring their own coffee cup - Monday April 10

French bakery group Paul and sandwich chain Pret a Manger will begin offering discounts to customers bringing in their own reusable cups, yielding to pressure from environmental groups concerned about the mountains of cardboard waste generated in the UK each year.

25/29 Doritos, Coco Pops, Peperami among latest products to be hit by shrinkflation - Thursday April 6

Bags of Doritos, packets Peperami and boxes Coco Pops have become the latest treats to shrink in size as retailers passed on surging costs from the Brexit-hit pound and rising commodity prices.

26/29 Cuban family making their own wine brand using condoms - Wednesday April 5

family wine business in Cuba is thriving thanks in part to an unconventional item being added into the fermentation process – condoms. As a result of the US trade embargo and other inefficiencies of Cuba's economy, thousands of basic household items are inaccessible to Cubans meaning that sometimes a little creativity is required to get the job done. At El Canal, a winery in Havana, Orestes Estevez and his family fill glass jugs with grapes, ginger and hibiscus, before securing a condom over each glass jug Allowing Heathrow to expand will create "a serious obstacle" to meeting the UK's commitments on climate change and reducing air pollution, a leading scientist has warned.

AP

27/29 'Pink Star' diamond sells for world record £57m in Hong Kong auction - Tuesday April 4

A rare pink diamond dubbed the "Pink Star" has become the world's most expensive gemstone to sell at auction, coming under the hammer in Hong Kong on Tuesday for $71.2m (£57.3m). The oval-cut 59.6 carat jewel, discovered in a mine in Africa by De Beers in 1999, is the largest fancy vivid pink diamond, categorised as "flawless" or "internally flawless", that the Gemological Institute of America (GIA) has ever graded. It sold after a five-minute bidding war, that started at $56m, to Hong Kong jewellery retailer Chow Tai Fook at Sotheby's.

AP

28/29 Stopping climate change could boost the world economy by £15 trillion - Tuesday March 21

Efforts to slow climate change won't just keep the planet habitable. They will also boost the world economy by $19 trillion (£15.2 trillion). Investments in renewable power and energy efficiency will add about 0.8 per cent to global gross domestic product by 2050, the International Renewable Energy Agency, or Irena, said Monday in a report produced for the German government. Governments are committing resources to green energy in a bid to keep warming within 2 degrees Celsius (3.6 Fahrenheit), of pre-industrial conditions, in accordance with the landmark Paris Agreement on global warming.

Getty

29/29 'UK Disneyland' set to open in five years in Kent - Friday March 10

It's the news British film-lovers and thrill-seekers have been waiting to hear forever - no longer do we have to schlep across the seas to get our fix of stardust and adrenaline, for the UK is finally getting its own 'Disneyland'. The theme park will be the first of its kind in the UK, and is being created by film company Paramount at a cost of £3.5 billion.

Paramount
The gender pay gap has narrowed but remains stubbornly high in many countries around the world. In the UK women earn 17 per cent less than men according to the latest OECD figures. 
Research published in February showed that large UK companies are now appointing less women to board-level positions than they were two years ago.
Last year, Nicky Morgan, the women and equalities minister, expressed concern that efforts to appoint more women to top business jobs had stalled.
"There are still more people called John chairing FTSE 100 boards than there are women," said Ms Morgan.
Under new rules introduced this month the UK's largest companies will have 12 months to meet a deadline to publish their gender pay gap figures, but critics have said that the reporting won't be granular enough to facilitate real change.
"As is stands, the reporting won't reveal whether men and women are paid equally for doing the same or comparable jobs. It will simply show the mean and median difference in pay and bonus remuneration across a particular company," said Suzanne Horne, an employment law partner at Paul Hastings.
Reuse content