Supermarket managers were said to be bracing themselves for chaos and shop assistants were supposedly having special training to deal with thousands of argumentative customers.
But the introduction of the 5p charge for plastic carrier bags passed off peacefully without any of the pandemonium predicted along  the nation's high streets.
Shoppers in Manchester were among the millions who coped with the new rules, although some of them admitted they found the scheme a little confusing.
The Independent asked customers in the city's Market Street their thoughts as George Osborne, the Chancellor, admitted at the Conservative conference across town he was "ashamed" to be a user of plastic shopping bags but was happy to pay the charge.
"I think it's a good idea," said Nigel Williams, who had just paid 5p for a bag at a major high-street store. "If it encourages people to use fewer plastic bags, it will be good for the environment.
"But I don't think the rules are very clear. You don't have to pay if you are buying fish or other things and I think the rules need clarifying."
Under the scheme, retailers with 250 or more full-time equivalent employees have to charge a minimum of 5p for plastic bags, but smaller shops and paper bags are not included.
Shoppers are not charged for plastic bags that are used for selected items including uncooked fish, takeaways, flowers, unwrapped blades, prescription medicines and goldfish.
The aim of the scheme is to prevent plastic bags ending up as litter or marine pollution. A similar scheme in Wales has seen bags handed out by retailers fall by 79 per cent over three years.
The scheme is expected to save £60m in clean-up costs and will generate £730m for good causes. Around 7.6 billion single-use plastic bags were given out by supermarkets last year – the equivalent of 140 per person.
Margaret Sutherland and Phyllis Collins, two sisters who were among shoppers on Market Street, had different views about the bags.
"I think it's wrong. If you go in six shops, you have to buy six bags," Ms Sutherland said. "If you bought a £100 dress, you wouldn't want to fold it up and put it into your shopping bag. You would still have to buy a plastic bag."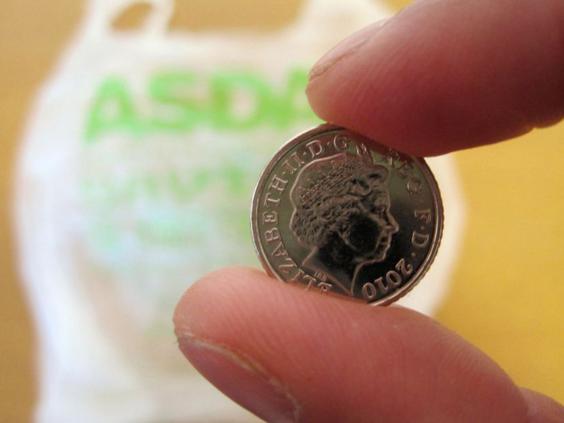 But Ms Collins said: "It's a good idea. It's better for the environment. But we need to know where the money is going. The problem is that you are now paying shops to advertise their name on their carrier bag when, really, they should be paying you."
Sylvia Bamlett, who was carrying around a Tesco bag for life, said: "I think every shop, large or small, should be told to charge people for plastic bags. It would be better for the environment. My son lives near the canal and it is always full of plastic bags."
Reuse content