Sterling has fallen in the wake of the announcement by Downing Street that the UK will trigger Article 50 on 29 March.
Theresa May's spokesperson announced the date at around 11.40am Monday.
The Prime Minister had already promised to trigger the two-year divorce proceedings by the end of this month.
The path was cleared earlier this month after the legislation enabling the trigger passed the House of Commons and the House of Lords.
Sterling fell to $1.2345 in the wake of the news, down 0.4 per cent on the day.
The UK currency is around 17 per cent down against the dollar since last June's Brexit referendum result.
The trade-weighted value of the pound is 13 per cent lower.
More pound punishment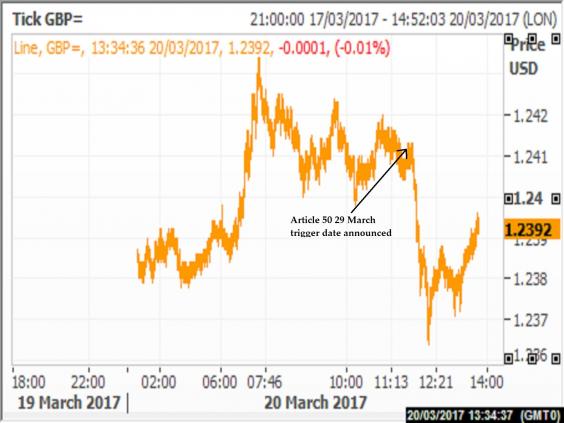 Traders said that sterling could fall further as the wrangling over the UK's future relations with the rest of the EU formally begins, with ministers openly countenancing the prospect of a "cliff-edge Brexit" where the UK fails to agree a free-trade deal.
"We're now in for a long period of volatility for the pound and UK assets as the government embarks on protracted and hugely challenging Brexit negotiations," said Neil Wilson of ETXCapital.
"Sterling may be in-store for some serious punishment this week. It is becoming clear that the Brexit developments are likely to dictate where Sterling trades in the medium to longer term with uncertainty effectively limiting any extreme upside gains," said Lukman Otunuga of FXTM Research
Other analysts, however, were more sanguine.
"We think that today's dip in the pound is just a knee-jerk reaction to the Article 50 news, and part of sterling's decline is also due to the recovery in the dollar and US Treasury yields," said Kathleen Brooks of City Index Direct.
Reuse content