Fears of a new wave of protectionism and a surge of inflation are causing fresh turbulence in the financial markets, as Donald Trump's election victory continues to grip investors.
Markets have experienced sharp moves after Trump won the presidency on Tuesday against Democratic rival Hillary Clinton, as investors tried to reposition their portfolios to his administration.
Shares in some of the biggest tech firms continue to weigh on US stock markets on Friday causing the Wall Street to open lower, after four days of strong gains.
Analysts said tech companies would be hurt by any trade barriers brought in by President-elect Trump, and would not benefit as much from his plans for lower taxes and higher infrastructure spending.
In the opening minutes of trade, the S&P 500 was 0.35 per cent lower at 2,159.98 points; the Dow Jones was down 0.13 per cent at 18,784.32.
The tech-heavy Nasdaq continue to decline as it fell 0.5 per cent. The index has been the most under pressures since Donald Trump was elected US president.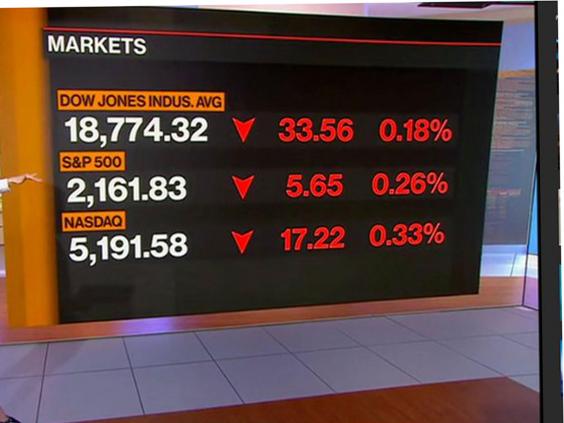 Connor Campbell, Financial market analyst said: "The markets remained a mess this Friday afternoon, a variety of different post-election interpretations causing the trading boards to become increasingly splashed with red."
"It appears that the surprise of the election has worn off somewhat. Though, light volumes due to closed bond markets is another smaller reason for the pause in the market," said Kim Caughey Forrest, senior analyst and portfolio manager at Fort Pitt Capital Group.
Earlier, there has been a sharp-selloff in emerging markets, with many currencies sliding against the dollar. 
World reaction to President Trump: In pictures
World reaction to President Trump: In pictures
1/29

London, England

AP

2/29

London, England

Reuters

3/29

Manila, Philippines

Getty Images

4/29

Manila, Philippines

Getty

5/29

Mosul , Iraq

Getty

6/29

Manila, Philippines

AP

7/29

New Delhi, India

Reuters

8/29

Karachi, Pakistan

EPA

9/29

Jakarta, Indonesia

Reuters

10/29

Lagos, Nigeria

AP

11/29

Kabul, Afghanistan

AP

12/29

Jerusalem. Israel

Reuters

13/29

Moscow, Russia

Reuters

14/29

Seoul, South Korea

AP

15/29

Lagos, Nigeria

AP

16/29

Peshawar, Pakistan

EPA

17/29

Jakarta, Indonesia

Reuters

18/29

Hyderabad, India

AP

19/29

Kolkata, India

AP

20/29

Sydney, Australia

Getty

21/29

Sydney, Australia

AP

22/29

Aleppo, Syria

Reuters

23/29

Mexico City, Mexico

AP

24/29

Port-of-Spain, Trinidad and Tobago

Reuters

25/29

Jerusalem, Israel

EPA

26/29

Baghdad, Iraq

Rex

27/29

Gaza Strip, Palestinian Territories

Rex

28/29

Tokyo, Japan

Rex

29/29

Mexico City, Mexico

Getty
Indonesia's rupiah tumbled by 3 per cent, forcing officials to intervene to prop the currency up. While,  Mexico's peso has fallen to a new record low.
Donald Trump's election as US President has also raised hopes that the UK may find it easier to negotiate a trade deal with the US, pushing sterling to a five week-high.
Sterling has romped to its highest levels since the 'flash crash' of early October. It's currently trading 0.5 per cent higher at $1.261 against the US dollar, and €1.157 against the euro.
The rising pound send London shares sliding with Britain's FTSE 100 losing 1.5  per cent on Friday dragged down by international firms who earn in dollars.
Stronger sterling means global FTSE 100 firms' foreign currency income is less valuable when translated into pounds.
Reuse content