The crippling strike by Air France pilots has threatened to spread to cabin staff amid warnings that one of the great European flag-carrying airlines could disappear from the skies.
As the pilots' strike approached its 11th day – the longest in Air France history – other unions warned that they would join the action unless the airline completely abandoned plans to create a Europe-wide, low-cost subsidiary.
The complex and bad tempered dispute was muddled by conflicting statements from the airline management and from the French government, its chief shareholder. The Transport Minister, Alain Vidalies, said that plans to create a European no-frills carrier to compete with Ryanair, easyJet and the Gulf airlines had been withdrawn. Air France insisted that the plan has only been "suspended" until the end of the year.
At the same time, hundreds of ground staff and airport employees demonstrated against the strike at Charles de Gaulle airport, north of Paris. They accused the pilots of putting their privileges and relatively high salaries ahead of jobs in the wider French airline industry.
There were hopes that Air France's senior management would bow to government pressure and scrap its low-cost expansion plans at a meeting with unions on Thursday.
"Everyone knows that some kind of similar plan must come forward eventually," one Air France union official told The Independent. "There is no way to compete with the low-cost carriers otherwise. But the withdrawal of the plan today will at least give time for tempers to cool and allow the planes to fly again."
Unions representing cabin-staff warned that they would join the pilots' strike unless Air France backed down. Air France-KLM operated just over half its scheduled flights today for the 10th day in a row. The strike is already said to have cost the airline over €200m (£156m).
The French Prime Minister, Manuel Valls, said that the strike was a "real danger" for the survival of Air France. After initially criticising the pilots, he has pushed for the low-cost plans to be abandoned to allow fresh talks with unions.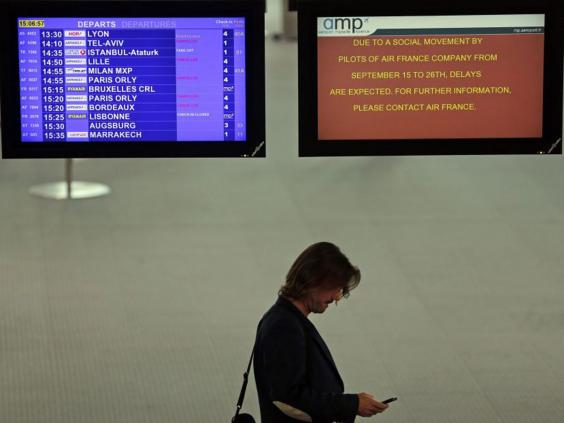 The once state-owned French flag carrier merged with KLM, the Dutch national airline, in 2004 to become one of the world's largest airlines, carrying almost 80 million passengers a year. The French government still owns a 16 per cent stake. Large stakes in the combined company are held by private interests in the Netherlands, who have been pushing for radical cuts in the airline's cost base.
The controversial chief executive of Air France, Alexandre de Juniac, who has cut operating costs by €2bn (£1.6bn) in three years, warned that the airline had no future unless it expanded its no-frills operations. "No airline is immortal," he said on French television on Monday.
Mr de Juniac wants to expand Air France-KLM's existing low-cost operation, Transavia, and create a Europe-wide no-frills airline with over 115 planes. Unless this happens, he said, Air France will continue to lose market share to low-cost airlines like Ryanair or to the Gulf airlines with low cost-bases such as Emirates and Etihad.
Each seat-kilometre – in other words, the cost of flying a kilometre for each available seat – is estimated to reach seven cents (5p) for Air France, compared with  three cents (2p) for Ryanair.
Earlier this month, Mr de Juniac announced plans to spend €15bn on new aircraft over five years to allow Transsavia Europe to operate from up to five bases across the Continent. Air France pilots fear that this will allow the company to hire crews in other European countries, such as Portugal, on much lower salaries. They have given formal warning of strike action until next Tuesday and have threatened to stay out indefinitely.
Reuse content