Alex Tsipras, the Greek premier in charge of brokering a deal with the EU over the country's debt woes, has met with Vladimir Putin in Moscow, prompting fears that he might be abandoning the EU deal in favour of another offer from the Kremlin.
Meeting with Russian President, @PutinRF_Eng ahead of this afternoon's press conference. #Greece pic.twitter.com/iLUizVPLp2

— Alexis Tsipras (@tsipras_eu) April 8, 2015
The timing of the meeting was tricky.
When Tspiras and Putin were posing for the global press, finance ministers from across Europe were having a conference call to talk through whether Greece's current list of promised reforms is enough to merit the rest of the bail-out funds available.
#Eurogroup Working Group conference call on #Greece 1300 GMT. Greek officials expect "a positive signal".

— Yannis Koutsomitis (@YanniKouts) April 8, 2015
Politicians across Europe voiced concerns that the meeting could signal a turning away from the EU deal. Guy Verhofstadt, the former Belgian Prime Minister, posted on Twitter 'Putin cannot save Greece, the EU can'.
The Greek Prime Minister should stop trying to play #Putin against the EU. Putin cannot save #Greece, the EU can #Tsipras

— Guy Verhofstadt (@GuyVerhofstadt) April 8, 2015
The future of #Greece lies within the EU. #Tsipras should play according to the common rules and conduct serious reforms #Russia

— Guy Verhofstadt (@GuyVerhofstadt) April 8, 2015
In an interview with a German newspaper, Martin Schulz, the president of the European Parliament, warned Tsipras against alienating the European Union. Schulz said it would be "unacceptable if Tsipras jeopardized Europe's common policy on Russia in return for Russian help."
Can Putin save Greece? The new Greek government has been a vocal opponent of economic sanctions on Russia since it was elected. Tsipras's Moscow visit demonstrates the good relationship between the two nations.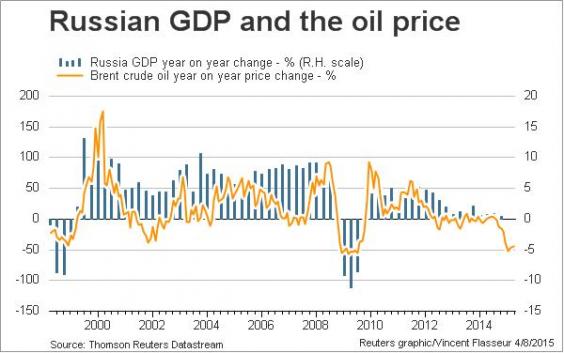 But even if Putin wanted to save Greece, there is good reason to believe that Russia is not economically stable enough to do so. Russia's economy is in deep trouble, according to Christian Odendahl of the Centre for European Reform. "Although the oil price and the rouble have stabilised, the Russian economy will go through a long, deep and painful recession," Odendahl said.
If the oil price falls again, Odendahl said, it could plunge the country into economic crisis. Russia would then have enough to worry about of its own: high interest rates, poor access to finance and inflation, which would erode disposable incomes, worsening a recession.
Ahead of the meeting Greek officials denied that Tsipras would appeal to Putin for financial aid.
"The goal of my visit is to give a new beginning to our relations for the benefit of both our peoples and for the stability and security in the broad sense in this region," Tsipras told reporters.
After the meeting, Putin confirmed that Greece did not ask for help.
#PUTIN: #Greece didn't ask us for help http://t.co/JRTSlAMHxL pic.twitter.com/LPkTmgHIAD

— RT (@RT_com) April 8, 2015
The two nations discussed other ways of co-operating. Greece wants to build a natural gas pipeline. A deal on a pipeline with Russia could end Russia's reliance on Ukraine for transporting gas to customers in Europe.
There are also predictions that Russia could at least partially lift Russia's ban on EU food imports for Greece in return for a part in the privatisation of Greek assets. Greek fruit, vegetables and cheese might be allowed into Russia while Russia might get to bid on Greek infrastructure.
Putin also said Russian companies are in talks to takeover Russian ports in Thessaloniki.
Greece exported €1.86 bln in fruit & veg in 2013. Will probably hit €15 bln if Russia exempts it from EU sanctions. #springtimeforsmugglers

— Geoffrey Smith (@Geoffreytsmith) April 8, 2015
Both leaders adopted a softer tone towards Europe. Putin said he wanted to work with a whole united Europe, while Tsipras reiterated his commitment to the EU, saying that Greece would not be 'thrown off the boat' of the Eurozone.
The discussions are however an indication that Greece intends to pursue trade agreements with Russia, strengthening its ties there. Greece may have a superpower ally if bail-out talks turn sour in Europe.
Reuse content