If the children depicted by William McTaggart in his oil painting "The Atlantic Surf" could see and hear the world outside, they would undoubtedly have some stories to tell. Why? The 1899 work by the celebrated Scottish artist has hung for years in the RBS boardroom at the bank's global headquarters west of Edinburgh.
The sprawling Gogarburn complex, which was opened by the Queen almost exactly a decade ago on 14 September 2005, will perhaps forever be linked with the hubris of the bank's former CEO, who masterminded its creation and oversaw its construction down to the tiniest detail. His name, of course, is Fred Goodwin.
The RBS boardroom is on the top floor of Gogarburn's Executive Wing. This inner sanctum has remained largely unchanged since Goodwin's time, when it was known among RBS managers as the "torture chamber" where the CEO would hold "morning beatings" at 9.30am each day. His management style led to his nickname, "Fred the Shred".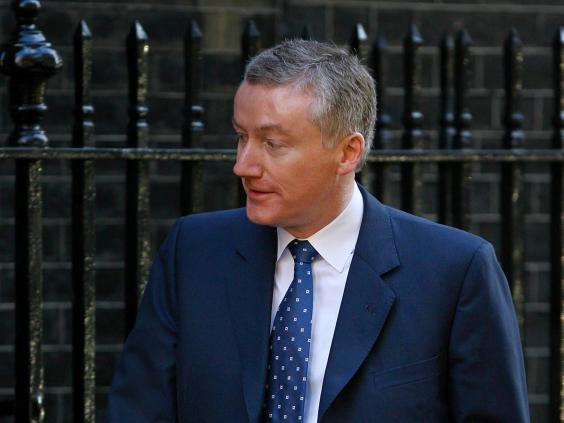 Getting inside the RBS Executive Wing used to be extremely difficult, even for those who had enjoyed long careers at the bank. Security guards were placed outside the entrance under strict instructions to admit only the top executives. Goodwin's penthouse-style office on the top level was a staggering 20 metres long, its floor-to-ceiling windows offering stunning views of the site's landscaped gardens. It was so large that it has since been split in two and still comfortably accommodates the bank's current chairman Sir Howard Davies, CEO Ross McEwan and their staff.
The Independent was granted rare access to the Executive Wing, which is in the process of being converted into a start-up hub for small businesses as the bank seeks to banish the ghost of their former CEO once and for all. Workmen pass to and fro, removing heavy pot plants and breaking up office furniture. There is no actual blood on the carpets of the RBS boardroom, but it still contains signs of Goodwin's reign.
It overlooks the main entrance to the £350m sandstone and glass building, offering views of a decorative fountain. Insiders say that Goodwin originally wanted this to be much larger, but the plans had to be downsized amid fears that such a large body of water would attract birdlife, posing a threat to aircraft using nearby Edinburgh Airport.
2008 Financial Market Crash
2008 Financial Market Crash
1/6 14 trillion dollars

That's how much the global financial crisis cost the US economy – equivalent to a full year's GDP, according to a 2013 study by the Dallas Federal Reserve.

AFP/Getty

2/6 12 billion pounds

The deal that Lloyds TSB announced in September 2008 to take over Britain's biggest mortgage lender HBOS

Getty Images

3/6 323 billion euros

Greece's total debt, seven years after the financial crisis exposed its hidden borrowings and government overspending

Rex

4/6 27 per cent

The peak unemployment rate Spain hit in early 2013. It was around 8% in mid-2007

Getty

5/6 12 Billion Pounds

The amount in pounds that RBS reported as losses in February 2009, the biggest in British corporate history.

Getty Images

6/6 70 years

Since we had another recovery this slow - and that was after the Second World War

Rex
The large, triangular boardroom table also contains a relic of the former era: the carpet in the hole at the centre. Dominated by a large RBS logo, specially commissioned by Goodwin in the firm's official blue (Pantone 281), to this day it infuriates Gogarburn's cleaners, who have to physically pass their hoovers over the top to reach it.
"From what I have heard, every single bit of it was planned by him," said one source familiar with the Gogarburn campus. "He liked the grass to be cut a certain length and be a certain colour of green. He was a perfectionist to the absolute extreme."
Given what happened to RBS in 2008, three years after the site was opened amid much fanfare, it is easy to see why Gogarburn has been dubbed "Fred's folly". Stories about his supposed obsession with small details about the building began before it was even open.
One of the most common is that Goodwin's hatred of mess and any form of disorder led him to commission special sloping-top filing cabinets, so anything carelessly placed on top would slide off onto the floor. He rebutted stories about a secret "scallop kitchen" to serve hungry executives, clarifying that it in fact served many different kinds of seafood.
RBS declined to comment formally about its former CEO, and Goodwin himself did not respond to a request for comment from The Independent. But the bank now says that many rumours about Gogarburn's excesses were wide of the mark. Suggestions by the former City minister Lord Myners that Goodwin had hired someone to ensure that only notes bearing his signature were dispensed from the building's cash machine are not correct, it insists.
Perhaps the most delicious metaphor for Goodwin's time at RBS is Gogarburn's so-called "road to nowhere" – a Tarmac track which abruptly ends at the edge of a field. Goodwin sued the Sunday Times for suggesting that this was originally intended to be a private road to Edinburgh Airport – presumably so he could be ferried to the bank's private jet – although the writ was eventually withdrawn.
Another theory which does the rounds at RBS is that the road was going to lead to a neighbouring golf course so Goodwin could indulge in his favourite sport. Perhaps nobody will ever know for certain. But the road to nowhere is still there, a physical monument to a time before the world-changing events of 2008.
Gordon Merrylees, head of entrepreneurship at RBS, has worked at the company for 30 years and remembers being at Gogarburn during the Goodwin era, when he and others were physically prevented from even entering the Executive Wing. Having young entrepreneurs sitting in those same offices with laptops will be a highly symbolic moment, he added.
"I've been a senior manager in this bank for many years, but in that previous era my pass wouldn't let me past," he said. "Now we're about to knock down our walls and bring in the outside world."
Mr Merrylees added that the conversion of the Executive Wing into an entrepreneurship centre was a "big statement" for the bank and that staff had been visibly emotional when the news was announced earlier this year. "It's been a tough place to be, as you can imagine," he said. "We're not just any other bank, we've been subject to higher expectations and a different set of standards. We know we've got a special obligation to the people of this country – we have relied on them, and they rely on us. That debt we've got to repay has been felt nowhere more keenly than it has been in Scotland."
Reuse content