Russian oligarchs have lost more than $14 billion since the start of the year as Russia's richest men brace for new sanctions following the fatal crash of the Malaysia Airlines MH17 in eastern Ukraine
Later today, Britain will urge the EU to extend travel bans, asset freezes and economic sanctions on any individual deemed to be "influencing or supporting" the Putin administration.
Yesterday, Russia's Micex index slumped to its lowest point since mid-May, falling below 1,400 points in Moscow trading, while the rouble lost ground against the dollar for the sixth day in a row as investors waited for further developments ahead of today's Brussels summit.
Russia's 19 billionaires have already lost more than $14 billion since January, data compiled by the Bloomberg Billionaire Index shows, with steel tycoon Vladimir Lisin losing $2.8 billion year-to-date followed by Alisher Usmanov, Russia's richest man. The iron magnate has lost $2.5 billion so far this year, or the equivalent of a 14 per cent drop in his net worth.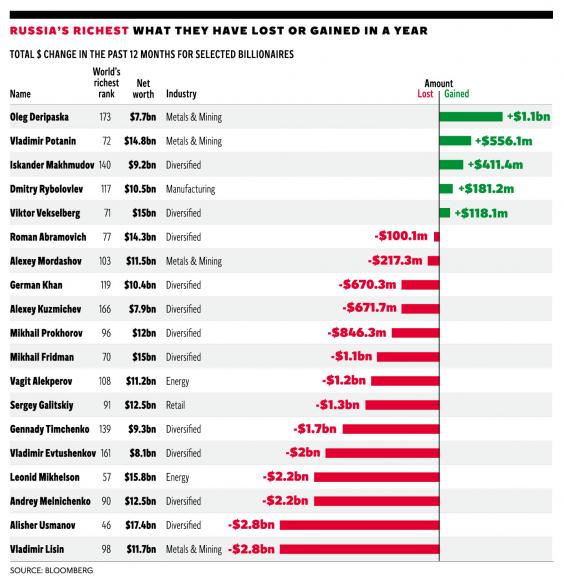 So far, economic sanctions imposed by the West have only targeted individuals involved in the diplomatic stand-off over Crimea and eastern Ukraine, where pro-Russian rebels have declared "independent people's republics" in several regions amid heavy fighting.
To be effective, the new sanctions would have to target Russian companies with access to European capital, Russian oil and gas exports as well as Russian assets held overseas.
So far, 72 Russian politicians and businessmen, including Igor Sechin, the chairman of gas major Rosneft and a close ally of Mr Putin, have been slapped with sanctions.
The MH17 tragedy that saw 298 civilians plunge to their deaths on the Russia-Ukraine border last Thursday, including 192 Dutch citizens, 29 Malaysians, 28 Australians, 12 Indonesians, 10 Britons, four Germans, four Belgians, three Vietnamese, three Filipinos and one person each from the US, Canada, New Zealand and Hong Kong.