Always getting richer: that sums up life for Ryanair shareholders, not least the newly lovable chief executive, Michael O'Leary.
The Irish airline, which is the biggest budget carrier in Europe, announced higher-than-expected full-year profits of €867m (£619m) - an increase of two-thirds on the previous year.
The airline claims the improvement is a result of the "Always Getting Better" (AGB) programme, which has seen a range of customer-focused measures replacing the previous uncompromising, "take it or leave it" attitude to passengers.
Mr O'Leary said: "Our AGB programme is transforming our customer experience, our service, and the way we listen and respond to our customers." The chief executive had previously acknowledged that Ryanair's rules had "pissed people off".
The change in attitude followed a patch of relatively poor results, during which its rival, easyJet, flourished with a range of innovations such as allocated seating.
Ryanair has followed suit. Since February 2014 it has offered passengers the chance to pay between £5 and £10 to reserve a seat on board - or to be allocated one free of charge within a week of departure.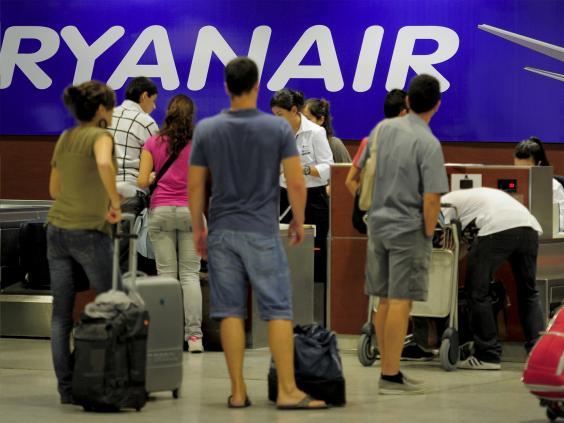 The airline has also eased its once-draconian cabin-baggage rules. Previously, there were hard-line checks at the departure gate aimed at detecting any passenger with the temerity to want to bring a handbag as well as a small suitcase on board.
Travellers are now permitted to bring two bags on board, a more generous allowance than easyJet and most other budget airlines, as well as a relaxed attitude to enforcement.
These measures appear to have lured people who were previously reluctant to fly with the airline. Ryanair's average "load factor" - the percentage of seats filled - rose by 5 per cent to 88 per cent, approaching the levels achieved by easyJet.
With fuller planes, the incentive for passengers to pay for a specific seat and preferential boarding is stronger. Ryanair's profits per passenger work out at almost £7 - coincidentally the same as the cost of reserving a standard seat, together with "Speedy Boarding".
Ryanair, along with its low-cost competitors, is also benefitting from retrenchment among "full-service" airlines. Traditional carriers are cutting routes that are unprofitable as a result of their higher cost base. Between Edinburgh and London, Virgin Atlantic is ending its flights in the autumn, while Ryanair is increasing its services from three to five a day. By passenger numbers, Ryanair is the first- or second-largest airline in almost all the countries it serves, except for France and Germany.
Travel agenda - 8/05/2015
Travel agenda - 8/05/2015
The airline has a fleet of 320 aircraft, but is is chartering in six extra jets this summer in order to operate its planned schedule.
Average fares for this summer have not changed year-on-year, but travellers can look forward to lower fares this coming winter. Ryanair forecasts that October 2015 and March 2016, prices are expected to fall by around 6 per cent compared with the previous winter.
Partly the cheaper tickets will reflect the benefits of lower fuel prices, but there is also likely to be what Ryanair calls "irrational pricing" from competitors.
The big low-cost airlines - Ryanair, easyJet and Norwegian - are acquiring new aircraft and expanding relentlessly. They are also growing at airports that have previously been the preserve of traditional airlines: easyJet has recently opened a base at Amsterdam Schiphol.
As budget carriers adapt their business model to entice passengers from full-service airlines, incumbents typically sell tickets at below cost to try to maintain market share.
Ryanair has also weighed in on the debate about airport expansion in South East England. The Davies Commission is expected to recommend a new runway at either Heathrow or Gatwick next month, but the Irish carrier proposed a solution that is not on the table: "We believe that the market should be free to develop three new runways, one each at Heathrow, Gatwick and Stansted which is the only long term solution to the capacity crisis in the South East."
Always getting richer: how Ryanair saw its profits soar
Relaxed baggage rules: disbanding the "gate Gestapo" who pounced on anyone whose cabin luggage was fractionally too big, appears to have reduced the resistance among some travellers to flying Ryanair.
Allocated seating: the previous boarding lottery, with the best seats going to those with the sharpest elbows, has been replaced by a more orderly system of pre-assigned seats.
Higher loads: Ryanair has only one size of plane, the 189-seat Boeing 737-800. On the average flight 166 seats are filled, eight more than a year ago.
Business-friendly: the airline is moving into "primary" airports - Glasgow instead of Prestwick, Brussels rather than Charleroi - as well as offering business-friendly ticketing.
Cheaper fuel: all airlines are benefitting from the slump in oil prices, together with the relative weakness of the US dollar in which fuel (and planes) are priced.
Reuse content