Britons' healthy New Year's resolutions have helped Sainsbury's deliver its first quarterly underlying sales growth in two years.
The supermarket said sales, excluding fuel, in stores open for more than a year edged up 0.1 per cent in the nine weeks to March 12. Total sales were 1.2 per cent higher.
Analysts suggested the growth could help Sainsbury's in its pursuit of Argos owner Home Retail Group. The company, whose £1.3 billion 'possible offer' was trumped by South African group Steinhoff's £1.4 billion approach, has until Friday to make a firm bid or walk away.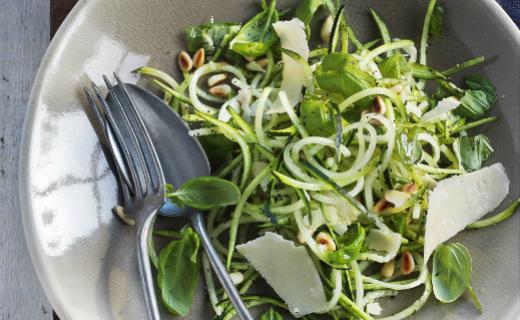 Chief executive Mike Coupe said Sainsbury's had capitalised on shoppers' New Year diets and health regimes by introducing products like 'boodles' (butternut squash noodles), 'courgetti' (spiralized courgette) and special breads including healthy Rye bread, which had proved "extremely popular".
Clothing, including another range by TV personality Gok Wan, also performed well, with sales up 10 per cent, while entertainment saw 11 per cent growth.
Coupe reaffirmed Sainsbury's commitment to the industry price war, which has seen it and its fellow Big Four grocers – Tesco, Asda and Morrisons – slash prices to compete with discounters Aldi and Lidl.
He said the supermarket would be continue phasing out "confusing" multi-buy promotions and "simplify our trading strategy in favour of lower regular prices".
Six healthy breakfast recipes - in pictures
Six healthy breakfast recipes - in pictures
1/6

You will need: 1 onion, 1 red pepper, 1 stick of celery, 1 cup of mushrooms, 4 to 6 eggs, 1 habanero chilli (optional), 1 tablespoon of oil, 25g of grated low-fat cheese, 150 ml of skimmed milk, 50g of turkey breast. Add some spinach for an extra boost.

Method:

1) Cook your turkey breast so that it's ready to add to the mix later on. Best to grill it and then chop it up as it's healthier than shallow frying. 2) Meanwhile, heat the oil and add your onion, pepper, chilli, mushrooms and celery to your pan. Cook these for around five minutes until your veg is nice and soft. 3) Whisk your eggs and milk together in a separate bowl, seasoning with salt and pepper. 4) Add the egg mixture, veg, cooked turkey and cheese to a high-sided baking pan or tin and cook in your oven for around 15 minutes at 170C.

DW Fitness Clubs

2/6

Be careful when you buy your porridge, as some brands will cram a lot of sugar in there. Porridge is a good breakfast option as it is renowned for releasing energy slowly, which means you can get to lunch without suffering from a lull. A great source of fibre, potassium and vitamins, bananas are always a good accompaniment to your morning oats.

DW Fitness Clubs

3/6

Ingredients: 2 full eggs, 3 egg whites, asparagus, peppers, 50g of smoked salmon

Method

1) Boil your asparagus in water for around five minutes. 2) Meanwhile, mix your eggs and egg whites in a jug, and add a splash of skimmed milk. Chop some peppers up and throw them in too. 3) Once your asparagus is cooked, drain it and chop into smaller chunks. Add these to your egg mixture. 4) Whisk your mixture and season with salt and pepper. 5) Pour the mix into a hot pan with a small knob of butter or a teaspoon of quality olive oil. 6) Cook the omelette for around 90 seconds to two minutes. 7) Once the bottom is cooked, take the pan off the hob and place under the grill for another 30 seconds to a minute in order to cook the top. 8) Serve with your smoked salmon.

DW Fitness

4/6

Greek yoghurt has vast nutritional benefits. Regardless of where you stand on the superfood debate, Greek yoghurt's credentials speak for themselves. A good source of potassium, protein, calcium and essential vitamins, this food forms an ideal base for a healthy breakfast, especially if you're trying to lose weight.

DW Fitness

5/6

Eggs Florentine is not only a tasty breakfast, it also carries a hefty nutritional punch, particularly when you throw some spinach into the equation.

DW Fitness

6/6

So fast and easy to make, yet so effective. Wholemeal toast can be a good breakfast choice, as long as you are sensible with your toppings. Peanut butter is perfect. A good source of "healthy fats", as well as protein and Vitamin E among other nutrients, a liberal spreading of peanut butter can set you up for the day.

DW Fitness
Coupe was upbeat on the company's prospects.
"The market will remain competitive but we are confident that we will continue to outperform our major peers," he said.

Reuse content