Samsung, which is already in the middle of a massive recall of its Galaxy Note 7 smartphone, has confirmed the company's washing machines are now catching fire as well.
The US Consumer Product Safety Commission (CPSC) issued a statement on September 28 warning consumers about exploding washing machines from the Korean giant.
"It is important to note that Samsung customers have completed hundreds of millions of loads without incident since 2011," Samsung said in a statement, following the CPSC warning.
Samsung and the CPSC said the affected units are all top loading-washing machines manufactured between March 2011 and April 2016.
"In rare cases, affected units may experience abnormal vibrations that could pose a risk of personal injury or property damage when washing bedding, bulky or water-resistant items," Samsung said on its website.
Samsung advised consumers with affected models to use only the delicate and lower speed cycle when washing these items.
Melissa Thaxton, 32, from Georgia, US, said she was standing next to the running machine when it exploded in a special report aired on ABC News.
"It was the loudest sound. It sounded like a bomb went off in my ear. There were wires, nuts, the cover actually was laying on the floor," she said.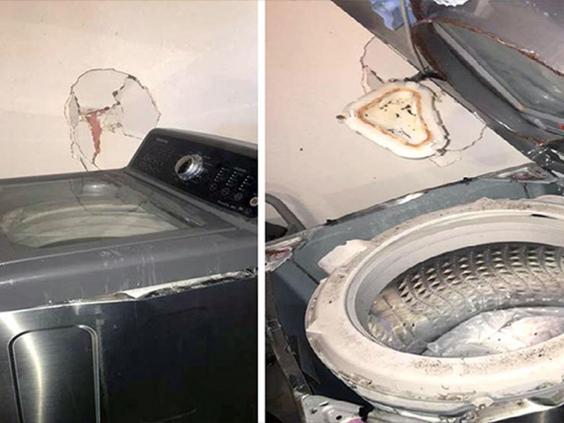 CPSC and Samsung are working on a remedy for affected consumers but neither have specified the cause of the explosions.
It was not immediately known how many units were affected and whether the problem is limited to the United States.
Consumers should report any incidents to CPSC via their website www.SaferProducts.gov.
A lawsuit filed in New Jersey in August, claims that the company "has moved aggressively to collect and destroy all evidence of the defective machines" after they exploded.
US authorities officially recalled one million Samsung phones earlier this month after dozens of the devices blew up.
Samsung had previously issued a voluntary recall of the flaming phones, but US regulators have taken matters into their own hands, after almost 100 cases of the phones catching fire, causing injuries and destroying property.

Reuse content