More than a thousand jobs will be axed at Tata Steel plants, according to reports.
Jobs in South Wales will be worst affected, according to the Community union. The latest job losses come after Tata Steel laid off 1,200 staff in October.  
Roy Rickhuss, Community general secretary, said that 750 jobs would go at Port Talbot and another 300 at steel mills in Llanwern in Newport, Trsotre near Llanelli and in Corby and Hartlepools.
Port Talbot steelworker and @CommunityUnion president Alan Coombs speaking to BBC Breakfast #SaveOurSteel pic.twitter.com/tvK9GGRhfb

— Community union (@CommunityUnion) January 18, 2016
The union said its immediate thoughts are with the families affected and pointed a finger at the Government for its response to a "steel crisis". Tata Steel declined to comment.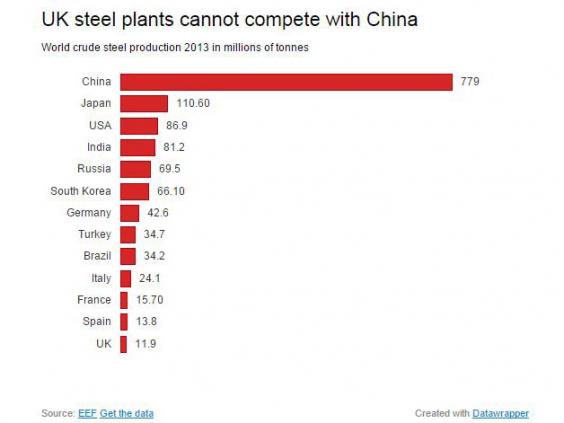 "The dumping of cheap Chinese steel is one of the biggest causes of this crisis, yet the UK Government remains a cheerleader for China and their bid for 'market economy status', which would decimate what's left of our steel industry. This cannot be allowed to happen," Rickhuss said.
China is producing so much steel that some Chinese companies are selling their steel abroad at a loss, because there isn't enough demand in China. UK companies cannot compete with these prices and jobs are being lost as a result.