High levels of "paranoia and suspicion" are taking the shine off a bumper year for bankers bonuses.
Emolument, a website that crowdsources employment data, has seen an influx of data on bonuses from bankers as they look to compare their latest earnings with their peers.
More than a thousand bankers from the London offices of Goldman Sachs, JP Morgan, Citigroup, Bank of America Merrill Lynch and others have submitted details.
Many admit to being unhappy with their extra pay despite huge top-end payouts more than twice their annual salary.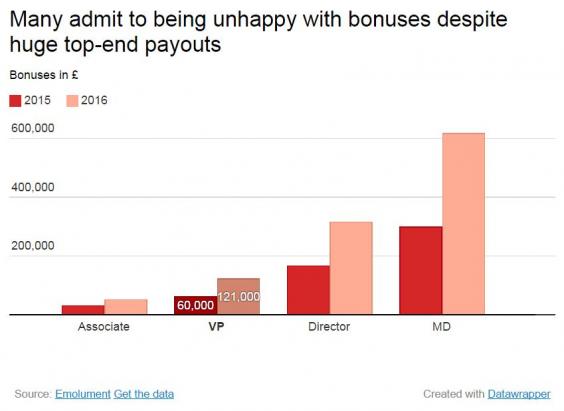 Managing directors are reporting bonus pay 52 per cent higher than in 2015. That means top earners are taking home an average of £618,000 in bonus pay in 2016, compared to £300,000 last year, when their annual salary is still around £258,000.
But a lack of transparency about bonus pay means many are unsure how to feel about the added cash.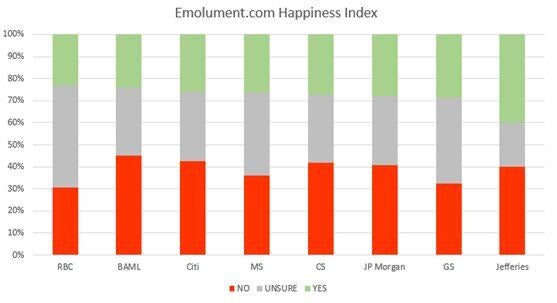 The majority of bankers from all the banks surveyed said that they were unsure how to feel about their bonus or unhappy with it.
Forbes top 10 richest billionaires in the world
Forbes top 10 richest billionaires in the world
1/10 Bill Gates - $75 bn

The creator of Microsoft is worth $78 billion. He has topped the list for 17 out of the past 22 years - though his net worth shrank by $4.2bn (£3bn) to $75bn (£53.7bn).

2/10 Amancio Ortega - $67 bn

The Spanish business who set up the Zara chain of high-street shops is worth $67 billion.

REUTERS/ AP

3/10 Warren Buffet - $60.8 bn

Warren buffet is the world's most successful investor. Forbes rates him as being worth $60.8 billion.

Getty

4/10 Carlos Slim Helu - $50 bn

Carlos Slim, the Mexican telecom magnate, is this year's biggest loser with a fortune of $50 billion, down from $77.1 billion last year.

Getty

5/10 Jeff Bezos - $45.2 bn

Amazon's Jeff Bezos moved up to the fifth from the fifteenth spot last year; his net worth increased to $45.2 billion.

Getty Images

6/10 Mark Zuckerberg - $44.6 bn

The biggest gainer on the 2016 list is Mark Zuckerberg , whose fortune is up $11.2 billion for a total net worth of $44.6 billion. He is the sixth richest in the world.

Getty Images

7/10 Larry Ellison - $43.6 bn

The American entrepreneur has a fortune of $43.6 billion

Bloomberg

8/10 Michael Bloomberg - $40 bn

Michael Bloomberg, whose media and financial empire has created a personal fortune of $40 bn, is said to be willing to spend up to $1bn on a presidential campaign

AP

9/10 Charles Koch and David Koch - $39.6 bn

Charles Koch, along with brother David Koch of Koch Industries are joint sixth and are valued at $39.6 billion.

10/10 Liliane Bettencourt - $36.1 bn

Liliane Bettencourt is the heir to the L'Oreal empire

Getty Images
"No matter how much a bank pays its employees, if the process is shrouded in secrecy, the levels of paranoia and suspicion wipe off goodwill earned through higher bonus payments," said Alice Leguay, COO and co-founder of Emolument.
The UK has some of the toughest rules on bankers bonuses.
Bonuses are capped at a certain level under EU rules. Many senior managers can also have their bonuses withheld for as long as a decade.
Reuse content