UK inflation dropped to a record low of 0.3 per cent in January, according to official figures.
Falling fuel prices and supermarket price wars have contributed to the slow-down of the rate of inflation, boosting household spending power.
The Consumer Prices Index's (CPI) measure showed that last month's inflation rate was down from 0.5 per cent in December, reaching the lowest level since its records began in 1989, according to the Office of National Statistics.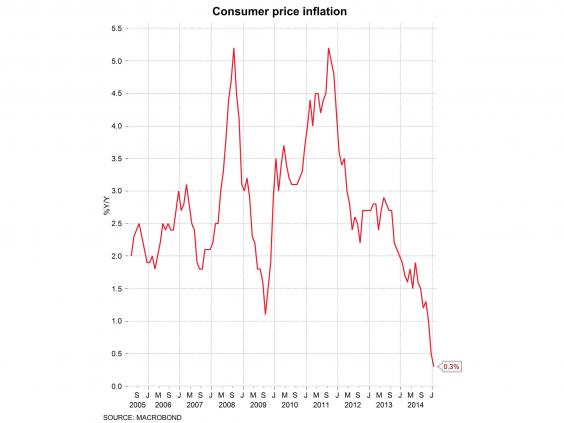 But smaller price falls in clothing compared to a year ago were shown to have partially offset the slow-down, the CPI said. 
The fall in inflation means a basket of goods and services that cost £100 in January 2014 would have been just 30p more last month.
Inflation has now fallen well below the target two per cent rate set by the central bank, however. 
Bank of England Governor Mark Carney told reporters last week the bank will "look through" what it sees as temporary drops. 
Inflation could now turn negative for the first time in five decades over the next few months according to the Bank of England's own forecast, before levels are expected to recover later in 2015.
Chancellor George Osborne said: "Today we see the lowest CPI inflation ever - a milestone for the British economy.
"It's great news for families, whose budgets will stretch even further. It shows that those who went around predicting a cost of living crisis were plain wrong.
"And it demonstrates the clear choice between a long-term economic plan that's delivering stability and rising living standards, and the chaos of the alternatives.
"Although the low inflation is, as the Bank of England confirmed last week, driven by lower food and energy prices rather than damaging deflation, we will remain vigilant to all risks, particularly when the global economic situation is so uncertain."
Additional reporting by PA
Reuse content