The Office for National Statistics has reported that inflation has fallen in October, despite forecasts from City analysts that it would rise.
The surprising news comes amid widespread warnings that the UK is heading for a major jump in prices thanks to the falling pound and Brexit.
So what is going on?
Why did the inflation rate just fall?
The simple answer is that prices in the shops did not rise year-on-year in October as rapidly as they did in September.
That's why the rate of Consumer Price Inflation eased to 0.9 per cent, from 1 per cent previously.
The ONS says the main downward contributor to the shift were clothing and university tuition fees.
Other factors were falling prices for some games, toys and, non-alcoholic drinks.
But weren't we told that prices are going up because of the slumping pound?
Yes. The Bank of England has forecast that prices will rise pretty fast over the coming two years, with the CPI rate peaking at 2.8 per cent in 2018 – well above the Bank's official 2 per cent target.
Analysts at the National Institute for Economic and Social Research are even more pessimistic, predicting inflation will hit 4 per cent next year.
This is mainly because analysts expect the collapse of sterling since 23 June – it is down by more than 15 per cent against the dollar – to feed through into higher prices in the shops.
So why is inflation going down then?
The overwhelming likelihood is that we are seeing a blip.
The CPI is based on a representative basket of goods and services, based on a household's typical spending patterns.
Some items in the basket are certainly going up – iPhones and Kit Kats for instance.
But others aren't. Yet.
And there is volatility in all of them as prices are set throughout the economy based on forces of supply and demand in different markets and also haggling between retailers and suppliers.
Given that inherent volatility it shouldn't be surprising that there are sometimes unexpected shifts in the headline rate from month to month.
So why can we be so sure?
Price pressures are plainly building, thanks to the falling pound and the stabilisation of the global oil price.
The ONS also released producer price inflation data today.
These showed that manufacturing input prices jumped significantly in October, rising at an annual rate of 12.2 per cent, up from 7.2 per cent in September.
Manufacturing output price inflation (so-called factory gate prices) also rose, growing by 2.1 per cent, up from 1.4 per cent in September.
It would be miraculous if these increased were not ultimately passed on to consumers.
Shops and businesses can suck up some of the inflationary pain and shield consumers by taking smaller profits, but there are limits to the extent to which they can or will do this.
Some retailers and firms will have financial "'hedges" in place which will enable them to absorb increases in import costs but these hedges tend to be time limited.
It's also important to look at the broader trend, rather than a single month's movement.
The CPI rate has almost doubled since June.
And it has been on a rising trend since October 2015.
CPI: rising trend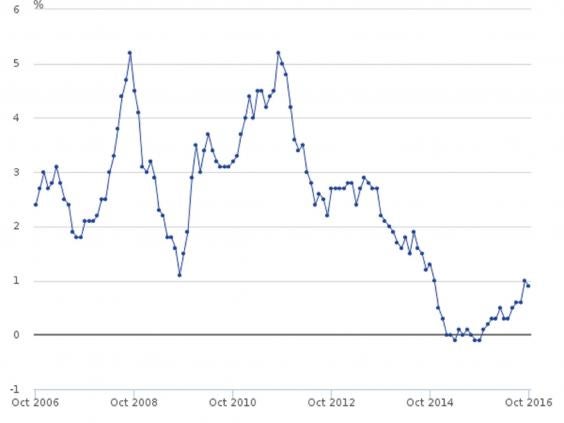 Reuse content