You smell Warrington before you see it – thanks to the huge Unilever plant that cranks out scented laundry detergent by the ton. And if you blink, you may not even see it at all.
But there's a reason to pay attention. This commuter town midway between Liverpool and Manchester is conducting an experiment in banking that may provide a post-Brexit road map for cities struggling with twin declines in lending to small businesses and funding from the national government.
Elected officials in Warrington, a Labour stronghold, decided to put partisanship aside and invest in a start-up bank spearheaded by a major Conservative donor, David Rowland, and backed by two of America's most successful financiers, TPG's David Bonderman and Falcon Edge's Rick Gerson. The hope is to use taxpayer money to generate market-beating returns while channelling credit into the economy. Critics of the plan say the town's council is acting beyond its financial competency and creating possible conflicts of interest.
"This does probably look a bit off the wall," said Russ Bowden, the councillor overseeing Warrington's £30m ($39m) purchase of a third of Redwood Bank, which received its licence in April and plans to start operating in July. "But a good deal is a good deal, regardless of politics."
Mr Bowden, a nuclear physicist by day, said the big banks "quite clearly have less appetite for small-business lending," even though the man his council chose as mayor last year is a senior loan adviser at NatWest, the Royal Bank of Scotland unit that dominates the regional market. The first Muslim to hold that ceremonial post, Faisal Rashid, cut his one-year term short to run on the Labour ticket in parliamentary elections on 8 June. He declined to comment.
Revenue Hunt
Cities across Britain are rushing to plug budget holes created by yearly cuts in outlays from the central government, turning many into property speculators to try to maintain spending on retirement homes, trash collection and other services. Councils – including Warrington's – have invested billions of pounds in commercial real estate and residential developments that are often fully financed via a treasury programme that offers cheap rates for up to 45 years, prompting warnings of a credit bubble from several lawmakers in London.
And while some councils like Manchester's are setting aside money to lend directly to businesses, Warrington appears to be the first to try its hand at banking since Birmingham gave it a shot a century ago. This old Roman crossing on the Mersey River, which is campaigning to be the UK's City of Culture for 2021, emerged from the deepest recession since World War II better than most, yet commercial lending here has fallen more than the national average, by as much as 15 per cent in the past three years, industry data shows.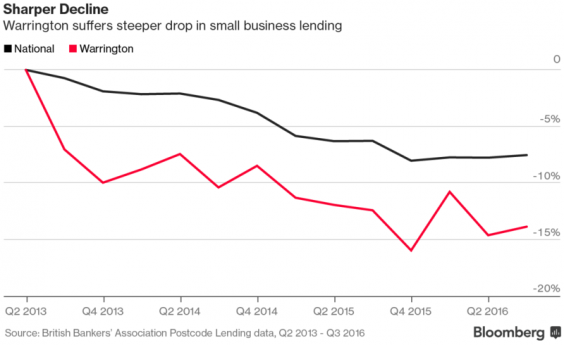 Warrington is also one of seven UK municipalities with an investment-grade rating, which it got before selling £150m of 40-year bonds two years ago to help pay for a billion-pound capital-spending programme. Most of those outlays, including funds to redevelop the run-down central district, will be paid for with long-term credits via the treasury programme.
'Being Suckered'
There are already warnings among the town's 208,000 residents against doing business with such seasoned investors as Mr Rowland, a property tycoon and former tax exile, and his son Jonathan. The younger Rowland started Luxembourg-based Banque Havilland with assets acquired during the collapse of Kaupthing, one of the lenders in Iceland's epic financial meltdown that tied up more than £1bn of local British government deposits for years.
"They're in danger of being suckered by smart, savvy commercial actors with a lot more experience than a council," said Joel Benjamin, a left-wing activist who blogs about municipal finances. 
Business picture of the day
Business picture of the day
1/29 Alibaba's Jack Ma warns evolving technology could cause World War III

Chinese business magnate Jack Ma said that evolving technologies are likely to pose a threat to more than just the job market and could in fact trigger a Third World War. In an interview with CNBC, the billionaire chairman of Alibaba said that world leaders have a duty to educate people to prevent the pain caused by a rapid rise in automation and artificial intelligence.

Getty

2/29 Japanese bank Nomura chooses Frankfurt for EU headquarters after UK's withdrawal

Nomura picked Frankfurt as the headquarters for its European Union operations after the UK leaves the bloc, people with knowledge of the matter said. Japan's biggest brokerage will start preparations this month to form a base in the German financial centre, one of the people said, asking not to be identified as the matter is confidential. It will seek regulatory approval and find office space before transferring fewer than 100 employees from London to the city, according to the person.

Getty Images

3/29 will.i.am says artificial intelligence will be more disruptive to UK tech than EU withdrawal

The reckless rise of artificial intelligence is going to be much more disruptive for the London technology scene in the longer run than Britain's departure from the EU, according to musician, entrepreneur and philanthropist will.i.am. Speaking at an event celebrating his collaboration with Atom Bank, an app-based digital-only bank launched last year, the founding member of The Black Eyed Peas said that by 2030, Brexit will be "an old school thought" for the UK's rapidly evolving tech industry and AI will present a much more acute challenge.

Getty Images

4/29 How climate change will threaten food security of world's poorest countries

Some of the world's poorest countries will be hit hardest as climate change affects marine fisheries all over the world, according to a new study. The global fishing industry produces a total catch worth of about $90bn (£71bn) but the warming ocean temperatures are causing many valuable species to shift their usual ranges.

Lisa Murray

5/29 Supersonic passenger jet to take off next year

An American firm is promising the return of supersonic passenger aviation, with transatlantic airfares "about the same price as today's business class tickets". Boom, based in Denver, says London-New York will cost £2,000 one-way and take just 3 hours 15 minutes. With a planned cruising speed of 1,451mph, the plane is almost 100mph faster than Concorde.

6/29 Casamigos: George Clooney tequila brand sold for $1bn to drinks giant Diageo

George Clooney is selling his US tequila brand Casamigos to British beverage company Diageo for almost $1bn (£790m). The London-based distiller will initially pay $700m (£553m) for Casamigos and possibly an additional $300m (£237m) based on the performance of the brand over the next decade. The purchase will be Diageo's biggest since it bought United Spirits for $3.2 billion (£2.5 billion) in 2014.

Getty Images

7/29 Jaguar Land Rover to create 5,000 new jobs

Britain's biggest carmaker Jaguar Land Rover will hire 5,000 staff as it boosts its skills in autonomous and electric technology, a welcome business endorsement as Prime Minister Theresa May starts Brexit talks after a botched election. JLR, which employs more than 40,000 people globally, said it would hire 1,000 electronic and software engineers as well as 4,000 additional personnel including in manufacturing, most of whom will be based in Britain.

8/29 European shares rebound as Emmanuel Macron wins historic majority

Internet giants will face increased pressure to tackle online extremism as European leaders were expected to back a UK-led drive for tougher internet regulation. Foreign Secretary Boris Johnson will lead calls to ensure there is "no safe space for terrorists" to plot attacks and share radical material online when he attends a meeting of EU foreign ministers in Luxembourg on Monday.

Reuters

9/29 The real reason UK employers hire European Union workers

While the end of free movement is presented by politicians as 'taking control', for employers it means quite the reverse – it means a loss of control, it means new barriers to recruitment and, for some, the risk of irreparable damage. In our research at the National Institute for Economic and Social Research (NIESR) before and after the referendum vote we've detected a gradual change in outlook among employers.

AP

10/29 Boris Johnson calls on internet giants to leave 'no safe space for terrorists'

Internet giants will face increased pressure to tackle online extremism as European leaders were expected to back a UK-led drive for tougher internet regulation. Foreign Secretary Boris Johnson will lead calls to ensure there is "no safe space for terrorists" to plot attacks and share radical material online when he attends a meeting of EU foreign ministers in Luxembourg on Monday.

Rex

11/29 Amazon to buy Whole Foods for $13.7 billion

Amazon, the e-commerce behemoth that sells everything from toothpaste to tennis shoes, has announced it will purchase grocery store Whole Foods for $13.7bn (£10.7bn). The Seattle-based retailer will buy the popular health food chain for $42 per share, pending approval by its shareholders.

Getty

12/29 Workers producing Ivanka Trump's fashion line subjected to verbal abuse and 'poverty pay'

Ivanka Trump has come under fire again after workers at a factory making clothes for her brand in Indonesia described an environment of "verbal abuse" and poverty wages. More than a dozen workers at the factory in Subang told the Guardian that they regularly work unpaid overtime and are paid one of the lowest minimum wages in Asia, despite production targets that are impossible to meet.

AP

13/29 EU launches antitrust investigation into Nike, Universal Studios and Hello Kitty owner

The EU has launched antitrust investigations into Nike, Universal Studios and the owner of the Hello Kitty brand, over their licensing and distribution practices within the single market. In a statement, the European commission said that it was looking into whether the three companies were illegally preventing retailers from selling certain goods licensed by them across borders and online, thereby breaking competition rules.

14/29 Morrisons is selling 16oz 'Daddy of all burgers' for Father's Day

The "daddy of all burgers" has arrived, just in time for Father's Day. Morrisons launched the huge, one pound, 18cm monster, which should satisfy even the hungriest of dads, on Wednesday. Each one is made by butchers in-store using 100 per cent British beef seasoned with paprika, sage and parsley. Morrisons claims it is the biggest beef burger money can buy in a UK supermarket, and it costs just £3. Shoppers will have to be quick however, as the oversized patties are only available until Sunday.

PA

15/29 Verizon completes Yahoo acquisition and announces CEO Marissa Mayer's resignation

Verizon Communications said on Tuesday it closed its $4.48bn (£3.51m) acquisition of Yahoo's core business and that Marissa Mayer, chief executive of the internet company, had resigned. The completion of the acquisition marked the end of Yahoo as a stand-alone internet company, a tech pioneer once valued at more than $100bn.

REUTERS

16/29 Thames Water hit with £8.55m fine after failing to reduce leakages

Thames Water has been hit with a £8.55m penalty for failing to reduce leakages, regulator Ofwat said on Wednesday. A "cluster of significant bursts" meant that Thames Water's leakages increased by five per cent since last year, according to the company's annual report. This brought the leakages up to 677 million litres per day, exceeding the 630 million target.

PA Wire

17/29 UK General election 2017: Pound sterling hovers near two-week high as voters take to the polls

The pound traded near a two-week high against the dollar on Thursday morning, as the first voters took to the polls in the UK's general election. Sterling was recently trading little changed against the dollar at around $1.2955, not far off its $1.2970 peak hit on Wednesday, which was the currency's highest level since 25 May.

Reuters

18/29 UK car production slumps by nearly a fifth in April as timing of Easter bites - Thursday May 24

UK car manufacturing plummeted by almost a fifth in April, as the timing of Easter ate into the number of production days in the month.

Reuters

19/29 Marks and Spencer reports slump in profit hurt by clothing sales and cost of new food stores - Wednesday 24 May

High street stalwart Marks and Spencer has reported a more than 60 per cent fall in pre-tax profit in the year to the end of March, hurt by a decline in clothing sales and higher costs from opening new food stores. Pre-tax profit came in at £176.4m for the year, while sales were broadly steady at £10.6bn. Food revenue was up 4.2 per cent.

Reuters

20/29 Apple named world's most value company in tech-dominated Forbes ranking - Tuesday 23 May

Tech behemoth Apple has been named the most valuable brand in the world for a seventh consecutive year. The highly-regarded ranking, compiled by Forbes magazine, puts the iPhone makers' brand value at $170bn, a 10 per cent increase on figure for 2016 and well ahead of second-placed Google, whose brand value has risen $19.3bn from last year to just under $102bn, according to Forbes. Tech peer Microsoft nabbed third spot, with a value of $87bn, followed by Facebook at $73.5bn. Consumer goods giant Coca-Cola rounds out the top five with a value of $56.4bn.

Reuters

21/29 Diamond ring bought for £10 at car boot sale expected to fetch £350,000 at auction - Monday 22 May

A large, diamond ring is expected to fetch £350,000 at auction 30 years after its owner paid £10 for it at a car boot sale, thinking it was a costume jewel. The "exceptionally-sized" stone was presumed not to be real because 19th Century diamonds were not cut to show off their brilliance like today's gems. And so the owner, unaware of its value, wore it for decades, while doing everything from the shopping to the chores.

PA

22/29 $110 Basquiat sold by Family who bought it for $19,000 - Friday 19 May

Jean-Michel Basquiat's painting of a skull sold for $110.5 million at Sotheby's in New York, setting an auction record for American artists and providing a windfall for the daughter of two collectors who purchased it for $19,000 in 1984.

Getty Images

23/29 Peppa Pig owner Entertainment One announces 117 new episodes - Friday 19 May

The company that owns the Peppa Pig brand has announced that it is producing 117 new episodes for the popular children's cartoon. The new series will air from spring 2019 and take the total number of Peppa Pig episodes to 381.

Getty

24/29 Property tycoon who banned 'coloured people because of curry smells' faces legal action - Thursday 18 May

A buy-to-let tycoon who banned "coloured people" from his properties "because of curry smells" is facing legal action brought by the equality watchdog. Millionaire Fergus Wilson, who reportedly owns close to 1,000 properties in Kent, sent an email to a local letting agency informing them of the ban. Commission chief executive, Rebecca Hilsenrath, said: "We have asked the court if it agrees with us that Mr Wilson's lettings policy contains unlawful criteria and, if so, to issue an injunction. "As this is now formal legal action we will release further information at a later date."

Gareth Fuller/PA

25/29 Nestlé foiled by Cadbury as it loses bid to trademark KitKat bar - Wednesday 17 May

KitKat-maker Nestlé has been foiled again, after a UK Court of Appeal ruled that the consumer goods giant cannot trademark the shape of its popular four-fingered chocolate bar. The ruling is the latest in a long running legal battle between the Swiss-based company and its rival Cadbury. Nestlé argues that the KitKat's shape is "iconic" and should be protected by law but Cadbury objects. On Wednesday, the Court of Appeal ruled in favour of Cadbury, dismissing the claim.

iStock

26/29 Yorkshire is the best region in the UK for workplace happiness - Tuesday 16 May

The best region in Britain for workplace happiness and satisfaction is Yorkshire and the Humber, according to new research. London only managed to make it to number five for happiness and came bottom for work satisfaction, according to research commissioned by recruitment agency Robert Half. The findings may give pause for thought to many workers in the capital putting up with sky-high property prices in the hope of landing their dream job.

27/29 Andy Murray funds company behind world's first foldable bike helmet - Monday May 15

He may be almost unbeatable on the tennis court, but how will Andy Murray fare in the world of investing? On Monday, a company that claims to make the world's first folding bike helmet announced that the tennis pro was one of more than 400 individuals who had helped it raise nearly £700,000 on crowdfunding platform Seedrs. Morpher's bike helmets fold and unfold, meaning that they can easily be slipped into a bag when not in use, catering to cyclists who find normal helmets cumbersome to carry around.

Morpher

28/29 Morrisons will sell 'wonky avocados' for just 39p from Monday as demand hit record levels - Friday May 12

Morrisons will start selling deformed avocados at a third of the average cost of normally-shaped ones as growing demand and reduced harvests from major producers has pushed up prices in recent weeks. The supermarket said on Friday that it would start selling the misshapen and superficially blemished fruits for 39p each or £2.40 a kilogramme in the majority of its stores across the UK starting from 15 May until the end of the summer. Morrisons claims that its offer is the cheapest on the UK market and compares to an average retail price of £1.05 apiece, which is up from 98p last year.

Morrisons

29/29 Unilever develops technology to prevent billions of plastic sachets from entering into oceans - Thuesday 11 May

Unilever, the consumer goods giant behind brands such as Dove, Ben & Jerry's and Marmite, is making a big push toward more sustainable packaging. The company sells billions of products in single-use sachets each year, including cosmetics and food products, particularly in developing and emerging markets. It says that it has now developed new technology to recycle them, which will prevent packaging from ending up in our oceans or in landfill. Through a system called CreaSolv Process, the plastic from the sachets will be recovered and then used to create new ones for Unilever products – creating a full circular economy approach.

Unilever
Les Styles, an accountant who owns his own practice in Warrington, said he's more concerned about the whole concept of the council getting into banking.
"How can they somehow believe they can provide better service and make a profit compared to established banks?" Mr Styles said. "It seems reckless."
'Unique Opportunity'
These critics point out that while Redwood will have a branch in Warrington, the bank will be based about 200 miles south in Letchworth, the town in the London commuter belt where chief executive officer Gary Wilkinson lives. Nor will the council have a seat on the lender's board because it said it does not have anyone competent enough and opted to save the cost of hiring a financial expert to represent its interests.
The town is counting on Bank of England Governor Mark Carney's reforms to ensure it's making a safe bet. Its 10-member executive committee decided to trust the regulator's licencing process, which included vetting the Rowlands and the new lender's other "clearly competent" owners, according to Mr Bowden.
Johnathan Rowland said investing in Redwood offers the council a chance to help stimulate the local economy while making a profit in the process.
"They've been with us all the way," Mr Rowland said. "They get to benefit from the the unique opportunity of being able to start a bank in this day and age."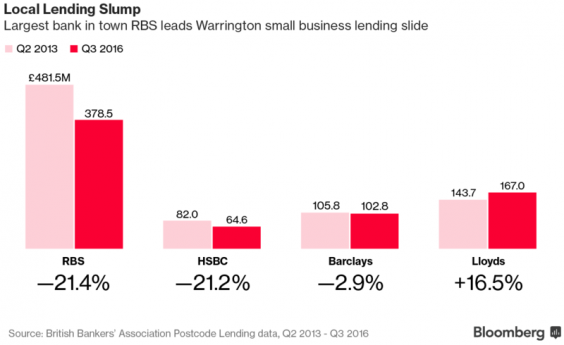 Budget Gamble
Warrington's commitment is equal to about a quarter of its annual budget and almost two-thirds of the projected deficit by 2020 if cuts are not made or new sources of income found. The investment is staggered over three years and contingent on performance. Auditing giant KPMG and law firm Addleshaw Goddard were hired as advisers.
Christopher Bovis, a professor of business law who studies municipal funding at the University of Hull, said the government in London does not set any rules on what local authorities can invest in, which he called the "elephant in the room" at times like this, when councils are on a spending spree.
"They once put their surpluses into Icelandic banks," he said. "God forbid something like that happens again. The whole thing will go up in flames."
Beyond that, local authorities simply don't have the expertise needed to properly manage such a relatively large exposure to a single organisation, particularly one that's focused on lending to small enterprises, which have a "pretty high" rate of failure, according to Ewen Fleming, head of financial services at the accountancy firm Grant Thornton in London.
Brexit Risk
"It's highly risky," Mr Fleming said. "It might be fine just now in the current economic phase, but no one knows quite what's going to happen with Brexit."
Even before Britons voted to leave the European Union last year, cities started expressing interest in investing in start-up banks to help offset a "retrenchment" by the major lenders, according to Mr Wilkinson, the Redwood CEO who was contacted by Warrington officials after his earlier success turning around a regional lender with the help of a local pension fund.
"There's multiparty support for more competition in banking, strong cross-party support for regional banks," Mr Wilkinson said by phone from Letchworth.
Since January 2016, when the Bank of England created its New Bank Start-Up Unit to ease the registration process, 11 lenders have received licences and 25 more are in the pipeline, according to the regulator.
'Making Money'
Mr Wilkinson, 56, has had success in novel situations before. In 2010, the board of Pensions Bank, a small lender then controlled by Vladimir Antonov, former owner of Portsmouth football club, hired him to find new investors after the Russian magnate and a partner were indicted in Lithuania for allegedly stealing €490m ($550m) from Bankas Snoras, bankrupting the Baltic country's third-largest lender.
He found buyers in Cambridge University's Trinity Hall and a local pension fund who renamed what was left of the company Cambridge & Counties Bank. Since 2014, CCB's loan book has more than doubled to £588m while pre-tax profit has jumped sevenfold to £18.1m.
UK news in pictures
UK news in pictures
1/19 24 June 2017

Britain's opposition Labour Party leader Jeremy Corbyn addresses revellers from the Pyramid Stage at Worthy Farm in Somerset during the Glastonbury Festival

REUTERS

2/19 23 June 2017

British Prime Minister Theresa May addresses a news conference at the EU summit in Brussels, Belgium, June 23, 2017

Reuters

3/19 22 June 2017

Cosplay fans (L-R) George Massingham, Abbey Forbes and Karolina Goralik travel by tube dressed in Harry Potter themed costumes, after a visit to one the literary franchise's movie filming locations at Leadenhall Market in London, Britain

Reuters

4/19 22 June 2017

Racegoers cheer on their horse on Ladies Day at the Royal Ascot horse racing meet, in Ascot, west of London

Getty

5/19 21 June 2017

A reveller walks among the tipi tents at the Glastonbury Festival of Music and Performing Arts on Worthy Farm near the village of Pilton in Somerset, South West England

Getty

6/19 20 June 2017

A police officer lays some flowers passed over by a member of the public, close to Finsbury Park Mosque in north London, after one man died and eight people were taken to hospital and a person arrested after a rental van struck pedestrian

PA

7/19

The Borough Market bell is seen in Borough Market in central London following its re-opening after the June 3 terror attack

Getty Images

8/19

Two women embrace in Borough Market, which officially re-opens today following the recent attack, in central London

REUTERS/Hannah McKay

9/19

Mayor of London Sadiq Khan attends the re-opening of Borough market in central London following the June 3 terror attack

Getty Images

10/19

People walk through Borough Market in central London following its re-opening after the June 3 terror attack

Getty Images

11/19

News Corp CEO Rupert Murdoch, with one of his daughters, visit Borough Market, which officially re-opened today following the recent attack

REUTERS

12/19

A woman reacts in front of a wall of messages in Borough Market, which officially re-opened today following the recent attack, in central London

REUTERS/Hannah Mckay

13/19

Vivenne Westwood walks the runway at the Vivenne Westwood show during the London Fashion Week Men's June 2017 collections

Getty Images

14/19

Millwall fan and London Bridge hero Roy Larner on 'Good Morning Britain'

Rex

15/19

Richard Arnold, Roy Larner, Piers Morgan and Susanna Reid on 'Good Morning Britain'

Rex

16/19 11 June 2017

England players celebrate after defeating Venezuela 1-0 to win the final of the FIFA U-20 World Cup Korea 2017 at Suwon World Cup Stadium in Suwon, South Korea

AP

17/19 11 June 2017

England players celebrate with the trophy after the final match of the FIFA U-20 World Cup 2017 between Venezuela and England at Suwon World Cup Stadium in Suwon, South Korea

EPA

18/19 11 June 2017

Great Britain's Alistair Brownlee celebrates winning the Elite Men Columbia Threadneedle World Triathlon Leeds

Danny Lawson/PA Wire

19/19 11 June 2017

Two men drink beer outside the Southwark Tavern which reopened for business today next to an entrance to Borough Market which remains closed in London

Getty Images
Those are the kind of numbers that Mr Bowden, Warrington's comptroller, is counting on Redwood achieving to quiet his project's doubters.
"Hopefully, I'm doing a good service to the people of Warrington by finding ways to make money," he said. "Nobody gets elected to cut services."
Bloomberg
Reuse content