To WeWork's fans the company is one of the most exciting startups in tech, at the vanguard of a fundamental shift in the way people live and work.
For others it's a glorified office landlord, a facilities manager with a few technological bells and whistles tacked on, all washed down with some craft beer and prosecco on tap. 
Critics say the shared-workspace company, founded by two friends in Brooklyn in 2010, can't possibly justify its $17bn-plus (£13bn) valuation. They hold it up as the prime example of a new tech bubble of sky-high valuations and business models built on sand.
On the face of it the business is a simple one: lease a building, fit it out with bars, coffee shops, cool meeting areas, a yoga studio or two. Then rent it out at a hefty markup by filling it with ambitious young freelancers and startups who want flexible work space and are willing to pay for it.
Eugen Miropolski, the company's European managing director insists that WeWork is a world away from traditional, boring, office-space providers. 
And Miropolski himself is not the typical corporate executive.
For a start having just turned 30 he's implausibly young to be where he is – at least for a normal company. He says he's lived or worked in more than 20 countries. How he's managed to fit them all into just his three short decades is another question.
He's already got experience working for one startup under his belt, and that turned out quite well. At Airbnb he headed international operations when the company exploded into almost every country, changed the way many people book a holiday.
But is WeWork really shaking up the world of work in the same way Airbnb has done for travel? And does office-space rental really need revolutionising?
"We want to empower people to make a life, not a living," says Miropolski – one of those phrases that may sound great but the actual meaning of which is hard to pin down.
WeWork, Miropolski says, is satisfying a renewed desire for meaningful careers from a generation of people who have rejected the drudgery of the nine-to-five and for whom the boundaries between social life and work are blurred.
"When you ask people today what is most important for them in their career, it isn't money. They say they are looking for meaning, for purpose and to belong somewhere – to be inspired.
"WeWork is not a real estate company, it's a community company – a platform for small businesses and now larger ones that really recognise the need for people to be part of a community."
The C-word comes up a lot. It's the company's defining feature, its USP and – ultimately – it's the added value that it sells to investors.
Whatever it is, people are snapping it up. Japan's SoftBank reportedly invested $300m in March, as part of a $3bn total bet on the company. That investment will take WeWork's value to a stratospheric $20bn and is the latest stage of a breakneck expansion that has seen the company reach 179 locations in 47 cities. At the last count at least.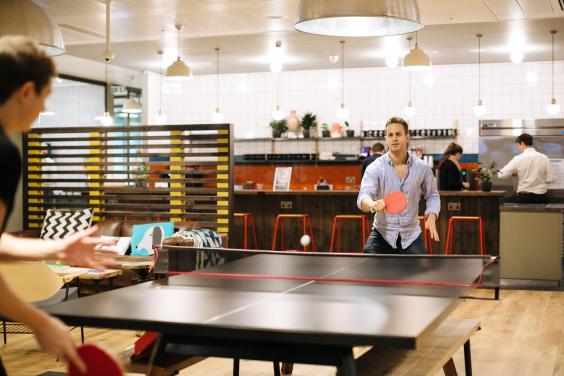 In the UK, it doubled its office space last year and plans to do so again by the end of 2017. There is clearly a huge market for what WeWork provides, despite what the critics have said.
Investors don't normally get out their chequebooks to splash billions on abstract concepts like "community" and "collaboration", but somehow the company has managed to bottle them up and sell them like no-one else.
"Lots of people have tried to do what we do but then they realise it's not that easy," says Miropolski.
The key to building the perfect working community is a meticulous approach and eye for detail, he says.
"Every single part of the design, we think about collaboration. We create a huge amount of data to find out how people collaborate. We ask, 'how do people work in this corner? How many people are sitting in this phone booth? How many use this area to talk to each other?"
One example of what he means: the company fits sensors in its buildings to find underutilised areas and then adapts them to ensure people use them. 
Then there's the WeWork app that allows members to connect with each other to find other freelancers or companies, posting jobs and matching needs with skills within the same location but also around the world.
"If I'm visiting Beijing and I don't know anybody there, I can go into a WeWork space, turn on the app and I'm instantly connected to the community there," Miropolski says. 
It is this embracing of technology that allows the firm to charge several multiples more per square foot than the average office provider and to justify a company valuation more in line with a Silicon Valley startup than any real estate company.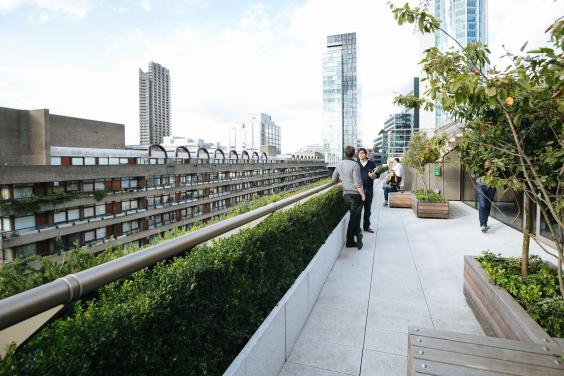 But this stuff only really has a value if people use it – otherwise it's just a gimmick.
Miropolski says around 70 per cent of WeWork members have collaborated with one another at least once and 50 per cent have done business with each other. 
That seems to ring true at the firm's flagship Moorgate location in London. The app's message board is buzzing with companies looking for people to help them out and responses come in thick and fast. 
I'm whisked up to the seventh floor where a glass atrium opens out, looking over seven layers of bright young things on MacBooks. Behind is a bar serving craft beer; outside, a balcony area overlooking the more staid offices of the City. The contrast seems stark.
But as we walk the floor, much of the space – rather than being taken up by freelancers – is segmented off with glass partitions. Behind them are neat, parallel rows of tightly packed desks, with people sat tapping away, some wearing headsets.
Pets – mostly dogs – wander round freely and there are brightly coloured beanbags but apart from that it looks a lot like any other office.
Adam Neumann, WeWork's co-founder and chief executive, recently said 30 per cent of new business comes not from startups and freelancers looking for somewhere to drop in, but from larger companies who occupy a whole area.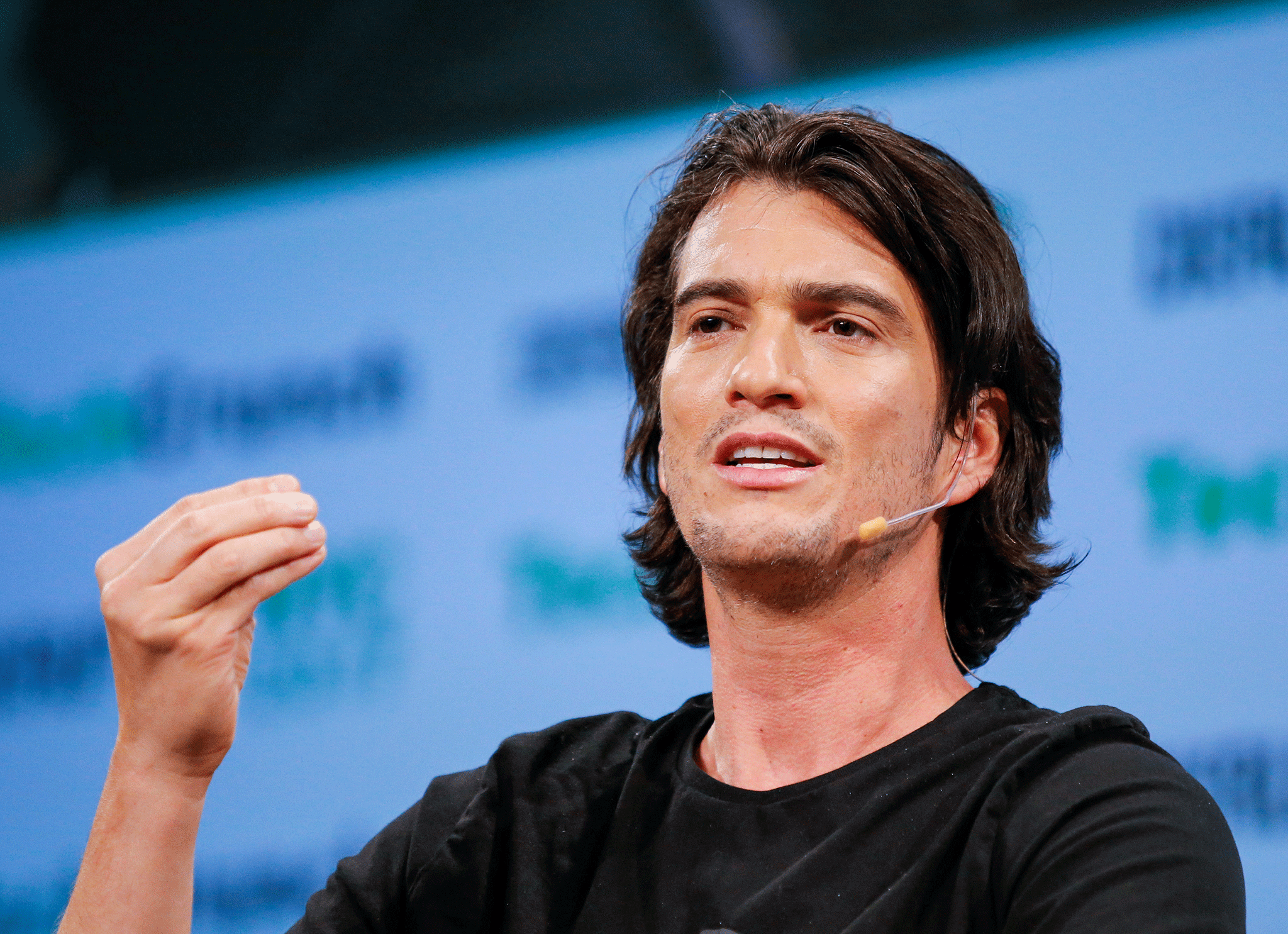 WeWork designs and manages the space for them. In its latest offering, the company even goes into clients' own buildings and redesigns their spaces for them. 
But the company is now facing a difficult balancing act. As it grows bigger by the day, it needs larger clients to fill more and more space.
This is a solution to a key problem. WeWork takes on long leases, of up to 25 years, but rents out its space to people on a flexible one-month basis, leaving it vulnerable if people leave in large numbers.
Corporates take the space for longer, which provides greater stability. But does it not detract from the cool credentials on which WeWork is built if a team of, say, management consultants, move in and take up half a floor?
If the balance is wrong, WeWork risks alienating the very customers on which its huge success relies. For now, though, there's no sign yet of an exodus of hip startups – the majority of its clients still fall into this category.
And Miropolski says this is not a worry. In fact, larger organisations moving in tend to adapt to the WeWork culture, rather than changing it to suit themselves.
"Because there is such a major change in the way people work, a lot of companies need to redefine themselves and think how they attract the best talent," he says. "They come to WeWork with the question of 'how can we enhance our own culture'. 
"A lot of companies set out only to make money, which is a valid reason for a business, but very often I see these companies are less successful because they don't have the right mission."
Having conquered the world of startups, it seems WeWork is now looking to upturn the values of the corporate world too. It's a lofty goal, but given the company's success up until now, it would be a bold move to bet against it.
Reuse content