Twitter's share price proved to be the most reliable indicator of what investors want from Jack Dorsey as he returns as CEO of Twitter, following the news that Dick Costolo will step down from the post on July 1.
Shares jumped 7 per cent to $38.45 in after-hours trading following Mr Costolo's resignation, but moderated to just 2 per cent higher after Mr Dorsey stated that there would be no change in strategy.
Changes in management are not new at Twitter. Mr Dorsey co-founded Twitter in 2006 and left two years later. He returned for a brief period in 2011, then left again to concentrate on his mobile payments business, Square. As interim CEO, he is only expected to stay at the helm as long as it takes to find a replacement.
A different management strategy, focussing on transparent decision-making and steady growth, would mark a change. Ever since Twitter went public in November 2013, investors have looked for reassurance that the business can turn a profit. Shaky first quarter earnings, missing revenue expectations by $20 million, started rumblings that Mr Costolo had to go.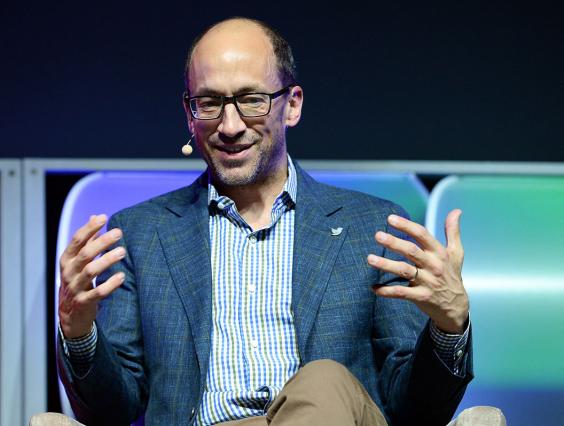 "Shareholders have become frustrated amid decelerating growth in monthly active users and recent monetization issues," said analysts at Jeffries, adding that though Mr Costolo resigned, the move was "likely driven by shareholder consensus".
Shareholder frustration is an added pressure on Twitter's leadership as it works out what Twitter should become. "What investors generally failed to understand about the company – and perhaps what management failed to fully communicate since the time of its IPO – was that Twitter was and remains a venture-stage enterprise. It just happens to be traded publicly," said Brian Wieser, a senior media analyst at Pivotal Research Group.
Twitter has 300 million monthly active users, about the same number as the photo sharing network Instagram. Both are dwarfed by Facebook's 1.4 billion monthly users. Over the last year, Twitter's growth has been outpaced by smaller sites like Pinterest and Tumblr – leading some to believe that if it doesn't get its act together, advertisers may spend their social networking budget elsewhere.
Jefferies analysts said investors' biggest questions centre around Twitter's growth potential. "Twitter's next CEO should focus on using key assets as avenues to drive new user growth and convert logged out users into logged in users," they said. Those assets include Periscope, an in-app video service, a new search deal with Google, homepages for users who aren't logged in, and instant timelines that automatically display tweets matching a user's interests.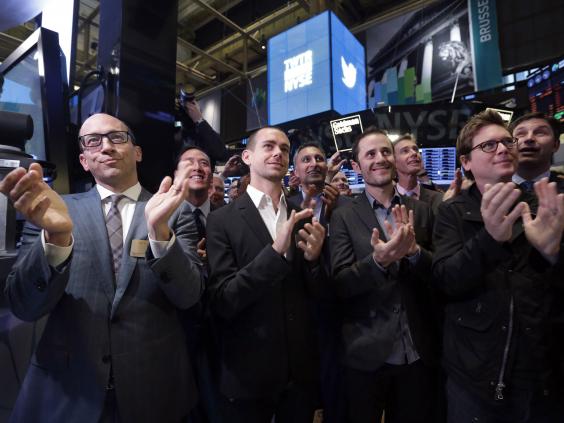 Not everyone agrees that user growth is key. Richard Windsor, a technology analyst at Edison Investment Research, said the biggest problem is that Twitter only serves a limited function for internet users. Edison research suggests that users spend just 9% of their browsing time on Twitter because Twitter has no service for many other online activities, like email and gaming.
"For Twitter, the monetisation opportunity is fundamentally limited unless it can spread its wings wider and encourage users to spend more time in its services," Windsor said.
Twitter seems to agree with this view. In his last quarterly earnings call, Mr Costolo said Twitter's objective is to "build new applications and services in order to increase Twitter's utility around the world". One of these is the recent decision to scrap the 140 character limit for direct messages, allowing for lengthier conversations beyond a user's timeline.
It hasn't escaped anyone's notice that curated feeds, embedded videos and a messaging service sound familiar.
"I think what Wall Street wants is a pipe dream: for Twitter to turn into another Facebook," wrote the technology blogger and The Talk Show host John Gruber. "No CEO is going to make that happen. Maybe someone else will do better, but I think Costolo started with a hand dealt from a stacked deck."
His resignation – and Mr Dorsey's insistence that his tenure as CEO is only until temporary – will do little to reassure investors that Twitter is not "the clown car that fell into a gold mine", according to Mr Wieser at Pivotal.
"Whomever is running Twitter going forward will need to focus on the commitments they know they can meet," Mr Wieser said.
He noted commercial traction with large brands, clarity on revenue streams and more transparency about management decisions beyond the top posts as key.
Even then, the clown car may have a bumpy ride ahead.  "Investors will need to be continually reminded that an investment in Twitter provides public market investors a way to play in venture," Wieser said.
Reuse content